The Tecnocut/Viper of Maniago (Italy) was one of the first manufacturers of industrial knives to entrust the design of some models to designers and cutlers of international renown. In particular, Viper has established a solid working relationship with Fabrizio Silvestrelli, aka Silvester, a master knifemaker who is also very popular abroad and is currently the President of the Corporazione Italiana Coltellinai (CIC), the Italian Knifemakers Guild.
The CIC is not a simple association of craftsmen, but a real guild: to become part of it, an examination in required in which the candidate must show his technical skills to the selection board.
Viper Gianghi: technical features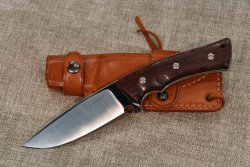 Gianghi is the transliteration of the ancient Persian word for "hunter". The Viper Gianghi is a medium-sized fixed blade knife with a total length of 248 mm (9 ¾ in).
The blade with a drop point profile measures 115 mm (4.5 in) and is made of N690 vacuum tempered stainless steel and subjected to cryogenic treatment with a hardness of 58/60 HRC. The thickness is 0.15 in / 4 mm and it's satin finished or "stone washed".
The grip profile, reminiscent of previous Silvestrelli's designs for Viper with a large groove intended to accommodate the index finger of the strong hand, which also continues on the grips material. The latter can be olive wood, bocote (a tropical wood with characteristic black veins) or green micarta Canvas.
The Viper Gianghi is accompanied by a sheath in natural leather with a safety strap closed by an automatic button. The price starts from 155 Euro.

Viper Gianghi: technical data 
| | |
| --- | --- |
| Type:  | fixed blade knife |
| Designer:  | Fabrizio Silvestrelli |
| Blade: | N690 steel |
| Profile:  | drop point |
| Blade length: | 4.5 in / 115 mm |
| Total length:  | 9.7 in / 248 mm |
| Grips: | olive, bocote or micarta |
| Sheath: | natural leather |