Petrified Fish is the bizarre name chosen by this Chinese company to introduce itself to the international market. Very active on Social Media, on its website Petrified Fish offers an interesting choice of folding knives (and for the moment only one fixed-blade model) among which we chose the PFE07 Morse model, also because of one of its key features. It was in fact designed by Alessandra De Santis, an Italian designer who already collaborated successfully for companies such as WeKnife and Böker. The Morse is a rather original knife and tends to move a bit away from the current trend that – it must be admitted – focuses on models that are all very similar to each other, which makes even us who have to review them yawn. We were pleasantly impressed by a certain originality in the lines of this folding knife whose blade opens by operating a front flipper, a solution that contributes to its particularly streamlined silhouette. Even the idea of embellishing the colored, multilayered G10 grips with millings that echo the Morse code adds originality to a key element of the knife.
Petrified Fish PFE07 Morse, original in colors too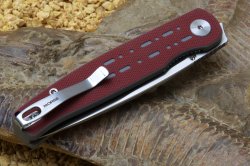 Let's start from the beginning, that is, with the packaging. It seems like ages since knives, even the most expensive "made in the USA" ones were sold in humble-looking cardboard boxes – some still are today. The Petrified Fish Morse is still delivered in a "disposable" black cardboard box with tear-off opening, but inside we find a Nylon zippered pouch (the funny zip pull is shaped like a fishbone) with a synthetic fur interior. The knife, in turn inserted into a plastic bag, is held inside the pouch by an elastic strap. Along with the knife we find a microfiber cloth, a sticker, and a pouch with spare screws for the clip. On the pouch there is also a faux-leather label with the manufacturer's logo, which is a bit demodé but does the trick. There's no denying it: Chinese know how to do packages, even for affordable knives.
As we said at the beginning, the first thing you notice about the Morse is its streamlined design, characterized by the absence of flippers and opening pegs. When the knife is closed, the first thing you see is the special effect created by the milling on the grips, which exposes the color of the material underneath with a pleasing aesthetic effect. The available color options include black, white, green, brick red, vermilion red, and yellow. The first four handle colors correspond to a black stonewashed blade finish, while for the last three blade is satin finished. The blade finish is the same as the clip, which is fixed to the right side as standard, allowing for tip-up carry.
The blade is made of 154 CM stainless steel with a modified spear point profile, with flat grind, very high bevel and a thickness of 3 millimeters. The side surfaces show no uncertainties and, as we like it, markings are limited to a monogram on the right side, while the model name is laser engraved on the clip.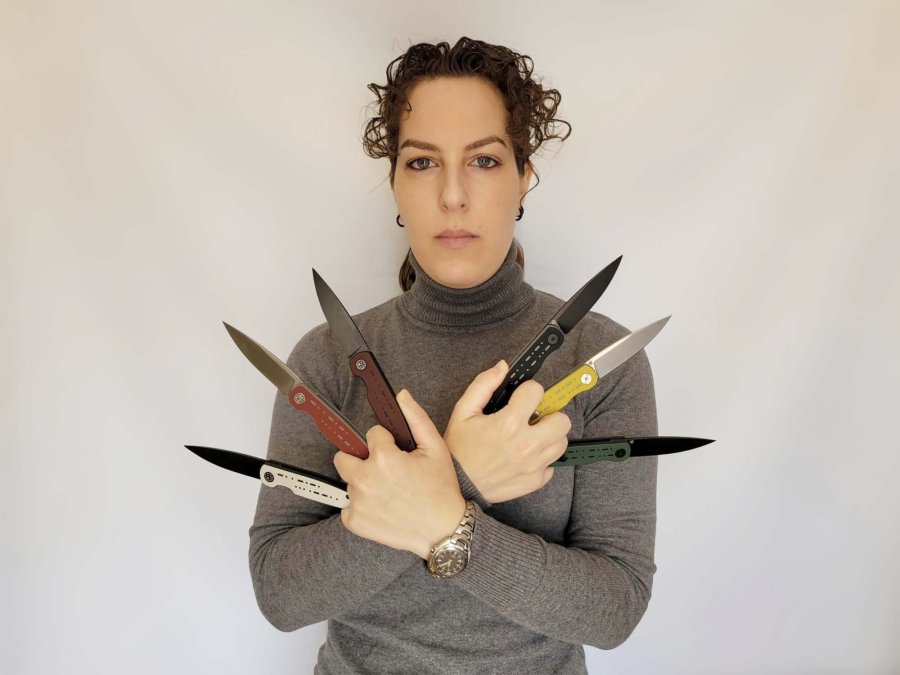 Blade length is 84 millimeters, which is above the average for so-called EDC knives and allows for a more versatile use of the knife. Speaking of versatility, the idea of equipping the Morse with a barely noticeable front flipper might be considered odd, since it makes opening a bit more complex and less instinctive than a peg or a finger hole, but as we can see in the video clip, all it takes is a minimum of practice to safely master the knife opening. The big advantage is the absence of protrusions that are a nuisance when carrying. The blade pivots on ceramic ball bearings that make opening pleasant and precise, and the lock on opening is ensured by a steel liner that engages with a noticeable click and releases without jerking. A small touch of elegance is the manufacturer's monogram shown on the head of the blade pivot pin.

Interview: we asked designer Alessandra De Santis some questions to learn more about the Petrified Fish Morse knife 
all4shooters.com: What are three elements of Morse that you think are most successful?
Alessandra De Santis: The intent was to create a knife with a slender line that combined modern elements with classic forms, and I hope I succeeded in blending these three aspects. The flipper front, unlike the traditional flipper, allowed the knife's sleek shapes to be maintained (even when closed), so it is definitely one of the defining elements of the design. The slender shape of the blade and handle texture are the other two features that contribute to the knife's identity.
all4shooters.com: Why did you decide to give the knife this name?
Alessandra De Santis: The name Morse is a direct consequence of the choice of handle texture, in which precisely the dots and dashes of the international Morse code have been milled.
all4shooters.com: What does the Morse code on the grips mean?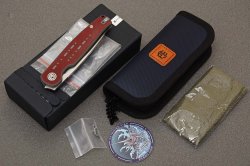 Alessandra De Santis: It is the Latin motto "Nec spe, nec metu", which translated means "neither with hope nor with fear". It is a stoic way of looking at life, according to which events and adversity should be faced with objectivity and serenity by accepting good and bad fortune without relying too much on luck. This maxim was used in the past by knights as well as soldiers of fortune, and before that by Cicero during an oration to the Senate. Moreover, since 1933 it has been the motto of the Italian 7th Alpini Regiment, and it was also the motto of Isabella D'Este. I am particularly attached to this motto since it is engraved on my family's heraldic coat of arms.
all4shooters.com: Did you have to give up any details in the name of industrialization?
Alessandra De Santis: My designs are born to be industrialized, so they are made with a clear understanding of what limitations are imposed by machining, especially depending on the target audience of the product – that is, whether it is a mid-range or high-end knife.
all4shooters.com: What is it like working with Chinese manufacturers? (if you want to answer)
Alessandra De Santis: Since my debut as a designer, I have always collaborated with Chinese manufacturers, and I have always been impressed by their extreme efficiency and professionalism. They are all relatively young and very dynamic companies, with whom I have collaborated – and still collaborate – with pleasure. You must consider that these realities have decades of experience as manufacturers; although working for other brands under OEM contracts, they have nevertheless achieved a considerable know-how by making knives with a build quality that often exceeds that of many Western brands. Many of these Chinese manufacturers, in recent years, have decided to take the additional step of creating their own brand, in addition to continuing production under OEM contracts, and there has been a real invasion of the market with a huge amount of new brands (I don't even know them all).
---
Our conclusions on Petrified Fish Morse: Thanking Alessandra for the explanations, we go on to conclude. Certainly this manufacturer is able to offer good knives at affordable prices, and in this it joins the small army of Chinese companies we have already talked about and we will talk about in the future, which – also thanks to a careful presence on social channels – are shifting the attention of enthusiasts to the Far East. We liked this Morse right away: it is well made, comes in pleasant color options, and is a departure from more mainstream designs. Plus, it's part Italian, which doesn't hurt. To top it off, the retail price of about 70 euros is also certainly attractive in relation to quality and presentation. 
Video: Petrified Fish Morse knifes

In the video clip Alessandra De Santis shows us how to properly operate the front flipper. (Music: Water Wood And Stone by Jason Shaw)
This video has been hidden because of an external service (YouTube) that could potentially collect personal data.Allow video services for the duration of the visitAllow video servicesStop allowing video services
Petrified Fish Morse specs and price
| | |
| --- | --- |
| Manufacturer: | Petrified Fish |
| Model: | Morse PFE07 |
| Type: | EDC folder |
| Designer: | Alessandra De Santis |
| Blade: | 154CM steel |
| Lock Type: | Liner lock |
| Blade Length: | 3.31"/84 mm |
| Overall Length: | 7.72"/196 mm |
| Blade Grind: | Flat |
| Blade Finish: | Satin/black stonewashed  |
| Handle: | Multilayer G10 |
| Weight: | 3 oz/85 g |
| Price: | 70 euro approx. |