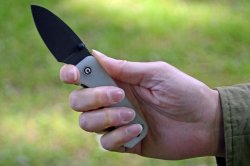 We return to the subject of Civivi knives with the Baby Banter, a small folding knife that, thanks to its small size, rightfully belongs to the EDC (Every Day Carry) category. Before someone protest on social media, we specify it once again: we use the definition EDC and "carry" to give an idea of the style of the product – we are not instigating anyone to walk around with a knife in their pocket for no reason. But we also have to come to terms with the idea that things that are forbidden in your our country – such as carrying small knives – are indeed allowed in other countries. We have already dealt with this in a detailed article that we invite you to re-read.
Let us now return to the protagonist of our notes, namely the Baby Banter folding knife designed by Ben Petersen, an American journalist, video maker and knife enthusiast who, after working for years in the industry and having already designed the Banter model for We Knife, decided to create a more compact version for the cadet brand that would incorporate some precise specifications. First, the blade length had to be less than 2.5 inches (6.35 cm) for the knife to be legal to carry e.g. in Chicago and Boston. The knife would have to fit in the pocket of women's jeans, have a reversible clip, and features an easily accessible liner lock. Ben Petersen refined the design of the Baby Banter during the pandemic period and the knife is finally in its definitive form, which incorporates the best of what can be found on the most popular small EDC knives, starting with the Spyderco Dragonfly (one of Ben's favorites) through the CRKT Squid and Pilar models.
Interview: 3 questions to the Baby Banter designer Ben Petersen
a4s: How many knives have you designed for Civivi and other makers?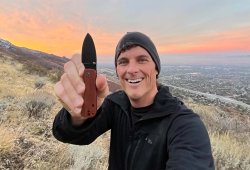 I have designed the WE Banter, Civivi Baby Banter, WE Big Banter, and the Knafs Lander. I have projects in the works with WE, Civivi, MKM, and Knafs.
a4s: Second question is quite obvious, but: in a nutshell, what was the most compelling technical detail to achieve on the Baby Banter?
Getting the size of the Baby Banter right was challenging, particularly with the finger choil. I knew exactly what I wanted, but it was a lot of "guess and check" to make sure the final product felt right in hand. But feeling right in hand doesn't mean it can be manufactured. When I finished the 2D drawings for the Baby Banter, I sent them to Civivi with several red arrows pointing to spots their engineering team would need to smooth over in the CAD. That's the beauty of the collaboration: I can take wild ideas that I know will sell in the market, then I can hand them off to talented engineering and manufacturing teams like WE/Civivi to make them reality. The result is magical. 
a4s: Civivi and others offer interesting options for interchangeable clips. How is carry clip important in such compact knives?
I grew up going camping with a Victorinox Swiss Army knife that I carried in a sheath on my belt; I felt like the 9-year-old king of the world with that thing. Later, I had a Gerber backlock keychain knife that I carried every day on my car keys. Both of those knives had the beautiful benefit of being compact. However, neither of them had a pocket clip that made it easily accessed, deployed, then put away. Once I started working in the knife industry, I realized I love pocket clips for the ease of using a knife. And the general knife market loves to buy knives with pocket clips. So, for me, a pocket clip on a folding knife is non-negotiable, even for a compact knife. The trick is to design a pocket clip that doesn't suck. The clip on the Baby Banter is deep carry with recessed screws so it doesn't tear up your pants pocket. It's not an afterthought in the design, but it doesn't scream for attention. Plus, it just works as intended: keep the knife close by for easy use and don't let it slip out of your pocket when it shouldn't.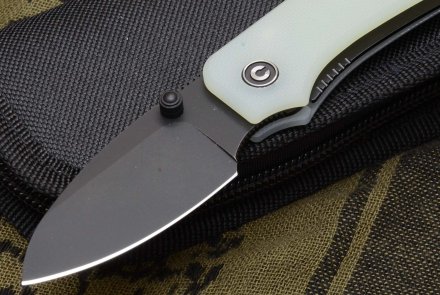 Civivi Baby Banter, small but effective: No flipper no grip hole 
The Baby Banter is produced in a wide range of combinations of handle material and blade finish, which can be stonewashed black, gray, or painted in an unusual red color. The handles range from bubinga wood to G10 in various colors, to micarta. Given a choice, we had a version sent to us with G10 grips in a neutral color, that is, an inconspicuous gray with some green in it. As always, the knife came in the now usual rich packaging that includes a cardboard box, nylon pouch, stickers, microfiber cloth and warranty certificate.
The main qualities of the Baby Banter are its light weight (56 grams) and really small footprint (79.3mm closed), but it is not just a matter of numbers. 


First impressions while handling the Baby Banter are more than positive: despite the short handle length, thanks to the presence of a knurled choil between the blade and blade heel, you can grip it smoothly and securely between the fingers. A knurled section on the back allows correct and stable thumb positioning for maximum knife control. Opening the blade, which pivots on ceramic ball bearings, is so lightning-fast it almost feels assisted. The liner locks the blade open with a well-audible, reassuring click. No flipper or grip hole on this model, but a classic ambidextrous opening peg made of titanium, which thus contributes very little to the Baby Banter's total weight.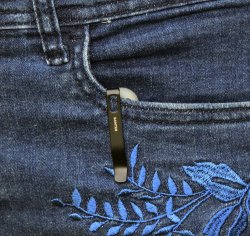 The drop-point profile blade is made of Nitro V steel and measures 59.4 millimeters long by 2.3 millimeters thick. It is definitely not a blade to use as a pick or awl, but for 99 percent of daily tasks it is more than fine. The stainless steel clip, on which the model name is engraved, can be easily swapped from one side of the handle to the other and allows for tip-up carrying. It works very well and maintains the idea of efficiency sought by Ben Petersen.

In conclusion: if you are looking for a lightweight, comfortable and original folding knife, the Civivi Baby Banter is definitely an ideal candidate. The retail price of about 70 euros is justified by the build quality. It can be purchased directly through the Civivi website where you can browse through all the variants in the Chinese company's catalog.
Civivi Baby Banter specs: technical data, blade length and price
| | |
| --- | --- |
| Manufacturer: | Civivi |
| Model: | Baby Banter |
| Type: | EDC folding knife |
| Design: | Ben Petersen |
| Blade: | Nitro V steel; hardness: 58-60 HRC |
| Locking Mechanism: | Liner lock |
| Blade Length: | 59.4 mm |
| Overall Length: | 139 mm |
| Blade Grind: | Flat |
| Blade Finish: | Stonewashed black |
| Handle: | G10 natural |
| Weight: | 56 g |
| Price: | 70 euro approx. |