Two of Guns & Ammo Magazine's annual awards go to SIG Sauer products: the SIG Sauer P365 pistol was named "Handgun of the Year" and the SIG Sauer Electro-Optics Ballistic Data Xchange (BDX) rangefinder and riflescope system was named "Innovation of the Year."
Since 1958 Guns & Ammo is one of the most popular and influential magazines of the sector in the US. Recipients of the 2018 Guns & Ammo of the Year Awards were evaluated on the following criteria: 1) the product was new and available for purchase in 2018, 2) the product must have demonstrated quality and reliability to a degree that met or exceeded its design objective, and 3) the product must offer the greatest appeal to the masses.
SIG Sauer P365, "Handgun of the Year"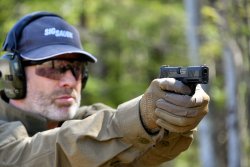 In the last months the SIG Sauer P365 had been already named "Handgun of the Year" at the 2018 Industry Choice Awards (ICA) and had won a Ballistic's Best Award by Athlon Outdoors at 2018 NRA Show. All4shooters tested the 9mm P365: it is a striker-fired, polymer-framed pistol specifically designed for discrete or concealed carry for self-protection with a slim, ergonomically designed frame and a double-stacked 10-round magazine (12-round factory made magazines are also available).
"To have the P365 micro-compact pistol receive the Handgun of the Year award by Guns & Ammo Magazine is really an exceptional honor, and is the direct result of the relentless drive of our engineers and product managers to push the envelope when developing new products," said Tom Taylor, Chief Marketing Officer, and Executive Vice President, Commercial Sales, SIG Sauer.
SIG Sauer Electro-Optics BDX system, "Innovation of the Year"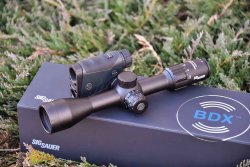 Developed for hunters, the SIG Sauer Electro-Optics BDX (Ballistic Data Xchange)  is a fully integrated rangefinder and riflescope system that utilizes Applied Ballistics Ultralight and Bluetooth to calculate and illuminate the exact holdover dot for the perfect shot. 
For a full description see the article: SIG Sauer Electro Optics presents its new BDX technology. Andy York, President, SIG Sauer Electro-Optics, comments: "The foundation of the BDX rangefinder and riflescope system is innovation, and to have the editors of Guns & Ammo Magazine recognize the rangefinder, riflescope, and app that creates the BDX system makes our entire team at SIG Sauer Electro-Optics immensely proud".