Book launch conferences are loved and feared equally by those who attend them for business or passion: they can be boring as hell, they can reveal to the world that the brilliant writer we knew only through his/her writings is arrogant or tedious once we meet him/her in person, or it is the audience that makes the event a pain.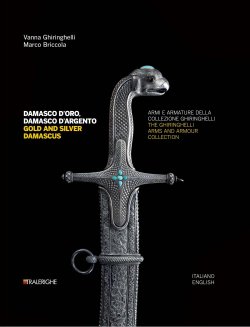 Then there are the events like the one to which we were invited to learn about Vanna Ghiringhelli and Marco Briccola's new book – all the pieces fit together perfectly there. Let's start with the place, namely the Lorenzi brothers' store in the center of Milan, Italy, which is not only a true paradise for fans of knives and high-end objects, but  on the initiative of the owners for years now has also been offering itself as a venue for the presentation of cultural and artistic events. Here a large group of enthusiasts and supporters gathered on Thursday, March 30, for the public presentation of "Damasco d'Oro, Damasco d'Argento – Gold and Silver Damascus", a volume such as they used to print in other times, richly illustrated with photographs of the highest quality accompanied by texts of the same level. 
The book, which originated during the Corona lockdown as a simple inventory of Vanna Ghiringhelli's extraordinary collection, was gradually transformed into a richly illustrated anthology of Asian arms and armor, taking up and updating articles previously published by Vanna, and with the decisive contribution of Marco Briccola, a passionate scholar of Asian blades and an excellent popularizer. 
Their book presentation was a great success, driven by the sympathy of Vanna Giringhelli, who in addition to being a fine scholar and collector, is a veritable encyclopedia of amusing anecdotes related to the acquisition of many of the pieces presented in the book. Marco Briccola also did his part by providing in-depth and enjoyable explanations of some of the most extraordinary and relevant pieces found in the book and concluded his talk with a phrase which is beautiful in its simplicity: "Asian blades are an excuse to study". And indeed, the study of this collection tells us about everything: about history, geography, religion, metallurgy, but also and above all about art and the extraordinary craftsmanship of the (almost always) anonymous but exceptional artisans who made these wonderful arms. 
Gold and Silver Damascus: two hundred pages of wonders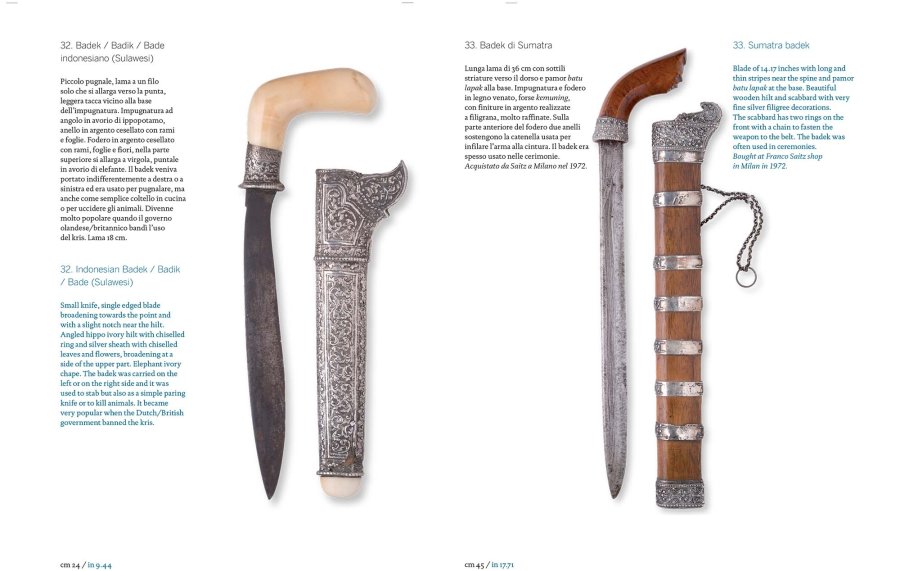 The result is  "Damasco d'Oro, Damasco d'Argento – Gold and Silver Damascus", a book that every blade enthusiast should have in their library, published by the Milanese publisher Tralerighe. In the more than two hundred pages of the volume we can admire pieces of extraordinary workmanship collected by Vanna Ghiringhelli and her late husband Mario during a very long life spent traveling in Asia and the Orient. These include some absolute rarities such as the Zafar Takieh, or victory cushion, an extraordinarily rare blade belonging to the world of Sufi mysticism, or a pair of war elephant tusk covers of Indian origin. Each page of the book, which opens with an in-depth examination of the mystical aspects of the Kris, amazes with the beauty of the piece and the accuracy of the description. In addition to bladed weapons, the volume features a rich section on Persian and Indian helmets, armor, and shields, and ends with a small survey of mythological characters associated with Indonesian weapons.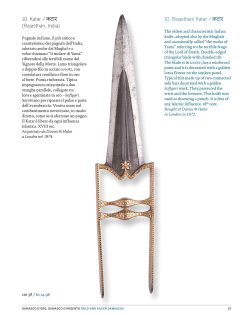 We must also praise the excellent work done by photographer Pietro Notarianni, who we imagine had to fight an unequal battle with reflections, slanted planes and shadows, but who in the end managed to produce an iconographic kit with extraordinary sharpness, which allows us to perfectly capture the details of the bladed weapons presented, in some cases marked by extraordinary structural complexity and decoration. The layout, always clear and crisp, also makes reading easier and enhances the pleasure of leafing through this truly beautiful book.
Finally, it should be noted that the volume offers the reader the text in both Italian and English, which will surely delight international enthusiasts. The cover price of 45 euros is to be considered ridiculously low considering the richness of the book and the quality of its texts and images. The volume can be ordered in bookstores or purchased directly from the publisher's website.
At this point if you are even remotely fond of blades, or intend to become one, you have no more excuses: just buy "Gold ans Silver Damascus" and you will not regret it. It is hard to imagine at the moment a text that is both informative but also in-depth, with such a high price/quality ratio. 
For further information: Vanna Ghiringhelli, Marco Briccola, Damasco d'Oro, Damasco d'Argento – Gold and Silver Damascus, Arms and Armor in the Ghiringhelli Collection. Italian and English text. 208 pages with over 150 photos, €45.00. ISBN code: 978-88-99575-45-8. Published by Tralerighe, Via Romilli 15, 20139 – Milan, Italy. http://www.tralerighe.biz.