Just a quick reminder: in PRS shooting sports, shooters predominantly use bolt-action rifles in dynamic courses with fixed time limits of usually 90 or 120 seconds to hit multiple targets at up to 1,000 yards (914 meters) from different positions and in a wide variety of firing styles. The Open Division, in which PRS competitors compete with expensive, handmade custom rifles based on the finest components, is the most competitive one. In addition to the rifle including mounts and optics as well as ample ammo for training and competition, additional equipment such as bipods, tripods, laser rangefinders and portable sandbag rests are required.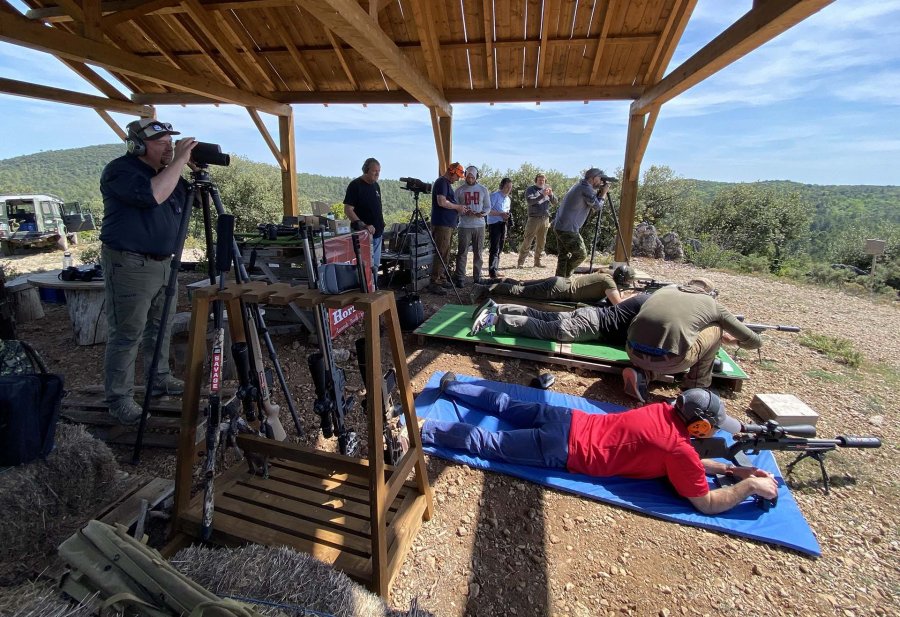 Ammo: for the Precison Rifle Series, many shooters rely on Hornady's innovative Long Range cartridges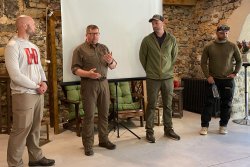 Specialized media people from six countries – Germany, France, Italy, Spain, England and Poland – accepted the invitation of the U.S. company trio Hornady, Leupold and Savage and gathered at the Domaine D'Aristee hunting lodge in southern France. The enchanted castle with its own hunting ground and shooting range is located in St. Félix de Pallières, about an hour's drive from Montpellier..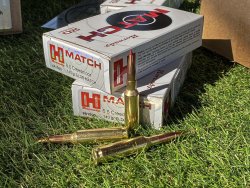 On hand from the USA were ballistics expert Seth Swerczek from Hornady, optics expert Nic Kytlica from Leupold, and professional shooter Matthew Alwine, sponsored by Leupold and Savage Arms. By the way, a whole series of 6mm calibers dominate the PRS sector, two of which – the 6mm Creedmoor and the 6mm ARC (Advanced Rifle Cartridge) – come from Hornady, which underscores the great innovative spirit of the family-run ammunition manufacturer. Hornady also developed an international bestseller with the 6.5 Creedmoor, which is becoming increasingly popular worldwide for hunting and sport shooting. Among the latest creations of the U.S. manufacturer is the 7mm PRC (Precision Rifle Cartridge), which has not yet been CIP-listed and which we have already presented here, but unfortunately we have not yet been able to shoot on site. Certainly, Hornady's state-of-the-art match bullet designs such as ELD Match and A-Tip are among the best loading components on the planet for ambitious long-range rifle shooters and reloaders.
Leupold also equips Mark 5HD riflescopes with a PR2 reticle specially developed for dynamic long-range shooting
Since the mid-1980s, Leupold optics have been used extensively by U.S. armed forces, police departments and LE agencies, and other security institutions such as the Customs and Border Protection. You can read our detailed report on the Leupold Mark 5 series here.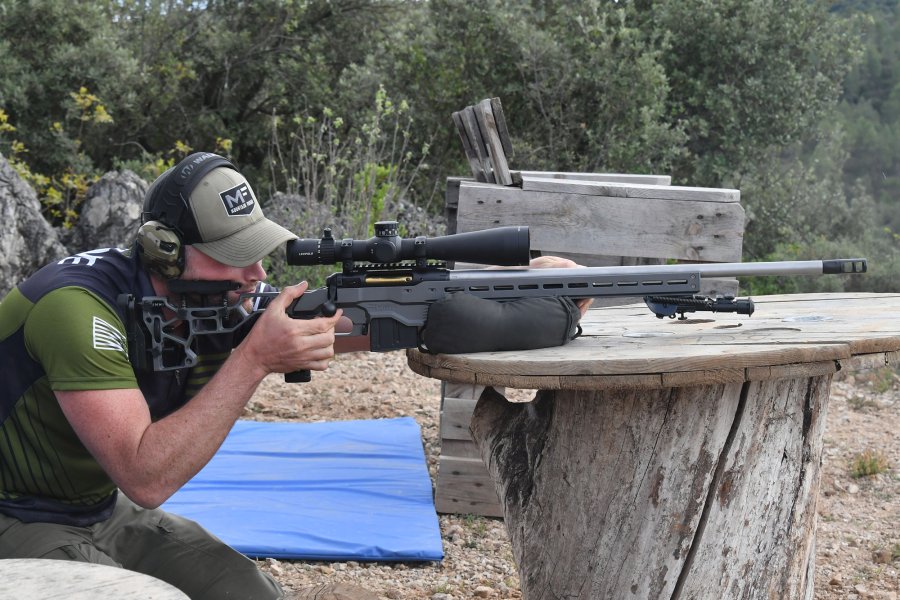 Primarily designed for professional military/LE use, the 5-25x56 and 7-35x56 models of the Mark 5HD riflescope series with 35 mm main tube diameter are intended for long range use. The reticle on both models is located in the first focal plane (FFP). When the magnification changes, the size of the reticle changes in relation to the magnification, which makes it possible to reliably estimate the distance using the MOA or MIL reticle hash marks. On the huge shooting range in the mountains of southern France, we worked exclusively with the PR2 reticle developed specifically for the PRS sport. The reticle with fine MIL hold/wind marks does not appear as overloaded and complicated as other "Christmas tree" reticles. As absolute top-of-the-line riflescopes, they are still comparatively more attractive in price than the usual suspects from Europe, so the Leupold Mark 5HD in 5-25x56 and 7-35x56 with PR2 reticle cost 2,779 euros and 3,029 euros, respectively (MSRPs in Germany).
With the Elite Precision series Savage has several top bolt-action rifles not only for the PRS in its lineup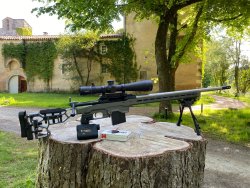 Matt Alwine, a highly decorated member of the Savage and Leupold Pro Shooter teams, was last year's U.S. Champion in the PRS Production Division with the Savage 110 Elite Precision. This rifle is the flagship of Savage's sporting Precision Series and is now also offered as the Impulse Elite Precision with straight-pull bolt action. The common denominator of both straight-pull and conventional bolt-action models is the fully adjustable and upgradeable "Adjustable Core Competition" (ACC) aluminum chassis from Canadian specialist Modular Driven Technologies (MDT). These fully competition-ready rifles each come in seven popular calibers from .223 Remington to 6mm Creedmoor and 6.5 Creedmoor to .338 Lapua Magnum, with the 110 Elite Precision also available as a left-hand version. Barrel length is 26" in standard calibers and 30" in magnum calibers. A Savage 110 Elite Precision costs €2,649, while an Impulse Elite Precision is priced at €3,299. 
Our detailed review of the Savage 110 Elite Precision in 6.5 Creedmoor can be found here. However, in personal conversations on site with the top U.S. shooters, it became clear that they all prefer the classic bolt action over the straight-pull one because it is smoother to operate and cause less disturbance to stable aiming when you have already picked up the next target cleanly in the repeating process using the scope reticle. The marginal time advantage of a straight-pull action plays virtually no role in view of all the other essential factors in the PRS that can save valuable seconds.
A typical mid-range representative is the Savage 110 Precision model with MDT LSS XL chassis, offered in 6.5 Creedmoor, .308 Winchester, .300 PRC, .300 Winchester Magnum and .338 Lapua Magnum calibers. The barrel features a length of 20" in standard calibers and 24" in magnum calibers. This Savage bolt action is also available in a left-hand version. Price: 1,999 euros. The entry-level model is the Axis II Precision, which features a synthetic chassis developed specifically for this series by MDT. It is available with a 22" barrel in .223 Remington, .243 Winchester, 6.5 Creedmoor, .270 Winchester, .308 Winchester and .30-06 Springfield calibers. The price is only 1,399 euros. 
The event: in PRS paradise with Hornady, Leupold and Savage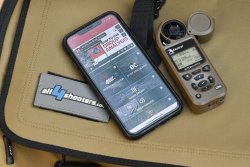 Franco Palamaro, © F.PALAMARO
We received theoretical instruction from the U.S. specialists for the morning start and a little product training around Hornady, Leupold and Savage. The focus, however, was on fundamental topics in the long range sport such as external ballistics and trajectory curves of different calibers/bullet types or the possibilities of wind reading. Wind is still the biggest source of error when it comes to hit or miss at long range. Numerous Savage rifles ranging from the Model 110 Predator hunting rifle with a simple AccuFit synthetic stock to the fully competitive Model 110 Elite Precision match rifle with MDT ACC aluminum chassis were on hand to be fired at ranges from 50 yards to 1,010 yards. The rifles were chambered primarily in 6.5 Creedmoor, but other calibers such as 6mm Creedmoor or 6mm ARC were also available. All the rifles were equipped with Leupold Mark 5HD scoper with PR2 reticles and had already been zeroed perfectly at 100 yards with Hornady ammo by the three U.S. pros. 
Velocities were also measured with the LabRadar chronograph, and the baseline data for all rifles was entered into the excellent Hornady 4DOF ballistics app, which each shooter downloaded to his or her cell phone during the seminar.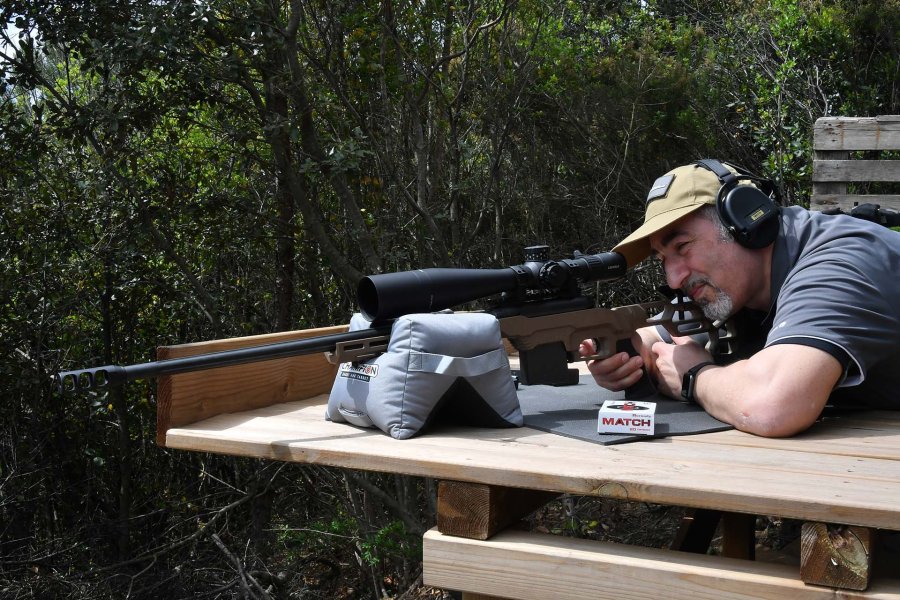 Franco Palamaro, © F.PALAMARO
Throughout the shooting in the south of France, this ballistics program was a valuable help to us. It has many smart functions: You can use a QR code to forward the individual data set from one cell phone to another, so that spotter/instructor and shooter have the same information and can communicate perfectly. After the dull theory in the classroom, we moved to the mountains for the practical part with off-road vehicles to first get used to the assigned rifle on the short 50 meter course. Individual zeroing was followed by some drills to increase the requirements. On the second day, we climbed to the first long range station to shoot steel targets at ranges of 300, 400, 450 and 500 meters. We determined the click corrections at elevation quickly and reliably using the Hornady 4DOF ballistics app. The wind corrections determined with Kestrel wind meters were made exclusively using the hold marks in the reticle and could be changed in a flash on our own or when called upon by the experienced U.S. spotters. On the final third day, we went to the second long range station, where the steels were 800, 900 and 1,000 meters away. After setting up on the wooden platform, all necessary data was again checked with Kestrel wind meters and the Hornady 4DOF ballistics app. Each shooter was able to hit their steel targets in line, which had dimensions of 100x100 cm, 50x50 cm and 30x30 cm at the maximum distance of 1,010 meters.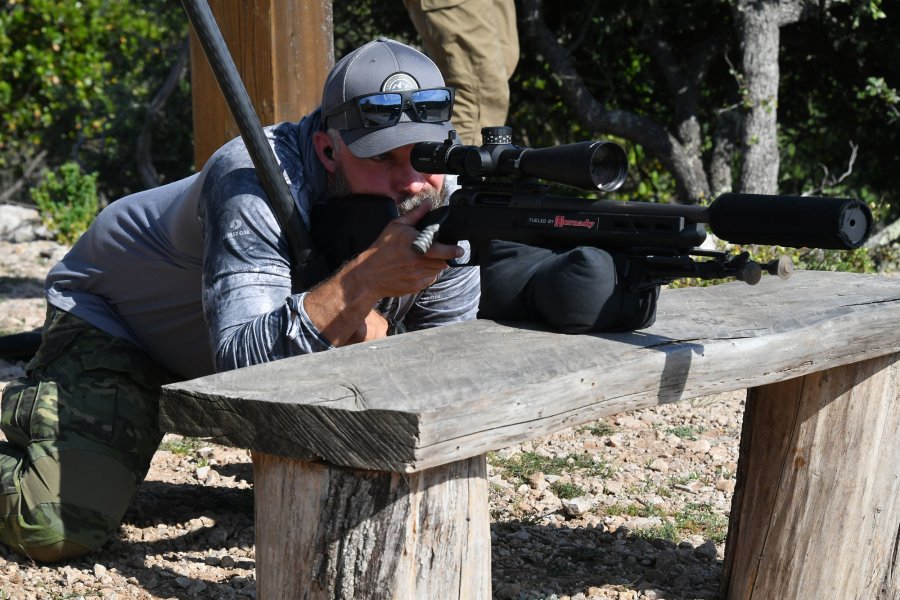 The experienced U.S. long range shooters were always on hand to give us advice and support. Nevertheless, it was surprising to find out that even with an unmodified, "out of the box" series rifle such as the model 110 Predator for just 1,400 euros, it is possible to achieve such performance in long range shooting. Last, but not least, a small PRS course was set up to hit a total of five targets at 300 and 500 meters, always alternating between different positions. This was a challenging experience and while we "normals" needed several minutes under expert guidance, Nic Kytlica and Matt Alwine shot this stage "full house" in 90 and only 35 seconds respectively – chapeau! We had fun being there, we learned a lot and we hope you enjoy this report and our exclusive video.