Is long range shooting really that expensive?
The sport of long range shooting has a reputation for being expensive. Admittedly, a few thousand euros can cross the counter before you can call a competition-ready rifle setup your own in order to take part in such a competition. Nevertheless, there is also a "cheaper" way to bring things up to temperature. But before we get to the inexpensive beginner's tip, we take a look at the usual suspects.
Sports shooters swear by the Kahles high-performance riflescopes. Why?
The optics specialists at Kahles recently introduced the new Kahles K18i-2. A riflescope that, in our opinion, will find its fans in the sporting field, especially among IPSC shooters. Sport shooter Thomas Müller, who at the Polish event was on the podium twice (2nd and 3rd place), for example, swears by Kahles optics: on his Voere X3, he uses the Kahles K624i 6-24x56i, which has been with him for many years now and has never let him down.


The Kahles K624i 6-24x56 is also used by Alexander Skley on a Tikka TAC A1 in .308 Winchester. Alexander was one of the organizers of the Long Range Experience 2023 in Poland last June, along with Jan Kern of "Core Guns". He is an active sports shooter. At the premiere of the Long Range Event, he also shot in .300 Norma Magnum caliber with a Scorpio model T  bolt-action rifle of the Victrix brand. After the event, Alexander went straight to Denmark, the Mecca for long range shooters. There he shot at up to 2,000 meters – but that's a whole other story. Let's continue here with the rifles from the premium class.
Fasten your seat belts: now it gets expensive – We present the upper class of the long range sporting guns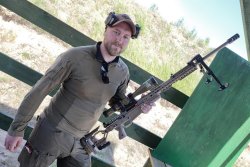 Another highlight of the Polish event was the PSG Valkyrie. Matthias Assmann from Schnupper Schießen Bayern, competed in the Magnum class at 300, 600 and 800 meters with these top-class high-performance sporting rifles  in .338 Lapua Magnum. As optic he used the Steiner M5Xi 5-25, a scope that is predestined for long shots. We can only speculate on prices given the setup of rifle and optic. Small note in the middle of the text: other brands were used at the event, of course. German importer Waimex, one of the main sponsors of the event, famously tested hunting hybrid rifles from Howa and Anschütz and surprisingly did well with the sport shooters. Above all, the new Noblex NZ8 2.5-20x50 inception riflescope also made a very good impression. With an adjustment range of over 3 meters, we shot really good groups without much training. And that with a comparatively inexpensive scope from Noblex e-Optics, mind you. Well, at least we were on target, and as Hubert Bodächtel of Waimex so aptly said, "You can go right on target with the scope, even at 1,000 yards."

What rifle did the winner of the long range event in Poland 2023 use?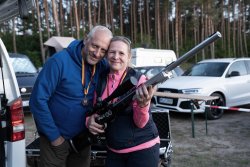 The PSG Valkyrie was also used by the winner in the "Magnum" division, who incidentally also dominated the "Semi Auto" and "1,000 Yards" categories with other rifle setups. Daniela Kroll, however, competed with a custom gun made by master gunsmith Andreas Schuler in .300 WSM caliber. Again, we don't have a price, but we estimate the setup to be at least ten thousand euros. The special feature of this model is the special precision barrel by Lothar Walther. The stock of the winning rifle is also a custom product. The scope used was the Vortex Golden Eagle HD 15-60x52 ECR-1 MOA. For the victory in "Semi-Auto", Daniela Kroll used a semi-automatic rifle from Waffen Albert in Schweinfurt in .300 Winchester Magnum. Here, the Cronus BTR Gen2 UHD - 4.5-29X56 MIL (APRS6) from Athlon Optics was used. We also estimate this combo to be worth eight to ten thousand euros. The winner was supported by team partner Endru Holzhüter, who took second place in the bolt-action division. 

Was the most expensive rifle at the Long Range Experience 2023 in Poland the civilian HK G28 Z?
A few words about Simon Deffner, who participated in the Polish event as a hunter and sport shooter. His rifle was supposedly the most expensive of the event, being the civilian version of the HK G28 Z. Mounted on Simon's rifle was a scope from Schmidt & Bender, the PM II 5-20x56. The MSRP of the combination is 11,500 euros. A top class, high-performance rifle. 
Editor's tip for long range beginners: the Evo Desert from Sabatti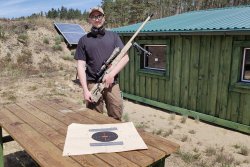 Janos Becker was at this event as a sport shooter and photographer and competed in the "bolt-action" division at 300, 600 and 800 meters with a Sabatti Evo Desert in .308 Winchester and a Meopta ZD 6-24x56 RD MIL-DOT scope. Janos is more than convinced by his combination. As an entry-level package for just under 4,000 euros, you can practice long range shooting with it.  Although Sabatti designed the stock of the Tactical EVO for dynamic shooting competitions, it is in fact also suitable for static long range shooting. The bolt-action rifle features Sabatti's Multi Radial Rifling (MRR) barrel profile, known for its accuracy, and comes with a muzzle brake. It appeals primarily to beginners who are looking for an affordable complete package for long range shooting.
Where does Blaser stand with the R8? We meet a very special custom version for long range shooting in 6.5 PRC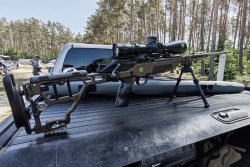 We searched for a long time, but finally we found at least one Blaser R8 at the Long Range Experience 2023, and it was Kai-Uwe Kühl's. Kai-Uwe used the caliber 6.5 PRC. Unfortunately, Kai-Uwe Kühl could not participate in the competition, which was a real pity, because he was able to achieve a remarkable group at 800 meters on the first day of training. Who knows where he would have ended up if he hadn't had to leave early.

In a short interview, Kai-Uwe told us: "This rifle is based on the Blaser R8, the stock is from FBT. The precision barrel is from the Czech Republic and is custom made. My goal was to make a long-range rifle that is still portable in terms of weight for mountain hunting, i.e. does not weigh too much, with a versatile adjustable stock that can be perfectly adapted to the shooter in any position and attitude. And to use a precision barrel with the right twist length, which guarantees that the bullets land precisely on target even at 1,000 meters and do not start tumbling at 600 meters due to insufficient twist length. The muzzle brake and trigger are also custom-made. It is advisable to always order two barrels and have a certified shot group delivered in advance. The wheat is often separated from the chaff in terms of precision at ranges of 400 to 600 meters. Anyone who puts together a long range rifle individually should plan on spending between 10,000 and 15,000 euros. The limits are open at the top. It is advisable to go for quality right from the start, otherwise you will be constantly replacing your equipment within the first 3 years. The barrel and the corresponding twist length and the matching caliber or bullet are a challenge in themselves." The Blaser R8 definitely left its mark, that's a fact, even if it was a custom version. The accuracy simply speaks for this rifle! So Blaser can do more than just hunting.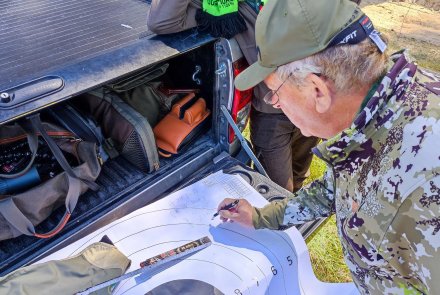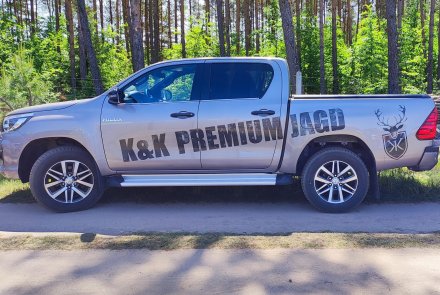 High-performance optics from Japan – The March 5x-42x56 High Master long range scope is very compact and attracted positive attention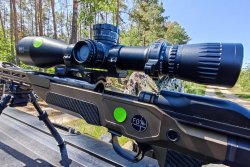 Also interesting is the riflescope, which had a very fine reticle and was rated "very good" by a single viewer based on his subjective impression. It is an FFP model with reticle in the 1st focus plane from Japan and is called March 5x-42x56 High Master. Kai-Uwe Kühl says the following about the riflescope: "In the recent past, excellent riflescopes from well-known brand manufacturers for long range shooting have come onto the market. The problem for us was that the standard mounts no longer held these much heavier scopes under high loads. The High Master March 5x-42x56 is a very compact riflescope with fabulous adjustment accuracy. Each click precisely matches the MOA indication. The reticle and illumination unit are very good. The optical brilliance and field of view also guarantee a very clear image and precise reticle. The March covers the demands of long range shooters very well. I liked that very much". In the end, the question of price remains: the March 5x-42x56 High Master currently costs €4,699. Phew!

Hornady and RWS have often performed well in long range competitions. How did it go in Poland 2023?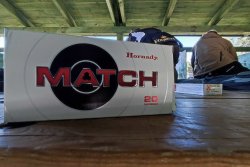 The ammunition Kai-Uwe Kühl used for training was the Hornady 6.5 mm PRC ELD Match with 147-gr heavy bullet. A cartridge that immediately delivered at 800 meters out of the cold and is certainly a competition cartridge to be taken seriously – even if many of the sport shooters arrived with reloaded ammunition. Kühl also has a clear opinion on this: "The days of me sitting in the basement stuffing cases are long gone. After all, the Americans are known for their long range experience and even if the 6.5 PRC Hornady ELD Match should deviate somewhat from the performance description on the packaging, it still delivers a significantly higher v0 than the 6.5 Creedmoor that I valued. Of course, this higher bullet velocity comes at the expense of barrel life –  experts talk about 2,000 rounds here. That's why I use the 6.5 PRC Match primarily for long-range shooting at ranges and competitions where 1,000 yards are shot. Not every barrel handles different bullets the same. Everyone has to test that extensively in advance and put together the best combination and the appropriate components."
In addition to the usual suspects from America, however, the ammunition professionals from RWS in Germany did not miss the opportunity to prove themselves here, because with the RWS Target Elite Plus we were able to keep up well with sport shooters, even with hunting hybrid rifles, and who knows where we would have ended up if we had used mounts with a forward tilt in the competition? So, in the end, we are left with the realization that long range shooting is really fun and certainly even more enjoyable when you still hit the target with a supposed handicap in terms of equipment. An acquaintance, a professional angler – once said to the author: " My dear, it is no art with a strong line to pull the fat mama ashore (he meant the pike). It is much more exciting to do it with a thin line. You understand what I mean??? 😊😊😊"

And that's why we can also say that long range shooting is cheaper than some people think, because you can also participate in a competition like this with a good production rifle with appropriate optics and factory ammunition. Even though you may not end up at the top, you can still learn a lot and improve your shooting skills tremendously. After all, as Simon Deffner so aptly put it, "The long range people are very helpful. They will always help you". So eyes open and pay attention, registration for Long Range Experience 2024 in Poland starts in September 2023. Sign up, go, it's great fun. Promise. And the value of your equipment doesn't have to be in the five-figure range.