Why settle for an usual, mass-produced, undistinguished firearm when you can have a unique gun? Lesol Tactical – or Lesoltac for short – is a German company specializing in personalizing and customizing sporting guns, gun parts and accessories by laser processing. And possibilities are quite endless, as they claim. We met Lesoltac guys to learn more about their work by asking them some questions.

First of all, Alexander, introduce yourself and Lesol tactical.
My name is Alexander Gaus and I am the owner of the company named Lesoltac, which is located in Hamburg and specializes in custom laser engraving of sports and hunting guns, as well as of shooting equipment.
Some infos about the customization tecnique we see in the pictures. Is it expensive? How long does it take to customize a magazine - for example, the Harley Quinn one?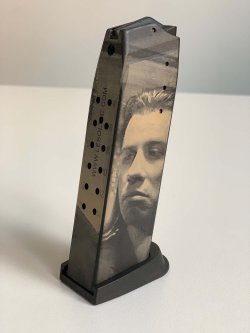 We work with lasers from an American manufacturer, which allow us to do very detailed engravings of a high quality. We have worked out not only the necessary files' parameters, but also the optimal settings for each material in order to obtain high quality results that could really attract a potential customer. The engraving job itself lasts from 30 seconds up to 15 minutes. The exact time depends on the complexity of the image and the type of material. As a rule, the more detailed the image is, the more time it takes for laser processing.
Does it work on all surfaces?
With laser engraving we can personalize almost any surface. And not only visually, but also tactilely. This method allows to make embossed clear images on the surface. The pattern can be done concave or convex. Images obtained by laser engraving are resistant to aggressive substances (including gasoline and oil) and temperature effects. Our special equipment allows us to engrave cylindrical and conical objects.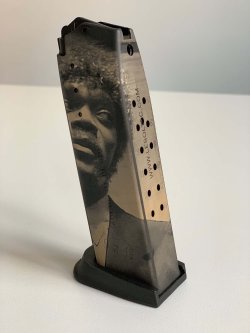 Is it possible to have them also in colors?
At the moment, our equipment cannot make colored images. However, by combining laser processing with other methods, for example, cerakote coating, you can get a rather interesting effect.
Can you customize only guns or also other things?
Gun and gun parts personalization is one of the areas where laser engraving is used. Laser equipment is ideal for engraving souvenirs, applying logos, drawings and inscriptions on various products and gifts. Such products stand out for their attractive appearance and engraving durability. Laser engraving is a modern and effective way of applying a pattern on materials such as glass, ceramics, stone, rubber, metal, plastic. This method is also indispensable it terms of processing leather products for various purposes.
What should be the features of the starting image?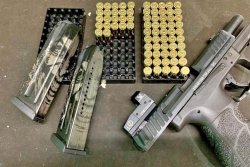 There is no general rule. Image parameters are always different. It all depends on the content and quality of the file and the surface on which the motive will be applied. As someone once said: one must have an "engraver's eye", which means to look at the photo and see the future engraving.