Ruth lives in Chelmsford, Essex with her husband and their black labrador puppy.  She didn't have a shooting background but her curiosity was piqued when she watched her husband shoot, and could see how much he enjoyed it. "He's very calm and relaxed and talked me through the basics of gun safety. After that I thought I'd dive in and booked myself onto a Ladies Day. I'd seen Rachel Carrie on social media, she showed that you can shoot and get your hands dirty and still be glamorous. I'm still inspired by her, she shares some amazing experiences and delicious looking pictures of her dinner, making me want to cook more with game."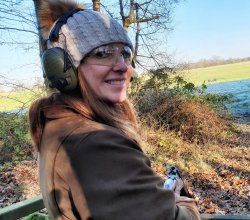 Ruth faced her fear and overcame it. She loved shooting on the ladies day she decided there and then to apply for her shotgun licence and then bought a gun, '"I bought a 12 gauge Cogswell and Harrison, Windsor model. I'd seen them on their stand at the British Shooting Show and liked the weight and the feel of it. I also liked the price as it was very affordable.'" Ruth enjoyed going out shooting with her husband, and has had a couple of lessons from a shooting coach.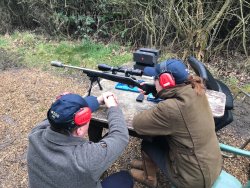 Wishing to push herself further out of her comfort zone, she booked herself onto a day long introduction to rifles at the West London Shooting School. "We started small with a 17HMR, then went on to shoot 22/250, 270, 308 and 9.3 x 74R double rifle. I had a misfire with the double rifle which was nerve wracking for that period of time where you are pointing the gun downrange and wondering if it will actually fire but it was actually a perfect scenario to have a misfire because I had an experienced instructor next to me.  It has actually given me huge confidence on what to do if anything like that happens in the future. My groupings for all of the rifles were good so I came away feeling really happy with my shooting. I also learnt about scopes, how to zero and how to make adjustments in the field. I definitely want to pursue rifle shooting further."
---
Who is our author Linda Mellor?
Linda Mellor is one of Scotland's foremost shooting, fishing and hunting female writers and photographers. She is the product Ambassador for Venator Pro, a premier hunting company and stockist of the European brand Hillman. With a lifetime of countryside experience, Linda's passion, enthusiasm and respect for the outdoors and hunting is explored and shared across her writing and photography. 
For more information on Linda Mellor, please visit Linda Mellor's website, Twitter (LindaMellor) and instagram (linda_mellor).