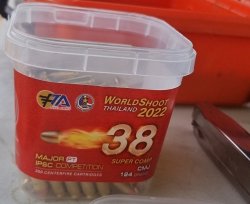 The match organization went to great lengths to provide maximum support to the shooters. Since the shooters are only allowed to carry 5 kg of ammunition on the plane, the match organization offered their own loads of match ammunition on site.
In addition to the conventional loads such as 9mm Minor, Thai Arms manufactured its own loads for the IPSC World Championship, which are normally only found among private reloaders. 
For example .40 Major loads or, for the Open Division, .38 Super Comp for ported and non-ported barrels and featuring flat- or round-nose bullets. It is more than remarkable that so many different loads were offered on site.

I'm shooting with a Atlas Gunworks Chaos in .38 Super Comp (reloaded by my fiance Horst Holzinger), using Infinity magazines, a Double alpha holster, and Leupold DeltaPoint red dot. The pistol is pretty much out-of-the box – it doesn't needed much custom work.
A digression – Open Pistols and .38 Super Comp ammunition: The difference between the .38 Super Comp and the 9mm Luger is that both cartridges have the same diameter, but the .38 is longer. So instead of 9x19, it's 9x23. Thus, the cartridge works more reliably out of 19 and 2011 platforms, since those were originally designed for .45 caliber. Therefore, in the highly bred Open pistols, gun malfunctions could otherwise occur. The difference between .38 Super Auto and .38 Super Comp is the cartridge rim. The .38 Super Auto cartridges are rimmed – the rim has a larger diameter than the rest of the case base, thus it can be gripped better by the extractor. However, this poses the risk of rimlock, meaning that the rims of two cartridges can get caught and not feed properly from the magazine. .38 Super Comp cases, like 9mm cases, have an extractor groove. The case is rimless (the rim has the same diameter as the base of the case).
Handgun World Shoot 2022: bring your own ammunition or buy it on site?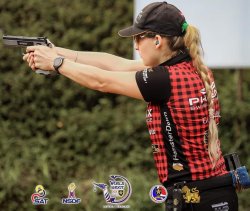 In the IPSC world, especially in Open Overalls, the competition is extremely close: it is not uncommon for the runner-up to lose by a few tenths of a percent. A single gun malfunction – even if it is just because you need to rack the slide – can make the difference between victory and defeat. Therefore, the reliability of guns and ammunition is an enormously important factor for IPSC shooters. We had ordered match ammo, but were very unsure whether it would work well. We both had 5 kg of our own ammunition with us, which allowed us to shoot about three quarters of the match. Two days before the competition, we booked ourselves a shooting range and tried out the local match ammunition there. Against expectations, it worked flawlessly. But the ammo felt minimally different. It had a lower power factor, therefore less gas pressure and less recoil. Not bothersome to Horst. But I am very sensitive about that and always have a hard time with changes in my pistol. If it works even a little less well, it already irritates me and I can't shoot at maximum speed. È
Therefore, Horst decided that he would shoot the competition with our purchased match ammunition and I could shoot with the ammunition I had brought myself. For us, this tactic worked brilliantly: we shoot the entire competition without a single malfunction due to the ammunition. For other shooters, satisfaction with the local match ammo was more mixed. Some had no problems at all, others struggled with gun malfunctions. For example, Standard Lady shooter Margaux Nycz came in second with only a 0.9% gap – and that was only due to gun malfunctions.
International IPSC match in Thailand 2022: mixed Squads, new shooter acquaintances spread around the globe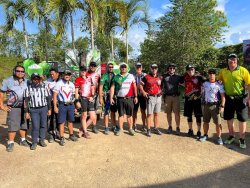 Thailand Practical Shooting Association
Horst and I were very lucky to be shooting in the same squad. We were even more pleased when we saw that there were hardly any Europeans in our squad. Only rarely do you have the opportunity to meet shooters from other continents outside of a world championship. We shot together with Australians and Canadians, who have to struggle with strict gun laws and therefore borrowed long magazines from us, as they are only allowed to own 10-round magazines. And with a shooter from Hong Kong who told us that he even has to spend a few days in a government quarantine station when he goes home. Not only is it interesting to exchange ideas, but you also see that different countries have different shooting styles. This often depends on how the matches are set up there and what you are used to as a shooter. While we Europeans usually try to shoot everything fluidly in motion, Asians prefer to shoot statically but move from one position to the next at "the speed of light".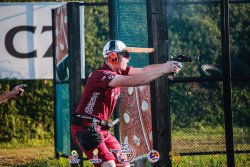 Thailand Practical Shooting Association
At the 2022 IPSC Handgun World Championships in Thailand: the rising and setting sun – a nightmare for every shooter
The World Championship is shot in alternating half-day sections. We started in Area 2 in the morning, shot Area 3 in the afternoon the next day, Area 4 in the morning and on and on. We were tremendously lucky with our division because we didn't have to start against the rising or setting sun a single time. Other squads were not so lucky. The sun was shining directly in their faces and they were extremely blinded and could hardly see the targets. But even that couldn't stop shooters: without further ado, improvised cap extensions were made with targets.
IPSC World Shoot 2022: easy paths, challenging targets and really interesting stage designs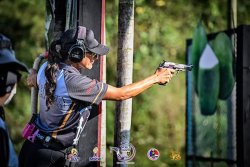 Thailand Practical Shooting Association Supoj Chumsana, © Supoj Chumsana
As already mentioned, each area had its own Thailand-specific theme, from Thai food to Thai sweets to Thai festivals. On no stage were the shooters told to shoot with one hand only. But the stage design and the decoration forced the shooters to shoot both strong-hand and weak-hand. 
On one stage, a flap had to be held open with one hand, and on another, shooters had to hold onto a barricade and shoot around it. Then they had to pass the gun from one hand to the other and shoot one-handed around the barricade on the other side.
So at World Shoot 2022 there were few possibilities to shoot a stage with different tactical paths. As a rule, there was only one sensible way and the only variation was in the order – from left to right or rather from right to left? However, there were also targets that I had not seen before in this level of difficulty in Europe.
Red dot broken – Samantha's IPSC nightmare comes true
Third day: the last stage of the day. The stage with the sliding swinger. Until then it went very well for me. I only made a few minor mistakes, but nothing dramatic. Overall, I was very happy with my performance. At the 2019 European Championships, my gun broke while I was shooting, so I had to stop.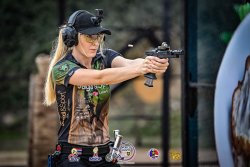 Thailand Practical Shooting Association Supoj Chumsana, © Supoj Chumsana
That took a lot out of me emotionally. At the 2022 World Championships, the drama repeated itself again: I started that very stage with the heavy swinger, which had to be shot in the last position. First I shot a few close targets, and when I changed position, it happened: my red dot simply fell off my gun. In IPSC, there are only two choices. Abort or continue. There is no such thing as trying again. And I definitely didn't want to abort, as I had to do at the 2019 European Championships. I wanted to keep shooting, keep fighting, just not give up.

I pointed my pistol at the nearest target and just shot without sighting. And I saw the bullet holes on the target. I couldn't aim through the red dot anymore, but I could still shoot. So I did. I shot the next 3 close targets without hesitation. I strafed with 4 shots the next target, about 15 yards away, until I felt I had hit it. Change to the next position. The last position, the one with the swinger.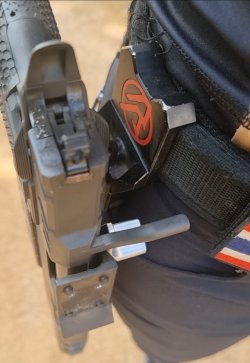 First the trigger popper that sets the swinger in motion. That one took me 4 shots to hit and it dropped. Then another popper and a target. I hit the popper with the first shot, but I had to fire several shots at the target until I hit it. Only the swinger I didn't even try. Here I had to give up. Because without sights, the risk of hitting the no-shoot was too great.
After my gun failure at the 2019 European Championships, I wanted to strengthen my nerves even further so that I would not react so emotionally again. And that's exactly what I did. Because shooting is a matter of the head and I have trained that. I am still not the strongest mentally, but I have become much stronger than I was a few years ago.
So when I saw my red dot fall off the gun, I was horrified and angry, but I stayed "in the game," as the Americans say. I kept shooting and didn't get irritated. I looked for alternatives and kept a clear head. I fought until it was finally wiser to give up. In the end, this decision paid off for me. My time was worse due to the many reshoots and I was missing the points for the swingers, but at least this way it was not a stage for which I didn't get any points at all. So not a total disaster. 
You can find the video for this stage on my social media channels: Instagram: samantha_pewpew, Facebook: Samantha Wendel – competitive IPSC shooter
One challenge was to repair the damage to the red dot: here's how it went on for Samantha and Horst...
Horst realized that the original screws had only reached halfway into the mount threads and had worn off the first 3 threads there. To be honest, we had never checked this, but the Open gun with a power factor of 175 is now an enormous stress for the material. We also had a spare pistol with us, but just as sensitive as I am about ammo, I am about my pistol. As in 2019, I was able to shoot with the spare pistol, but I didn't want to....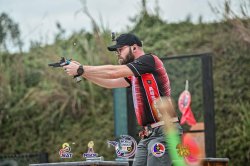 Thailand Practical Shooting Association MAMAMOOSAB, © STARPIG_STUDIO
Horst was confident that with new, longer screws, the Red Dot could be reattached to the mount. And countersunk M4 screws you can really buy anywhere, or so we thought. Two Thai hardware stores later, 30 minutes of interpreting with four cab drivers and with gestures, Google Maps, translator and showing the old screws, we finally found M4 screws. Much too long, no countersunk head and silver colored. But even this did not stop Horst. The right tool was bought and in the hotel room the screws were shortened and fitted. And so I had "my little sweet gun" back in the evening and didn't have to shoot with the (identical) replacement pistol.
In the end I was 15th in the Open ladies. Horst was 47th in the Open-Overall. A result with which we are both satisfied, even if of course more would have been possible.
Interesting for us now is the upcoming European Championship 2023 in Greece (Corinth, 11 to 17 September 2023), because among the European ladies I was 5th in Thailand. And that despite my defect on the red dot! So it remains exciting and I will of course continue to report on it here at all4shooters!
Here you can find all match results for the IPSC World Shoot 2022.