We had already anticipated to you in an article the most interesting pieces for sale at Hermann Historica in the October auction round, and as always our predictions were partly fulfilled, with a few surprises. Auction number 98 confirms a trend that has become established in recent years, namely the great interest of collectors in "almost" contemporary handguns, which often command sale prices unthinkable until recently. It had already happened in last year's auction, where a 9mm Heckler & Koch P7 A13 XM9 pistol manufactured in 1982 sold for 34,000 euros. But let's proceed with order: the first round of sales involved antique arms.
Tuesday, October 10, 2023: works of art and antiquities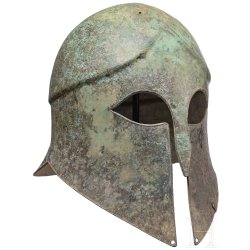 On Tuesday, October 10, at 10 a.m., the historic auction house's auction finally began in presence. Buyers were full of anticipation and immediately began to vie for the most interesting pieces by bidding both on the spot and on the phone or in front of their screens.
Enthusiasts from all over the world were able to bid online on five different auction portals. The auctioneer did not have to wait long for the hammer to drop and exclaim the magic word "Sold!"
Among the most interesting pieces from a collector's point of view that were auctioned out on the first day was lot number 7, a typical Corinthian bronze helmet, dating from around 500 B.C. We know it well because it is often depicted on sculptures and vase paintings, and it is considered the quintessential Greek helmet. With a starting price of 49,000 euros, this exceptional specimen sold for 67,500 euros.
Antique arms and armour from all over the world, Wednesday, October 11, 2023

The following day Hermann Historica offered more than 200 lots in the field of antique arms and armor from all over the world.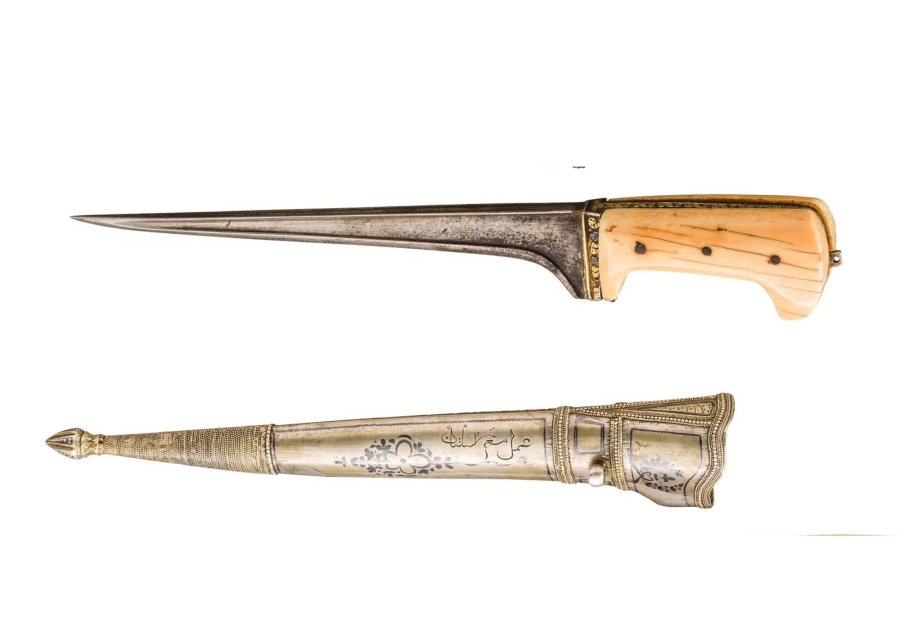 Speaking of bladed weapons, Lot 1014 saw the first tough battle between collectors vying for a 19th-century Turkmen Kard. It is hard to say whether the interest in this dagger was so high because of the walrus ivory grip panels, or because of the solid silver scabbard engraved with the words "Muhammad 's work". The fact is that for this Ottoman dagger the highest bidder had to shell out almost three times the starting price, or 8,250 euros. The starting price had been set at 2,900 euros.
But the battle among buyers was only just beginning. When a large two-handed Bidenhänder sword by the famous blade master Wolfgang Stantler of Munich (lot number 1175) was put up for auction, competition among collectors was immediately rekindled. Bidding for this two-handed sword masterpiece built around 1600 started at 7,500 euros and collectors clicked on bid buttons on all platforms until this noble Bidenhänder, with its proud length of 180 cm, was sold for 11,250 euros.


Fine antique and modern firearms, Thursday, October 12

Thursday, October 12, was the longest day of this auction week. And this was not only because of the large selection of more than 600 lots, but rather because of the ever-increasing number of bidders from auction to auction.

As we had already anticipated, one of the most interesting pieces was undoubtedly a superlative Tüfek (lot number 2006) i.e., a  Miquelet lock rifle of Ottoman manufacture, dating back to the early 1800s. The entire length of the barrel is richly gold damascened while the bore is rifled, in 15 millimeter caliber. Barrel and stock are held together by five richly engraved silver bands. This unique masterpiece was offered at a starting price of 12,000 euros and sold for 15,000 euros.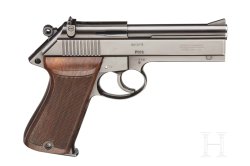 And we come to modern guns which, as has been the case for some time now, have been spiking unthinkable sale prices. The highest point of the day was reached by two Korth semi-automatic pistols, offered under lot numbers 2162 and 2163, each starting at 4,000 euros. The two pistols, made in 1988 and 1989, respectively, are in 9x19mm caliber with a ten-round magazine, complete with original box and in like-new condition. The first has serial number P018, the second P067. Considered one of the finest and best-built pistols of all time, the Korth semi-automatic is a great classic among modern pistol collectors. The somewhat low starting prices were an incentive for collectors to bid. After a pitched battle, the highest bidder had to invest nearly four times the starting price, or 15,000 euros, for lot number 2162. And he/she still lucked out, since the one who won lot number 2163 had to pony up as much as 20,000 euros.
But the bidding fever did not stop. Lot 2294, for example, a French Fusil Automatique Modèle 1917 (also known as RSC) semi-automatic rifle in 8mm Lebel caliber was offered for sale with a starting price of 3,000 euros. This rifle was manufactured in about 86,000 examples in 1917 and 1918, but very few are known to be still functioning. The special feature of the specimen for sale at Hermann Historica is precisely that it has a working gas port and bolt, not deactivated, and this made collectors' hearts flutter and especially prompted their fingers to click the bid button even faster. In the end, the highest bidder paid 14,375 euros to win this true rarity in the field of service weapons.

---
To learn more about auction results and upcoming auction sales please visit the Hermann Historica website.