The sword of the "Napoleon of Persia"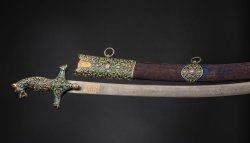 Let's start immediately with a piece of very high historical and collecting value. Lot 1029 of the November 23 auction is a superb Perso-Indian shamshir sword with a blade dedicated to Nadir Shah Afshar (1688-1747). The slightly curved blade is made of wootz-Damascus, the root and the back of the blade with gold-inlaid inscriptions on both sides, including the Basmala (first verse of the Quran), the dedication to Nadir Shah ("Nadir Tadjdar") and the signature "Asadullah Isfahani". The hilt is gilt silver, enamelled in color, lavishly adorned with diamonds and rubies, foliage and decorative tendrils, the ends of the crosspiece and the pommel are tiger heads. The velvet-covered wooden scabbard with fittings decorated  en suite to the hilt, also with diamonds and rubies, and two raised suspension rings. Length 101 cm.

Nadir Shah Afshar was born on October 22, 1688 in Dastgerd in Khorasan (now northwestern Iran) and died on June 20, 1747 in Quchan, when he was assassinated by his retinue. Upon the death of his father, a farmer and shepherd, he and his mother were taken prisoner and sold as slaves. Nadir managed to escape from his servitude and, as a young man, became the leader of a group of mercenaries. Following in the footsteps of his idols, Genghis Khan and Timur, he quickly gained a reputation as a brilliant strategist. Historians have variously described him as the "Second Alexander" and the "Napoleon of Persia." He subsequently ruled as the Shah of Persia from 1736 to 1747 and founded the Afsharid dynasty. His rule stretched from the Caucasus to the Indus and the southern shores of the Persian Gulf. In 1738, one of his campaigns also took him to Delhi, the kingdom of the Mughal emperors. When Nadir Shah conquered the city and left again in May 1739, he took thousands of slaves with him. He also captured the famous Peacock Throne, which later became the symbol of all Persian rulers. Legend has it that his booty included 700 elephants, 4,000 camels and 12,000 horses. They pulled wagons, all loaded up with gold, silver and gemstones, including the famous Koh-i-Noor (Mountain of Light) and Darya-ye Noor (Sea of Light) diamonds. The starting price for this unique piece is 40,000 euros.
A German rapier with silver-inlaid hilt, dated 1617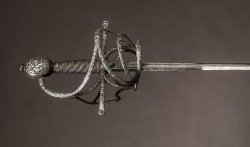 As lot 1218 of November 23 auction we find a magnificent example of the blade-making tradition from the German city of Solingen. This is a German rapier with a high quality blade with three shallow fullers on both sides of the upper third, where there is the engraving "CELIS LOBACH VAM CRVCIFIX - MEFECIT SALINGEN 1617" between imperial orb symbols. Two crucifix marks are struck on the ricasso. Iron hilt, two engraved guard plates with fine openwork. Lavish floral and tendril decoration with raised inlays and winged angels' heads. The spirally fluted grip well replaced, with silver wire winding and Turk's heads. Oval pommel with slight lateral ridges and delicate silver-inlaid ornaments. Length 124.5 cm. Starting price is 26,000 euros.

A superb Spanish percussion rifle, circa 1840/1850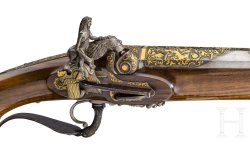 Lot 2097 in the November 24 auction is a spectacular Spanish percussion rifle with octagonal to sixteen-sided barrel, smooth bore in 17.5mm caliber. Richly decorated with fine gold damascening on a blued and finely repousséd ground. A depiction of hunter and hounds between fine scrolling foliage. Gold inlaid inscription "De Callos de Herraduras" (forged from a horseshoe) on the top of the barrel. Four gold-damascened marks at the breech, one reading "YRUSTA" surmounted by a crown, probably representing Gaspar Rusta, active in Eibar around 1790-1810. Percussion lock with external central spring, the lock plate with gold damascened scrolling foliage on finely respousséd ground. Cock chiselled in the form of Hercules with the lion. Finely grained walnut half stock with richly chiselled and gold-damascened furniture. Inscribed "Ortega" under the trigger guard, tower of Castille engraved on the trigger guard. Pierced ramrod ferrules, blackened wooded ramrod with iron tip. Length 126 cm. This is a fine and significant representative weapon, probably made for a member of the Spanish royal family or for the 1851 London World's Fair. Starting price is 18,000 euros.

SIG S.P. 47/8 Lausanne Police pistol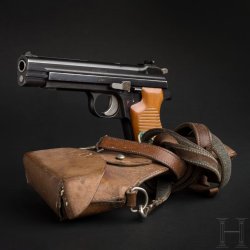 Lot 2705, which will go up for auction on November 24, is a pistol that you certainly don't see every day. It is in fact a SIG S.P. 47/8 belonging to the first production lot, built in 1947 and used by the Lausanne Police (Switzerland).

Chambered in 9 Parabellum caliber, it has the serial number 6721 and is in very good conditions, with leather shoulder strap and holster.
This is a very important pistol for modern handgun enthusiasts as it is the ancestor of the SIG P-210 and all models deriving from it. The starting price of this rarity is more than reasonable: 2000 euros.
Colt Model 1900 Automatic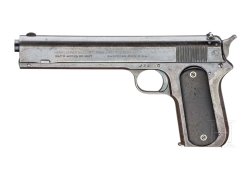 Lot 2447 is another gun that is not quite common: it is a Colt Model 1900 Automatic chambered in .38 ACP caliber with a 6" barrel and a seven-round magazine. The serial number is very low: 244 out of a total number of 3,500 pieces produced. The slide is engraved on two lines with the words "Automatic Colt / Calibre 38 Rimless Smokeless". This pistol was designed by the great John Moses Browning and although it was produced only for a few years, it laid the foundation for very successful and widespread models such as the Colt Pocket 1903 and the 1911 itself. Even in this case, despite being a somewhat rare gun, we are faced with a relatively low starting price: 1500 euros, that are likely to go up – and not by just a little.
Korth semi-automatic pistol in 9mm Para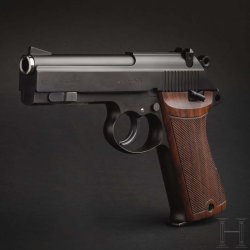 Lot 2339 of the November 24 auction is one of the most original and expensive modern semi-automatic pistols ever produced. The Korth in 9mm Para caliber was briefly manufactured by the German company, which specializes in the highest quality revolvers, starting around 1985.
Based on a locked breech, short recoil operation patented by Willie Korth, this all-steel semi-automatic pistol was adjusted and finished practically by hand, like a fine gun, and due to the very high cost had a very limited production and diffusion.
The pistol on sale at auction by Hermann Historica has the serial number 26 and is in perfect condition. The starting price of this rarity is 5000 euros, a value that is certainly not surprising.
Mannlicher system semi-auto pistol carbine M1897/01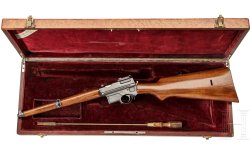 Lot 2298 is the great-grandmother of the PCC, or pistol caliber carbines. It is in fact a rare semi-automatic Mannlicher system carbine model 1897/01 chambered in 7.65mm  Mannlicher made by SIG of Neuhausen and with serial number 712. The gun comes in a maple wood case lined with red velvet, with an original ramrod and a bearing the name "Carlos Rasetti, Buenos Aires" on the lid. Founded in 1857 in Buenos Aires, Carlos Rasetti's was one of the most famous gun importers in  Argentina, publishing lavishly illustrated catalogs, as well as importing many European brands to South America starting with DWM. We did some research and discovered that the Carlos Rasetti ceased operations in 1967. In all likelihood, this carbine was a presentation model. Doubly interesting because of both the model and its particular case, this gun of yesteryear will be auctioned off starting at 6100 euros.
---
To learn more about the upcoming auctions of firearms and military items please visit the Hermann Historica website.