Among a total of 1,530 firearms that are to be auctioned off in a classic live auction on November 11 and 12, 2019, connoisseurs will discover milestones in the history of firearms. A further 842 guns will be auctioned online on November 25.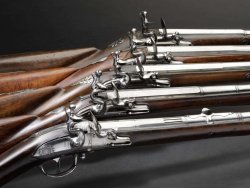 For fans of early muzzle-loaders, this auction offers a spectacular highlight: Lot 46, probably the largest group of flintlocks from a royal armoury that is still privately owned. Thirty-two fantastically preserved guns made by the best of their trade, for Duke George I of Braunschweig-Lüneburg, who also reigned as King of England. Even "Her Majesty, the Queen" would be jealous of this group! Admittedly, with a six-figure starting price, the group is not a gift - but it's worth every euro! No less spectacular is another group of guns that are hardly ever offered in this combination in an auction: lots 38 to 41 are wheellock pistols of the Saxon Electorate trabants (lifeguards) , namely the first, the second and the third model, the latter even as a pair in very good condition.
Lovers of splendid braces of pistols will get their money's worth at lot 196. A certain Joseph Charles Reilly, born in Ireland, then a gunsmith in London, created a pair of muzzle-loading percussion pistols that are unparalleled and completely untypical for the English guild: wrapped Damascus rifled barrels, carved walnut half stocks, engraved locks –  hammers and trigger guard also gold-plated. All this in an excellently preserved box with all accessories. Starting price is only 6.000 euro.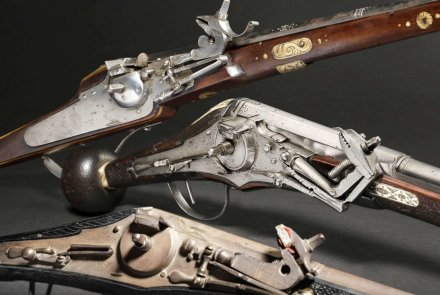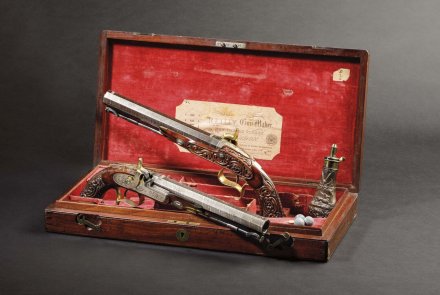 Treasures from the early days of self-loading pistol development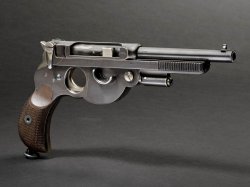 Bergmann-Schmeisser – a winning team that produced some highly interesting and coveted pistols. Hardly known and extremely rare, however, was the first model designed by Schmeisser: the Model 1894. Because Bergmann did not yet have the necessary machines and production facilities at that time, the 1894 was built by V. C. Schilling in Suhl. With lot number 460, a starting price of 8000 euro is called for a specimen in excellent condition.
How close success and oblivion are to each other is manifested in hardly any lot better than lot 564. If only it had been finished a few months earlier, this pistol would have had what it takes to outstrip the famous Mauser C96: the Schwarzlose Model 1896. Technically extremely innovative, featuring a rotary bolt and short recoil operation, magazine in the butt, striker and return spring as a single unit, rotating sight, and much more. It was designed by Andreas Schwarzlose who – in contrast to the pistol – had developed the unforgotten machine gun, manufactured in large quantities and also named after him. The pistol, on the other hand, is a rarity of the first rank with only 500 pieces made and is much sought-after by collectors.

Even rarer and almost completely unknown is lot 477 - the Gustloff pistol. Fritz Sauckel, Gauleiter of Thuringia, wanted to introduce this pistol, a mixture of Walther PP and Sauer H38, to the NSDAP and SS as a service gun. Hardly 100 pieces were produced, in many different designs and materials. But it found no mercy before the German Army Weapons Office and disappeared without a sound.

Rifles, too, are available in an enormous selection in all price and quality levels. Collectors of Mauser actions are just as much at home at this auction as collectors of Winchester rifles, Remington Rolling Blocks or American Spencer Carbines. A particularly rare cutaway model can be mentioned as a representative of the many collectable rifles in this auction. Lot 1353 is a 98k rifle made in Preduzece in 1944, complete with grenade launcher and a Gewehr Panzergranate 61 anti-tank grenade, including grenade sight with bubble level, impressively mounted on a tripod. For only 2500 euro this rifle can be yours.