FACT: Chuck Norris will be GLOCK's company spokesperson. In case you have any doubt, it's not a "factoid" this time – the world-famous Austrian firearms manufacturer just announced that the legendary world champion martial artist, actor, producer, philanthropist and entrepreneur is their new official "face and voice". The collaboration will include traditional, digital and social campaigns as well as public appearances.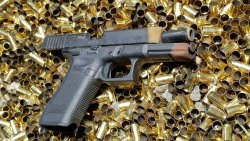 "Chuck Norris revolutionized and ushered martial arts into the American mainstream just like GLOCK revolutionized firearms by inventing and commercializing polymer-based pistols and the SAFE ACTION System" said Josh Dorsey, Vice President of GLOCK, Inc. "Having him represent the GLOCK brand brings two iconic names together that are mutually committed to perfection and their fan base. We couldn't be more excited about this partnership."
"I'm honored to partner with this world-renowned brand," Norris comments. "The values that I have built my life and brand on – tough, real, constant and powerful – are echoed in everything that GLOCK does and creates. Let me put it this way, if I ever decided to go into firearms, there would be no point – I would just be recreating what GLOCK has already built." "The only thing that would change is the name," he adds jokingly.
A martial artist and champion
Carlos "Chuck" Ray Norris, aged 79, is a black belt in Karate, Brazilian jiu-jitsu and Judo. He won many championships (he also competed for the World Title) and in the late 1960s also developed a friendship with Bruce Lee. Over the years he pursued an actor's career, starring in many movies (Missing in Action, Invasion USA, Delta Force, to name a few) and TV series (Walker, Texas Ranger).
The first Chuck Norris appearance as GLOCK's spokesperson will be at the NRA Annual Conference in Indianapolis April 26-27, 2019.