Article also available in other languages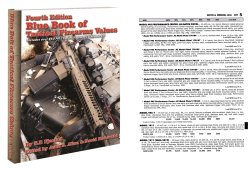 Blue Book Publications, Inc.
Headquartered in Minneapolis (MN), the Blue Book Publications company is now globally recognized as the best publishing house in the field of value guides for highly collectible items − this including guns, obviously.
Ever since the first launch of the Blue Book of Gun Values, the Blue Book's line of firearm-related publications has been expanded to a number of specific, model or manufacturer-oriented editions that now include black powder arms, airguns, ammunition, tactical-style firearms, as well as products from specific manufacturers, most notably the biggest name on the American market. 
2013 has been a great year for Blue Book Publications, with the 8th edition of the Blue Book of Modern Black Powder Arms and the 34th edition of the Blue Book of Gun Values receiving high praises and literally becoming a best seller. It couldn't have been different: under the wise direction and authorship of well-known firearms historian S.P. Fjestad and the rest of the Blue Book Publications team, the Blue Book guides have become a sort of sacred text for whoever wants to remain up-to-date with the right pricing and value of antique and modern firearms. And yet, the success of early 2013 wasn't enough for the Blue Book Publications team: new books and editions are being released in these weeks, adding up to the rich offer from this dynamic publishing house.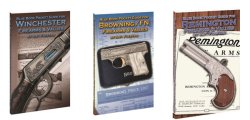 Blue Book Publications, Inc.
First and foremost is the 4th Edition Blue Book of Tactical Firearms Values: the most complete reference book ever published on tactical rifles, handguns, and shotguns, that has been dubbed by Richard Churchill (Commercial Sales Manager for Colt Manufacturing) a "great resource for accurate information and up-to-date values for the ever-expanding Tactical/AR-15 market."
This 528-page book in 8 ½ x 11 inch format features both recent (including 2013 models) and older tactical guns with detailed model descriptions including pricing with Manufacturer's Suggested Retail on currently produced tactical firearms. Unique features to the Blue Book of Tactical Firearms Values include a chapter with annotated images and technical information explaining parts and components of tactical firearms, a complete tactical glossary, and three separate Trademark Indexes of tactical manufacturers, accessories, and ammunition. Available for direct purchase from the Blue Book Publications website, it goes at a retail price of US$29.95, and is available in softcover version, in a digital CD-ROM version, and as a subscription-based On-Line publication.
Blue Book Publications, Inc.
Last, but not least, are the Pocket Guides: conveniently printed in 4 ¼ x7" size − making them the the most portable and easy to use book on firearms values ever published! − the Blue Book Pocket Guides cover five major manufacturers: Colt, Smith & Wesson, FN/Browning, Remington and Winchester. In merely 160 pages, each pocket guide covers basically every firearm manufactured by each respective maker from the 19th Century to the year 2013, including all the newest models, and all values have been updated and reflect current market conditions. Including "How to Use" and "Grading Criteria" sections, the Blue Book Pocket Guides on Colt, Smith & Wesson, FN/Browning, Winchester and Remington Firearms & Values can be purchased in soft-cover versions directly from the Blue Book Publications' website at a price of US$14.95 − and these are just the latest and hottest offers in the latest and hottest products in the ever-growing range of specialized Blue Book Publications' guides and books on historic and modern firearms, and their values. 
This video has been hidden because of an external service (YouTube) that could potentially collect personal data.Allow video services for the duration of the visitAllow video servicesStop allowing video services