Compak Sporting is a specialty of Shooting that mimics the excitement and unpredictability of a hunting trip, with clay pigeons putting to the test the shooter's eye and versatility. The main difference between Sporting and Compak is that while in the former the shooter moves from one shooting stand to another, in the Compak he or she only moves from one platform to another within the same stand. In this the Compak is more similar to an Olympic discipline, plus it is more easily practiced since it does not require ranges of great extent or of particular conformation. Another special feature is that the shooter shoots through a kind of barrier – which can also consist of two simple wooden shafts – that prevents him/her from pointing the shotgun in unsafe directions.
Compak's growing popularity is determined by the fact that it is a discipline easy to approach even without a specific gun (you can use the same shotgun you hunt with) and that rewards experience but also intuition. There is no shortage of difficult shots, but it is a high-fun sport, as well as an excellent training for Diana's followers.
Shooting Data now also for Compak Sporting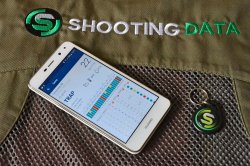 The Shooting Data digital platform was developed by Beretta to facilitate training in the various clay pigeon shooting disciplines. It is a system to monitor the shooter's training and performance that requires three simple elements: a specially equipped range, an App that can be downloaded for free from the Apple Store or Google Play Store, and a personal  smart tag valid on all fields with Shooting Data technology in the world. Before you start shooting on a range equipped with Shooting Data technology, you will simply check in at Phonopull before you start. All data will be immediately available in your App, in confidential and protected form.
The Shooting Data system automatically collects date and time, shooting range, pattern, weather, temperature, humidity, discipline, training/match, clay pigeon (left, right, center), result (hit, miss, second barrel), reaction time, equipment (shotgun, ammo, goggles, etc. if previously described for the discipline practiced). The app also has a diary section where the shooter can note physical and mental conditions and sleep data.
Video: Beretta Shooting Data now also for Compak Sporting practitioners
Good news from Beretta today for all Compak Sporting enthusiasts: Shooting Data, is now also available for that discipline. Shooting Data tracks performance on the shooting range without changing the experience on the platform, allowing the shooter to analyze training data in a simple and intuitive way to identify opportunities for improvement and growth.
This video has been hidden because of an external service (YouTube) that could potentially collect personal data.Allow video services for the duration of the visitAllow video servicesStop allowing video services
Where to download the Shooting Data app
The Shooting Data app is available for both Android and iOS operating systems and can be downloaded for free from the following links:
iOS ► https://lnkd.in/dSVhBTEC
Android ► https://lnkd.in/dTEhVbfE

Shooting Data app will also be available at the 28th European Compak Sporting Championships, scheduled for June 15-18 in Foligno, Italy. It will certainly be a good opportunity to start appreciating the great advantages offered by this system also for enthusiasts of this exciting clay pigeon shooting discipline.