My name is Chiara Costa and I am an Italian and Senegalese skeet shooter and freelance member of the all4shooters team.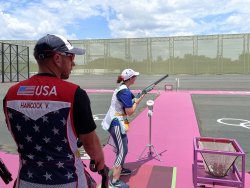 By virtue of my dual passport, I represented Senegal at the recently concluded Tokyo 2020 Olympics.

I have no great terms of comparison as this was my first participation in the Games, but it was certainly a very special edition: Covid swabs, plexiglass, contact limitations, and so on.

Every morning we athletes and the technicians who accompanied us had to take a molecular salivary test in order to access our respective competition or training ranges. This created a few complications, but certainly made us feel more controlled and secure regarding this virus that for a year and a half completely blocked us.
Video: the Tokyo Olympics as seen by Chiara Costa

This video has been hidden because of an external service (YouTube) that could potentially collect personal data.Allow video services for the duration of the visitAllow video servicesStop allowing video services
The proverbial Japanese organization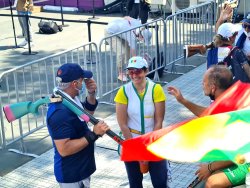 The Japanese organization was excellent in managing and overcoming hundreds of problems that occurred before and during the event. Eleven thousand athletes and as many officials were tested and followed since 14 days before departure. Each of us had to download an app (OCHA) that would monitor us from two weeks before boarding until our return home.

Upon our arrival in Japan, a waiting time of 4-6 hours in the airport was required for all participants before we made it to the Olympic village. A superbly organized village, considering the precautions and restrictions imposed by Covid.

A restaurant on two floors, open 24 hours a day, with every culinary specialty from Asian to European to satisfy any taste. Large buildings that housed different nations within them, but also services such as laundry, take-away breakfast, etc. I was staying in an 8-person mini apartment with two bathrooms. In common there was a small living room that we often used as a meeting room, as the mission leader slept with us.
My typical day began with a wake up call at 5:30 a.m., saliva test by our nation's doctor, breakfast at the restaurant and a bus at 6:30 a.m. to take us to the shooting range.

On the way there travel time was about an hour, while on the way back, with Japanese traffic, at least an hour and a half. Usually skeet shooting would occupy half a day and trap the other half. So we only met at lunchtime with the trap female shooters, at the change of shift.

My experience in Tokio 2020: On the range - cold inside, suffocating heat outside!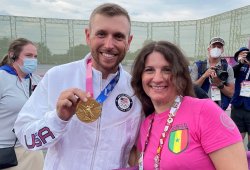 At the shooting range there were several rooms for the athletes, all complete with bathrooms, information office, drinks machines, fruit and (free) sandwiches, and of course air conditioning.

The air in my opinion was excessively cold, forcing almost everyone to wear a sweatshirt or a towel over their shoulders as the temperature outside was incredibly hot. Apart from the 35°C, the 80-90% humidity made it very difficult to shoot (actually, even to breathe!) – at  least for those like me used to a different temperature. Vincent Hancock would often walk by me and laugh as he said, "In Texas, in my home, it's much warmer than here...I'm used to that! You have to come shoot with us..."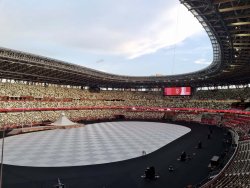 With Vincent, Austen and Amber, I shot all free training week and it was so much fun. They are a very close-knit team, where Vincent is also Austen's coach (who turned 20 on the very day of official training). They're cheering each other on, laughing, joking, talking loudly to instructors and colleagues...the impression is that they're not at the Olympics! And yet, at just the right moment, they suddenly enter the competition – and they don't miss a shot.

Olympic games 2020 in Tokio: An experience to remember and to tell all shooters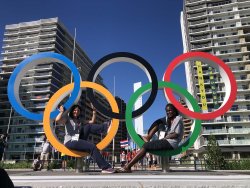 For me, it was a wonderful experience to be at their side – all top-level athletes who are professionals, each in his own sports group. I shoot about 10-20 thousand cartridges per year (depending on the vacations from work, availability of funds, etc.) and I felt uncomfortable initially shooting with athletes who usually shoot 120-150 thousand cartridges per season.
Americans train in sports centers designed only for that: they sleep there returning home only on weekends, they shoot morning and afternoon... in the breaks they go to the gym or to the physical therapist and the mental coach.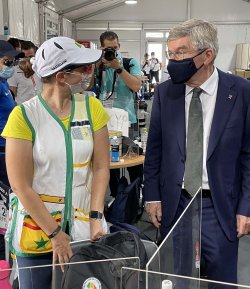 If I think about me getting up at 7 a.m. to go to work and go to school until 5 p.m. and when I go out in the fall and winter it's already dark... and I can only shoot on the weekends... in the midst of the enthusiasts who shoot full courses on weekends I can't even secure a range to repeat the the clay pigeon that I missed... Unfortunately there is no comparison.

Of course, there are weeks when the situation improves: Christmas vacations, Easter, or the two summer months (even if the American school where I work opens soon, with the first meetings already at the end of August), so I must take advantage of those times to train as much as possible, trying to concentrate the competitions in the same periods so as not to lose days of work. 
Final thanks to all my friends and supporters

From that point of view, I can consider myself lucky: the school where I teach, the American Overseas School of Rome, often allows me to take days off to participate in some World Cups (not all of them, of course!), which allowed me to qualify for what will forever be one of the best adventures of my life.

Obviously, I can't forget Beretta and Castellani, who have been following me since the beginning of this adventure, since I picked up a gun for the first time when I was 31 years old! Now it's all a bit more real: I participated in Tokyo 2020, and I owe it to my family, my partner, my physiotherapist, my coach... and all those people who have been by my side and allowed me to grow, both as an athlete and as a person.
Next goal: to keep having fun! Because in order to shoot there are no age, time or money limits, as they sometimes want us to believe. I got there by myself, on my own. It can be done!