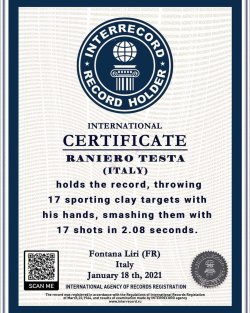 Raniero Testa hits the target(s) again – quite literally. His previous record was set last summer when he fired 1000 12-gauge rounds in less than an hour. But Raniero did not get where he is now by resting on his laurels, so it was necessary to once again exceed the limit imposed by physics and the shooter's skill. 
Raniero Testa had already earned the nickname "RT14" when, about a year ago, he shot fourteen hand-thrown clay pigeons, but now his nickname has to be changed to "RT 17" – that's the number of clay pigeons that the recordman busted with his Winchester SX4 12 gauge semiautomatic shotgun, which for the occasion had been modified by mounting a tubular magazine that extends well beyond the muzzle. And that's not all: the clay targets were hit in a record time of 2.08 seconds. Doing the math, it turns out that the Raniero / Winchester SX4  combo produced a rate of fire of 490 rounds per minute – higher than the rate of fire of an M3 "Grease Gun" submachine gun!!

Apparently, the greatest difficulty to overcome during the test was not setting the record itself, but being able to hold 17 clays with just one hand...
We congratulate Raniero Testa on this extraordinary new record and we invite you to watch the incredible video of his feat.

This video has been hidden because of an external service (YouTube) that could potentially collect personal data.Allow video services for the duration of the visitAllow video servicesStop allowing video services