From SIG Sauer, a product warning and recall notice regarding 9mm, 115-gr Elite Ball, FMJ  ammo. "Sig Sauer has determined that portions of Lot No. JDAR0815 of SIG Sauer 9MM, 115gr, Elite Ball, FMJ (SKU E9MMB1-50), may have powder charge variations that could result in a bullet remaining in the barrel (i.e., a bullet-in-bore obstruction). Firing a subsequent bullet into a bore obstruction could cause firearm damage, rendering the firearm inoperable and subjecting the shooter and bystanders to a risk of serious personal injury."
"Ammunition from this lot should be removed from use immediately and segregated from other ammunition until it can be returned to SIG Sauer – DO NOT USE LOT NUMBER: JDAR0815."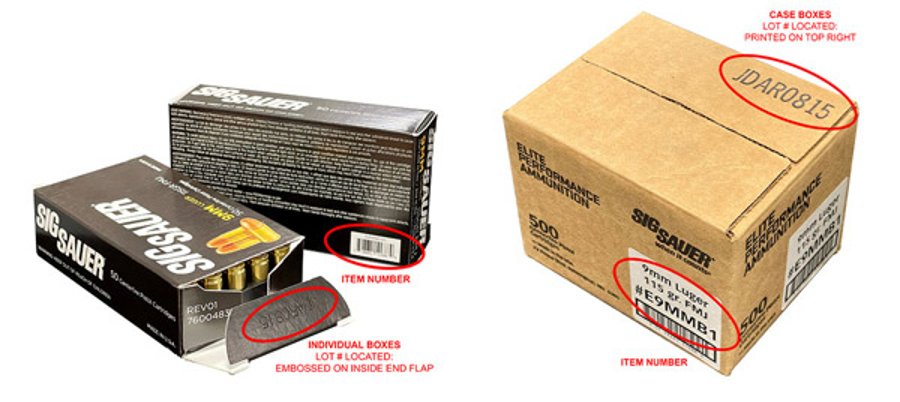 The lot number can be found on the inside flap of the individual boxes of ammunition.  The warning applies only to the lot JDAR0815.
If you possess ammunition from this lot number or have questions concerning this warning, you should register for the recall process at sigsauer.com/ammorecall – submission and instructions for returning your product will be provided or call Sig Sauer Customer Service at 603-610-3000 (Option 1).
Sig Sauer will provide replacement product and will cover the cost of returning the affected product.
---