SIG Sauer adds the high-performance M17 9mm +P ammo to its Elite Ammunition product line. Available in 124gr SIG Elite V-Crown Jacketed Hollow Point (JHP) personal defense loads and SIG Elite Full Metal Jacket (FMJ) training loads, SIG M17 ammunition is military-grade and specifically engineered for high performance in any 9mm +P rated pistol – including of course the SIG P320-M17 as specified by the manufacturer. Muzzle velocity is 1,198 fps and muzzle energy 395 ft.-lbs for both loads. Ammunition is manufactured by SIG's manufacturing facility in Jacksonville, Arkansas.
SIG Sauer M17 9mm +P ammunition, for performance and training
As explained in a press release, "SIG V-Crown ammunition features a stacked hollow point cavity, to deliver exceptional on-target energy with maximum weight retention and expansion for the ultimate stopping power. SIG FMJ training ammunition is engineered to match SIG V-Crown ballistics for a more seamless transition from training to carry ammunition and features durable, copper jacketed bullets offering the perfect combination of affordability and performance."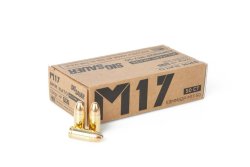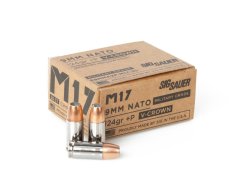 In the words of Brad Criner, Senior Director Brand Management and Business Development, SIG Sauer Ammunition, "The commercial release of the civilian variant of the U.S. Army's M17 pistol, the P320-M17, has been a tremendous success. We are excited to have the opportunity to offer the M17 9mm +P to our customers who want to shoot an ammunition that combines high-quality SIG performance with a military-grade +P ammunition. The M17 V-Crown and FMJ loads are both ballistically-matched, making it easy for our customers to train with the ammunition they carry." 
In the US MSRP is 20.95 USD (per box of 20 rounds) for the M17 124gr 9mm +P V-Crown load and 18.95 USD (per box of 50 rounds) for the M17 124gr 9mm +P FMJ training load.