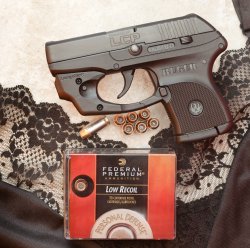 On October 7th, 2015, Sturm, Ruger & Co., Inc. announced the launch of its first line of defensive-oriented pistol ammunition.
Manufactured under Ruger's license by PolyCase Ammunition out of Savannah (Georgia, U.S.A.), the new Ruger ARX line is based on PolyCase's flagship ARX projectile, regarded by some as "the next generation of highly effective self-defense ammunition". 
 Achieved through advanced design and materials science, the unique bullet profile transfers maximum energy to the target from a fluid dynamic effect.

By design, the non-expanding Ruger ARX exploits the bullet's velocity to redirect energy laterally via flutes in the bullet ogive. This effect results in stopping power and terminal performance that rivals that of many expanding handgun bullets.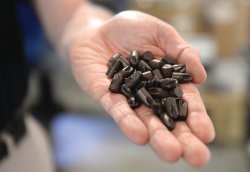 Brittney Lohmiller - Savannah Morning News

The design of the Ruger ARX allows it to feed like a round nose yet still transfer energy to targets effectively over a wide range of bullet velocities. The ARX penetrates many barriers without deformation, and penetrates through clothing without clogging and degrading terminal performance.
The Ruger ARX ammunition utilizes injected molded copper/polymer matrix projectiles. Unlike traditional bullets, this unique material can be molded into complex shapes like the ARX bullet configuration. These lightweight bullets are launched at high velocities and achieve very high energy levels, but at nominal or even reduced recoil levels and reduce the loaded weight of firearms and spare magazines. The copper/polymer bullets fragment upon striking solid backstops, making them ideal for use in indoor ranges.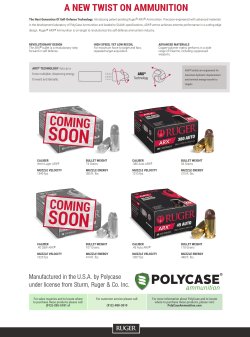 The Ruger ARX line of ammunition is currently available for sale on the U.S. market in two variants: a .380 ACP load with a 56-grains bullet, offering a muzzle velocity level that reaches 400 metres-per-second / 1315 feet-per-second and a muzzle energy level of 215 foot-pounds (291,5 Joules); and a .45 ACP load with a 118-grains bullet, offering a muzzle velocity level of 398.37 metres-per-second / 1307 feet-per-second and a muzzle energy of 448 ft.lbs (607,4 Joules).
Other loads − namely a 74-grains 9mm Luger and a 107-grains .40 Smith & Wesson − will be launched in the following months.
It's worth pointing out that the design of the ARX bullet doesn't make it either frangible or expanding. This makes the new Ruger/PolyCase line of ammunition commercially viable in those Countries or jurisdictions that enacted either partial or total bans on expanding or fragmentation loads.