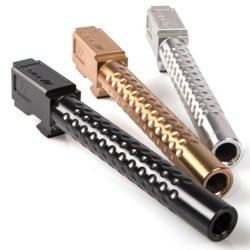 ZEV Technologies is a US company specializing in replacement parts for GLOCK pistols with a strong emphasis on quality and reliability. It pioneered the first drop-in replacement triggers for GLOCK and, as proudly claimed by the manufacturer itself, ZEV's triggers are now "the gold standard for competitors worldwide".
ZEV also manufactures 9mm replacement barrels, of course, featuring extremely tight tolerances and a somewhat flashy look. Designed for GLOCK 17, 19 or 34 models, the most striking and recognizable ones are the "dimpled" versions. 
Finishes available are bronze, uncoated stainless steel and black DLC. 
ZEV Technologies PRO and optimized March barrels
Manufactured with pre-hardened chromium stainless steel (416R), ZEV's PRO Match Barrels offer a smooth exterior and a streamlined hood design that incorporates the ZEV logo slashes and caliber marking, featuring extremely tight tolerances. Every barrel is double honed (rough and finish) until a minimum surface finish of 16 RA is reached. During this process the barrels are held to a final dimension of +/- 0.003" for consistency and accuracy. The barrels are cut rifled with a 1 in 10˝ twist rate and 100% inspected for groove dimensions and broach finish.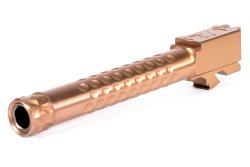 Besided the PRO Match barrel series, ZEV Technologies also manufactures Optimized Match barrels redesigned for improved performance and Gen5 compatibility. Enhanced features include a recessed target crown, a new match chamber, and a stylized barrel hood with caliber and model engravings and a loaded chamber indicator. "ZEV's proprietary broach cut 1 in 14" left hand twist rifling was developed to create the most accurate GLOCK aftermarket barrel available, and testing confirms a significant increase in accuracy over factory barrels in all standard bullet weights," they explain.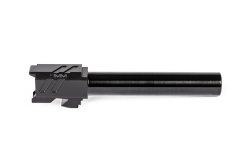 The PRO barrels are manufactured from 416R stainless steel too, which is an ideal material because it allows for the precise cutting of chambers and rifling which results in a more accurate barrel.
G19 and G17 models are available either 1/2x28 threaded or non-threaded, while G34 models are non-threaded only. Prices range from 189 USD to 289 USD, according to the barrel type and GLOCK model it's designed for.