Let's start from the beginning: we met at the shooting range and first talked a bit about ballistics and what happens inside a barrel to learn about the different types of fouling. It was very interesting to see what influence barrel fouling may have on the accuracy of cold hammered barrels – the keyword is "smooth shooting".
After that, Mr. Wimmer showed us two different types of VFG cleaning felts: the "normal" COMFORT cleaning felt made of wool, and the special INTENSIVE barrel cleaning felt with additional embedded brass fibers. The COMFORT felt is intended for light fouling and for oiling or de-oiling; the INTENSIVE felt, on the other hand, for heavy fouling or deposits. Since the somewhat darker, almost greenish looking INTENSIVE cleaning felt has embedded brass fibers, it thus combines the advantages of the COMFORT felt and a bronze brush or steel wool, whereby the use of the latter two can be confidently dispensed with.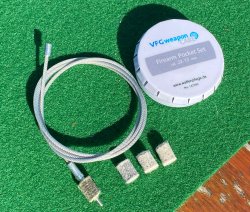 The VFG Pocket Set for gun cleaning in detail:
The handy cleaning kit comes in a small tin box, reminiscent of peppermint candies, ready for your pocket. Included is a plastic-covered steel wire with adapter for VFG felts, which serves as a flexible cleaning rod, as well as a grip disc for easier pulling through. Handling is very quick and easy, and differs in one very important point from the well-konwn "Boresnake". You can attach 1-2 cleaning felts to the VFG adapter at the end of the cleaning steel wire, and then pull it through the barrel. The steel wire makes up to 2.5 revolutions around its own axis, so that for the majority of guns the complete barrel twist is covered.
How do you clean your gun properly? The professional shows it in four steps:

First, pull a COMFORT cleaning felt with a little cleaning oil through the barrel. Then let the cleaning oil soak-in according to the manufacturer's instructions. We used an oil from Brunox, which must be allowed to react for about ten minutes – of course, there are various different oils from different manufacturers, depending on your needs.

After the oil has taken effect, INTENSIVE cleaning felts are used to roughen the loosened surface, whereby one felt can be used several times until the rough surface of the felt is "smooth". A drop of oil helps to make the felt even smoother. How often to pull through? Of course, this always depends on cartridge load, fouling, deposit, caliber, and more. You can roughly take 1-2 times per five shots as a guide.
Then the barrel is pulled through with COMFORT wool felts without oil until it is dry and clean.

Last but not least, a felt with a preservative oil is pulled through again to preserve the barrel - finished!
The Pocket Set is compact, smart and should be part of every shooting kit. Especially because the well-known Boresnake system should be washed after a few times and threading is really nerve-racking. They have definitely developed a fantastic solution, which also impressed during our test.
Wrapping up: sources of supply and price of the VFG Pocket Set

Whether a semi-automatic or bolt action rifle, the Pocket Set was tested on Merkel Helix and Oberland Arms OA10 and found to be very good. Both rifles were previously shot with and without silencers with subsonic and normal hunting ammunition respectively, in order to also have something to clean safely. The results were very good and of course no disassembly was necessary.
The VFG Pocket Sets and the corresponding cleaning felts are available for all common caliber groups. The set is available in all gun accessories specialized stores and on line, and it costs around 25 euro, depending on the supplier.