Headquartered in Simi Valley (California, USA), the V-Line Industries are a major manufacturer of security cases and cabinets; most of the Company's products are approved as "firearms safety devices" under the laws and regulations of some States of the Union (such as California Penal Code Section 12088) and local jurisdictions that impose and enforce "safe custody" criteria for privately-owned firearms.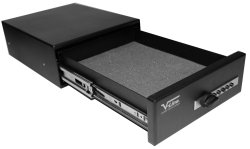 One of the Company's latest products, the Slide-Away security case, is particularly interesting in that it offers stealth, quick access and versatility at the same time − a perfect choice for those who may need to keep a gun at hand but at the same time securely locked away from the hands of children or unauthorized persons.

Entirely manufactured in the United States, the V-Line Slide-Away security case is constructed of heavy duty 12 ga. steel with a rugged tactical black scratch-proof powder coating all over its surface.

The 10"x13"x4" (25,4x33x10,16 cm) unit sports an oversized pullout drawer that is about 9.½"x10.¾"x3.¼" (24,13x27,3x8,25 cm) in inner size, is internally foam-lined to prevent scratch or damage to the items stored within and sits on a heavy duty spring assisted ball bearing slider rated to withstand a 100 pounds (45,35 kilograms) weight.
The size of the drawer is enough to host, so to speak, an i-Pad style tablet or two 1911 type firearms with room to spare for extra magazines. The Slide-Away security case also comes issued with a full-size removable tray, while other full or half trays are also available for organizing valuables or other large items such as computer tablets.
The V-Line Slide-Away security case features a tough, simple and reliable "Simplex" five-button mechanical lock, as well as an oversized lock block with a brass deadbolt.

The unit comes with a top and bottom-mounting, anti-pry bracket that allows the Slide-Away security case to be easily be mounted under a desktop or shelf, as well as under some automobile seats − basically anywhere with a 4.¼"/10,79cm clearance.
The V-Line Industries Slide-Away security case is already available for purchase in the United States; the manufacturer's suggested retail price is set at $380.00, but the street price can be as low as $290.00 as of today.