Tactical Sharpening stone
Maybe the "Tactical Sharpening stone" by american manufacturer RH Preyda is the least "hi tech" accessory available on the market, but without a doubt in skillful hands can do a terrific job. 
It is built in three sizes from Hard Black Arkansas stone and features a heavy-duty woven lanyard; it is the right tool to easily sharpen your tactical blades on the go.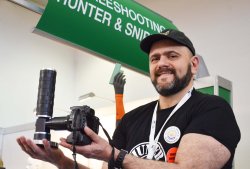 SAS G1, sistema di analisi portatile

SAS (Scientific Analisys System) G1 from Hunter & Sniper International is a lightweight and compact spectrograph that allows for complete and accurate analysis of propellants and cartridge powder. 
It can be mounted on a digital reflex camera with no risk of any damage and it creates a spectrographic image that can be easily analyzed by a personal computer with a special software. It allows for professional grade analysis of powder components, for ultra-accurate reloading or forensic use.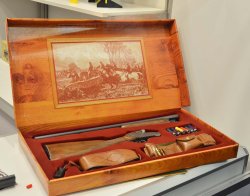 Edison Montecarlo double shotgun

As a child everyone of us wanted it, but only the luckiest found, under the Christmas tree, the Montecarlo double shotgun by Italian toy maker Edison Giocattoli. 
Produced by the Tuscany based manufacturer since half a century, it is exported to 60 countries worldwide. It is a double barreled cap firing shotgun with fake shells. 
The plastic popper cap is placed in the back of the fake shell. The De Luxe model comes in a gift box with 8 rounds, genuine leather cartridge belt and shoulder strap.
This video has been hidden because of an external service (YouTube) that could potentially collect personal data.Allow video services for the duration of the visitAllow video servicesStop allowing video services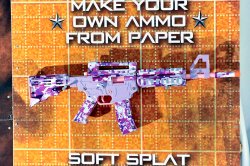 Paper Shooters
Born from a Kickstarter project conceived by a british gentleman, Mr. Mike Howarth, this toy gun shoots wet paper pellets. 
Sold only in kit form, and based on a core "engine"  made of plastic that includes the barrel, air piston and springs, this toy gun can be "dressed" with a variety of cut and folded cardboard skins, to make it look each time like a different firearm (real or completely made-up!). It uses plastic cases loaded with wet paper pellets as ammo, and the cases are realistically ejected at each shot, the box magazine holds 8 rounds, and the pellets can reach 90 feet.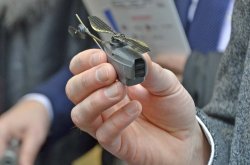 Prox Dynamics Black Hornet
Definitely not a toy, the Black Hornet from norvegian maker Prox Dynamics is the first commercially available airborne Personal Reconnaissance System. 
With its rotor span of 120 mm and a mere 18 grams of weight it flies at a maximun speed of 5 meters per second, providing live video and snapshots, with steerable camera. Endurance is up to 25 minutes with digital data link up to a range of 1600 meters line-of-sigh.  It is small, silent and easy to operate – requiring little training and no pilot experience.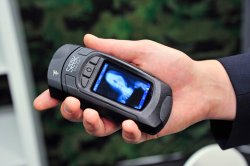 SeeK Reveal XR 30
Evolution of the smartphone thermal add-on camera SeeK Compact XR introduced last year, the subcompact Reveal XR 30 thermal camera can visualize real-time thermal images, features a powerful 300 Lumen LED light, and can write snapshots on an Micro SD card.
It has almost limitless uses, from hunting to civil engineering and law enforcement; but it also can be used for trivial things such as avoiding drilling a hole in your heating pipe in the wall, or identifying the overloaded electrical fuse in the fuse box.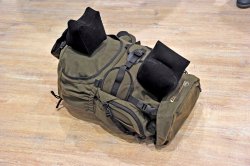 39 Hunter backpack
It could seem an obvious solution for long-range mountain hunting, however no one thought about it until now. Instead of carrying cumbersome and heavy bipod systems or using improvised rests, why not bring along a complete range bench rest with rear sandbag to make that once in a lifetime long-range shot? In this case, the bench is a backpack, conceived and built by Bignami in Italy and sold with the 39 Hunter brand, and the sandbags rests are… inflatable, and can be securely placed o the backpack using Velcro fasteners.