The SureFire UDR Dominator tactical flashlight − the latest and greatest product offered by the well-known company, headquartered in Fountain Valley (California) and a global leader in tactical illumination instruments and tactical accessories alike − is once again the proof incarnated of valuable innovation and Research & Development are for SureFire itself, and for the entire sector in general.
The year 2014 may be about to end, and yet SureFire, LLC. seems to have no intention to cease to amaze its customers; following a long and deep analysis of the needs of military forces, law enforcement agencies and other emergency service personnel, the company is now launching a tactical flashlight whose huge dimensions (it can't certainly be mistaken for a pocket or compact light!) go along with a light output level that had never been reached before − and never thought to be reachable, for that matter − by any other light emitting diode (LED)-based hand-held illumination device.
In its field, the new SureFire UDR Dominator flashlight probably represents a benchmark in new technology and new performance standards.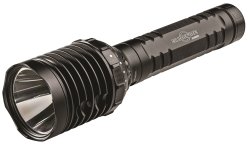 Construction-wise, the SureFire UDR Dominator tactical flashlight is built with the same materials, procedures, and to the same levels of extreme quality that SureFire got its customers used to years ago: the main tube is machined out of a single piece of lightweight aircraft-grade aluminum alloy, and hard-anodized in black following the most stringent military specs.

The central body features a checkered pattern, flat sides, and six tight longitudinal cuts, so to provide a firm grip in all environmental conditions, even with wet hands and with or without gloves. A number of O-rings and gaskets make it watertight and keep moisture or other potentially harmful elements from seeping inside.

The bezel sports a 3" (7,62cm) diameter, is manufactured out of the same aluminum alloy as the main body, and features a serrated front portion to protect its multi-treated, heat-resistant tempered toughened glass lens; five cooling fins prevent the embedded electronics from overheating over continuous use, and make it lighter.
The SureFire UDR Dominator feeds through a rechargeable Li-Ion power pack; a three-colored LED located at the bottom of the bezel works as a power gauge and passes from green to yellow or red as energy drains. The power pack offers a continuous runtime ranging from 2.5 hours to 54 hours, depending from the selected output level.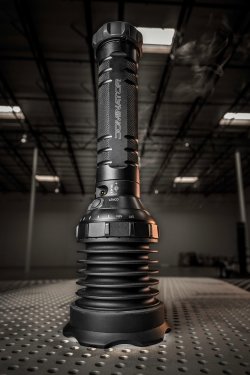 Each SureFire UDR Dominator flashlight comes factory-issued with an AC charger for standard wall power outlets, several international adapters, and a DC adapter that allows the use of 12-volt cigarette lighter/accessory vehicle socket to recharge the power pack at any time and in any place; no special charging cradle is required, nor is necessary to remove the battery.
Should the need arise, a battery magazine is issued to replace the proprietary rechargeable battery pack with twelve commercial CR123A disposable batteries as an alternate power source.

Three separate push-button head switches let the user activate the constant-on, momentary-on or MaxBlast™ modes− the latter always delivering the maximum output mode available, no matter what's the selector ring position (unless it is set to "Off/Disable").
The mentioned selector ring is located at the base of the bezel, and can be rotated to switch to the desired output level. Aside from the "Off/Disable" function, the selector ring allows the SureFire UDR Dominator flashlight to be set on strobe mode − useful for signalling as well as for tactical purposes, as the strobe mode is powerful enough to stun and disorient any hostile, allowing him or her to be put under control with a minimum use of force − or to one of the nine available output modes, the highest of whose offers up to 2400 lumens: that's an unprecedented light output intensity on the global flashlights market, offering range and peripheral illumination performances similar to those of a mounted searchlight and thus making the SureFire UDR Dominator ideal for all duties typically assigned to emergency services when facing calamitous events of any kind.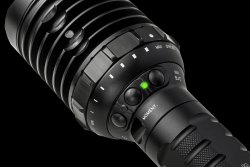 "This represents a significant milestone for SureFire and is only the beginning of things to come as LED technology continues to evolve and improve," said SureFire Director of Marketing Ron Canfield.

"It's yet another first from a company with a long history of firsts, including inventing the first WeaponLight and the first tactical flashlight."
The SureFire UDR Dominator is already available on the domestic commercial and professional markets in the United States of America, where it is sold at a manufacturer's suggested retail price of $1,370.00 (about 1102,11€ at current change). No informations concerning export availability have been released so far, but several Web-based stores, including the SureFire website itself, allow on-line purchase and ship globally.
Alternatively, professional customers (Police and Military units, other emergency services, and so on) may inquire about its availability with SureFire's international sales service.