The portable lighting world has radically changed with the introduction of LED sources and lithium batteries. Similarly, the tasks it must face have changed. The flashlight is an essential life-saving tool for safety operators or for rescue and relief operations.
It must be able to provide a positive identification of a person or vehicle at a safe distance, very visible remote signaling, or temporarily blind an assailant. Once, these functions were not available but Surefire, the same company who pioneered the development, brought them to the market.
In the research of high light intensities, obtained with both LED light sources and with more and more sophisticated reflector designs, low power was overlooked. Not all jobs require a miniature sun.
Although tremendous amounts of lighting are not needed for many jobs, there is a need for a good duration of the light source. The Surefire LX2, powered by two CR123 lithium 3v batteries, projects a light beam with double intensity, 15 lumens for normal activities and 200 lumens for the "operational" activities. The duration of the light output ranges from 2 hours at high intensity up to 47 hours, almost two full days, at the lower setting. All in a lightweight anodized aluminum body, only 130 g with batteries and strap, for a length of 14 cm and a diameter of 27 mm, tough and extremely easy to handle, fitted with a strap to secure the torch to your wrist and clip to attach it your belt.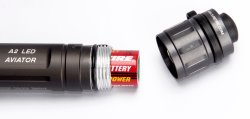 For aeronautical use, where blue light is essential for a host of reasons (to name one, NVD goggles have a "minus blue" filter), Surefire offers the A2 LED Aviator, based on the same body and tailcap but that controls a high intensity blue beam of "only" 120 lumens and a more diffused blue light of 10 lumens; it is also available with red, green and white 10 lumen LEDs. The duration of the secondary diffused beam is lower than the LX2, 15 hours.
For both flashlights, the tailcap electronics containing the power button allows the user to select between low intensity (or diffused color beam) and high intensity by simply varying the pressure of the button for temporary output, or by screwing the tailcap of the flashlight to contact, thereby obtaining continuous illumination. The body of the flashlight is ​​waterproof owing to two O-rings, and can withstand water immersion up to a depth of one meter; a thin antireflection layer that ensures maximum light transmission covers the glass.