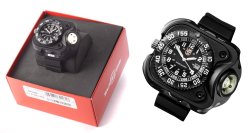 The names of SureFire and Luminox are no stranger to all enthusiasts and experts of tactical gear and accessories − as well as to most of the all4shooters.com's followers.
SureFire LLC. is headquartered in Fountain Valley (California, USA) and has long time established itself as the most important name in the industry of utility and tactical flashlights; it also offers a plethora of shooting-related accessories (most notably, hearing protections) as well as MIL/LE gear such as silencers and ultra-high-capacity magazines for automatic firearms with STANAG 4179 compliant magwells.
Luminox is a brand owned by the Mondaine Watch Group Ltd. − headquartered in Biberist, Switzerland − and markets some of the world's best wristwatches and timepieces for military and tactical operators.
Is there anything that these two companies have in common? Yes, indeed: their intended customers, these being, military and law enforcement professionals, as well as private security operators and discerning collectors.
SureFire's latest product has in fact been launched in close collaboration with Luminox, despite the early prototypes showcased in 2013 featured a Traser add-on model. We are of course talking about the SureFire 2211 Luminox WristLight.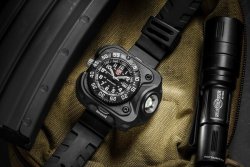 Yes, that's it: after over one year, the highly anticipated second version of the SureFire 2211 WristLight − a product which all4shooters.com briefed its followers about several times − is finally in distribution, and this time it features an embedded Luminox timepiece.

The concept behind these products is solid: modern metallurgy, LEDs, power consumption management and glass/objectives technology allow SureFire to produce a viable tactical wrist-mounted light that will keep both user's hands free, while at the same time always pointing in the right direction, aligning "automatically" when used in combination with a handgun, and providing a blinding output, a far-reaching front beam and a good peripheral illumination.
The integrated Quarz-based Luminox timepiece − featuring self-illuminated tritium-based arms and markers, a rotating bezel with timer markings and a a hardened, scratch-resistant mineral crystal − now makes it even more practical.
The SureFire 2211 Luminox WristLight is built out of machined, black hard-anodized aluminium and sports a rubber wristband. The LED light and the timepiece use independent power sources: the flashlight is powered through an integrated, rechargeable 3v Lithium-based battery, while the wristwatch uses a standard replaceable commercial disk battery.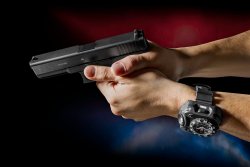 With the top quadrant occupied by the timepiece, the color-changing LED light that acts as a power gauge − changing color from green to red depending from the remaining battery level − has been moved to the rear, close to the USB port to which the issued battery charger plugs.

The on/off and output setting functions are instead controlled by two twin side-mounted switches, which replaced the top button found on the prototypes showcased in 2013.
The high-performance LED is protected through a special refraction optical lens; the simultaneous pression of both activation switches will enable output mode navigation, ranging from a minimum 15 Lumens mode to a standard 60 Lumens and up to a blinding 300 Lumens tactical mode. Light output can be programmed to cycle from high- to low-output, or from low to high, depending on your personal preference.
The battery runtime decreases gradually, depending from the selected output: the minimum level will allow 13 hours of continuous use, the intermediate level will allow 4 hours of continuous runtime while the maximum output will last for one hour only.
Both the flashlight and the timepiece are gasket-sealed against water and other aggressive elements. The overall weight of the SureFire 2211 Luminox WristLight tops 5 ounces (141,7 grams).
This video has been hidden because of an external service (YouTube) that could potentially collect personal data.Allow video services for the duration of the visitAllow video servicesStop allowing video services
The SureFire 2211 Luminox WristLight is lightweight, compact, powerful, practical and reliable enough to become a mainstay in the personal gear of military and law enforcement operators, private security personnel, Civil Defense workers and other first responders.
The only drawback worth mentioning is the manufacturer's suggested retail price: the manufacturer asks for $795.00 − around 616,20€ at the current change rate − which could be too high for the individual purchase capacity of said personnel, let alone for non-professional end customers.
There is no word concerning pricing and availability outside of the United States so far; prospective non-US customers can contact SureFire's international sales department for further informations and to locate their closest dealer or their national authorized importer and distributor.