Article also available in other languages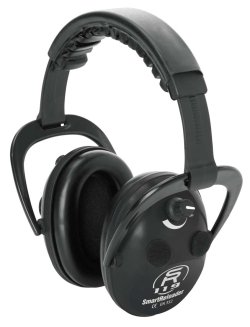 Helvetica Trading USA, LLC. - SmartReloader USA
A few years ago, the Prima Armi company − a huge, European-level importer and distributor of firearms, ammunitions, and accessories for hunting, sports, shooting, service and defensive purposes, headquartered in northern Italy − reached a series of agreements with foreign suppliers, mostly headquartered in Asia and in Turkey, to launch a brand of strictly shooting-oriented utility tools, accessories, and other products. 
The brand was named SmartReloader as the product line originally featured mostly, if not solely, tools, instruments and accessories for ammunition reloading. As the years went by, and the success grew further, the SmartReloader brand was enriched with other products, including ammunition pouches and boxes, cleaning systems and protection devices; in Europe, the SmartReloader brand even distributed a line of Turkish-made handguns and pump-action shotguns. As quick and easy as it got, the SmartReloader brand conquered a huge market share in Europe and established itself in the United States; low prices are a key factor in these times of such dire economic straits, and as a matter of fact, SmartReloader does play well on this factor, offering quality products at very affordable prices, often in direct competition with bigger, much more famous (and expensive) brands and items.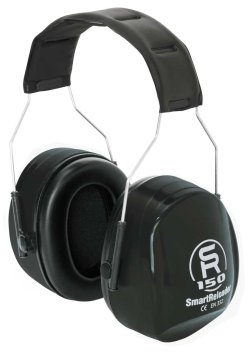 Helvetica Trading USA, LLC. - SmartReloader USA
The protective earmuffs offered by the Prima Armi company under the SmartReloader brand grew up to be increasingly praised and admired by shooters worldwide: despite not having all the bells and whistles of the models offered by many other manufacturers, which are often based upon professional-grade or military standards, the SmartReloader earmuffs are perfectly capable to offer excellent hearing protection degrees for the everyday hunter or shooter, and even for industrial applications and other hazardous workplaces − even in extremely noisy environments, for extended amounts of time, and in hostile conditions. SmartReloader's earmuffs will resist use very well, and are budget-priced, a factor that's bound to appeal the "Average Joe", be him/her a shooter, a hunter, an industrial worker, a professional in law enforcement or security, or just somebody normally interested in a decent level of protection for these rare occasions in which he/she may be forced to frequent extremely noisy environments. Earlier this year, three new high-level protective earmuffs, coming at a very interesting price, were launched under the SmartReloader brand; these three models are now available worldwide, with a very good consumer's response.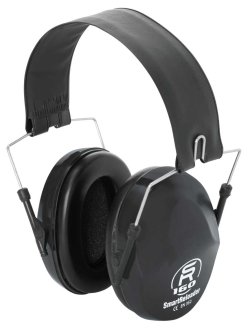 Helvetica Trading USA, LLC. - SmartReloader USA
The SmartReloader SR-119 represents the most advanced model of the new trio: these new high-protection electronic earmuffs are powered through four commercial-grade AAA batteries (two placed inside each earmuff), and contain two manually-adjustable electronic microphones that will amplify all noises and sound under a 20dB threshold, and at the same time will shut down and drastically suppress all those over the 80dB threshold − more or less the noise level caused by a person's clapping hands. This will allow shooters, industrial workers, and all other users of these electronic earmuffs to maintain complete auditory awareness over their surroundings, and even to listen to normal conversations, while at the same time relying on total protection over sudden and sharp increases in noise levels. The SmartReloader SR-119 electronic protective earmuffs are available in black, olive drab or blue finishes, and are sold for  71.99€ in Europe and around 41.99US$ in the United States.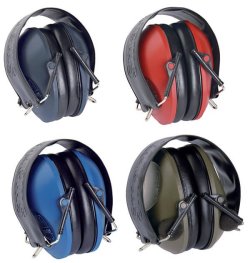 Helvetica Trading USA, LLC. - SmartReloader USA
The two following models are instead passive − not electronic. The SR-150 variant is a quite baseline earmuff designed so to remain comfortable to use even when wearing a cap or a helmet − which makes them perfect for racing or industrial applications. Available in black, blue or olive drab colors, they will protect from all noises and sounds exceeding a 29dB threshold, and will go for about 27.99€ in Europe and 33.95US$ in the United States.
Last, the SR-160 earmuffs, available in five different colors and sold for 29.99€ in Europe and around 20.99US$ in the United States, are technically akin to the SR-150 variant, but feature tapered cups, which make them ideal for trap and skeet shooters, 3-Gun shooters, long-range shooters and many others, as they will remain comfortable to use even when a rifle or shotgun is tightly pressed against the shooter's shoulder and the cheek is laid to rest over the stock. 
Perspective non-US and non-EU buyers should contact their national SmartReloader importers and local dealers to inquire for availability and pricing in their Country. Alternatively, the European SmartReloader website offers the possibility to directly purchase the SmartReloader-branded accessories. The company ships worldwide through UPS; buyer will pay both the price for the items and for the shipment at the moment of purchase: a flat rate will apply in most cases, although for some Countries where it may not apply, the system will automatically calculate the shipment rate. SmartReloader takes of course no responsibility, when shipping abroad, for any issues that may be caused by local Customs and other authorities tasked with controlling the import of firearm and shooting-related accessories and products.