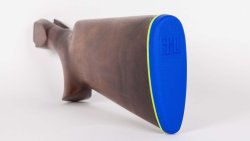 SHU Equipment's buttpads are dedicated to clay shooting practitioners who pay particular attention to detail. In a shotgun competition every detail in fact contributes to balance and therefore to the promptness of pointing and swing. Even a few grams in the wrong place can compromise the balance of the rifle, with negative effects on the score.

SHU Equipment innovative buttpad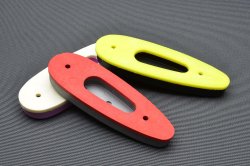 Massimo Fanzaghi and Marco Micheli know this well: they are the founders of SHU Equipment, the company that produces this interesting buttplates consisting of two elements, a plate made of rigid plastic material and a recoil pad made of elastic material.
The most obvious detail is that both the plate and the pad are available in a wide palette of colors that can be combined with each other in an infinite variety of combinations and even customized. 
But in reality the real innovation is in the composition of the materials and their extreme lightness: the SHU buttpads weigh only 60 grams.
They are therefore extremely light compared to traditional rubber pads. The pad material has a very high compression set, i.e. the ability to return to the original shape after being compressed. They are very gripping too, allowing a stable shotgun pointing. Last but not least, SHU buttpads are 100% recyclable.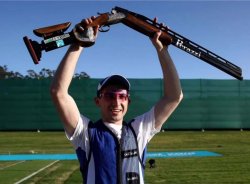 Thanks also to word of mouth between shooters, the SHU buttpads are quickly making themselves known and you can see them more and more frequently in the Italian shooting ranges and not only.
Recently SHU Equipment won the first gold medal at the Commonwealth Games with David Mc Math of the Scottish Team, who competed with their buttpads. In addition Marco Micheli is the coach. So this is a doubly significant victory for the Italian company.
The merit of the growing popularity of the SHU buttpads surely also goes to their affordable price, about 30 euro.
---
SHU Equipment website is under construction, but in the meantime you can contact the company and request further information via their Facebook page.