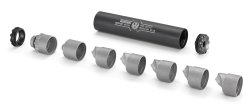 Forbidden mostly anywhere in Europe – exception made for a handful of Countries – sound suppressors and silencers are restricted, but nonetheless legal, on the U.S. market, and probably the most popular NFA items as they allow indoors and outdoors practice without endangering the shooter's hearing.
New for 2016 from Ruger is the Company's first sound suppressor, dubbed the Silent-SR and dedicated specifically for rimfire handguns, rifles and carbines: the Silent-SR is rated for .22 Long Rifle (both semi and full-auto), .17 Hornady Magnum Rimfire and .22 Winchester Magnum Rimfire ammunition, and fits on 1/2''-28 DPI thread patterns, which make it compatible with the vast majority of modern threaded-muzzle rimfire guns ; the Silent-SR is effective at reducing the noise signature of any rimfire caliber up to 40dB.
The Ruger Silent-SR sound suppressor is extremely lightweight at merely 6,3 ounces, and is built around a patented titanium-made outer tube, interlocked to the stainless steel muzzle mount to prevent accidental disassembly during removal. 


A disassembly tool is provided from factory to remove the titanium end cap and strip the stainless steel bafflers for easier cleaning. Manufacturer's suggested retail price for north America is set at $449, NFA tax stamp not included.