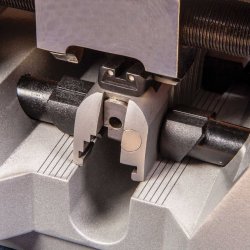 Tampering with your gun's sights without the proper tools can be quite frustrating, and in some cases you'll damage the sights or / and the slide – some of us have direct knowledge of this, unfortunately. For us aggrieved souls, Real Avid introduces the Master Sight Pusher, an innovative tool designed to easily and safely remove and install press-fit pistol sights. This is how Real Avid describe their product: "The Master Sight Pusher is a professional grade tool that makes quick work out of replacing or upgrading pistol sights. This modern gunsmithing tool is heavy-duty, built to last, and smartly designed to work with almost all modern pistol sights and slides. The oversized, ergonomic Easy Torque Handle partners with extra-fine-drive threads to provide maximum torque with minute adjustment capabilities for precise sight alignment." Real Avid Master Sight Pusher, to make quick work out of replacing or upgrading pistol sights.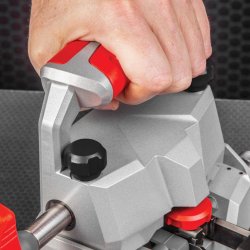 Thanks to a reversible universal press block features, you have multiple contact surfaces for almost any size and style of press-fit dovetail slots and sight profiles. An adjustable slide cradle with non-marring contact surfaces deliver a secure hold on both 1911 pistols and pistols with flat-bottom slides – which means that it's adaptable to work with most striker-fired pistols on the market.
A spring-loaded vertical adjustment knobs as well as a safe lock anti-torsion frame for optimal control are included. Add to this a bench face attachment ridge that allows for simple attachment to any work bench, an oversized Easy Torque Handle with an integrated 3/8 ratchet receiver to provide additional leverage, and a heavy-duty grip to secure the tool while turning the torque handle, and the package is complete.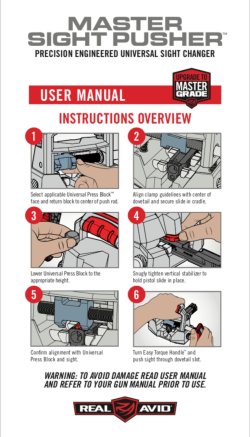 Replace and upgrade pistol sights easily
"Since pistol sights represent one of the most common and needful upgrades for shooters, and since most handgun enthusiasts own more than one make or style of pistol, it made sense for us to develop a universal-style sight pusher." said Dave Steiner, Real Avid President. "The new Master Sight Pusher allows shooters to install their favorite sight without going to a gunsmith or purchasing a costly sight installer for each model handgun they use."
Real Avid asks 149.99 USD for their Master Sight Pusher – a fair price for an heavy-duty looking tool and for saving yourself from the trauma of ruining your beloved guns and expensive sights. 
Real Avid Master Sight Pusher specs and price
Safe lock anti-torsion frame
Bench vise attachment ridge
Ergonomic control grip
Easy Torque Handle with 3/8" rachet receiver
Magnum rush rod and universal press block
Four side clamp adjustment knobs
Two spring-loaded vertical adjustment knobs
Accommodates most makes and models of striker-fire and 1911 pistols
Price (MSRP): 149.99 USD