Article also available in other languages
There are many reasons why a shooter should resort to reload his/her own ammunition.
Some do it for a matter of practicity or necessity, or to save money: that's the case of shooters who practice extensively with expensive or relatively rare calibers.
Some do it for fun and for testing, having their good time at putting their guns through a sort of torture test and exploring the capability of their firearms to withstand higher-pressure loads or to cycle reliably even with low-pressure rounds.
Others do it because no commercially-available load has been satisfactory enough to them as of now: that's the case for high-level hunters or sports shooters, or even military or law enforcement professionals, who spent enough time at the range or on the field with their gun(s) to have developed an exact ammunition match that will always provide a given result in given conditions.
All of them, though, face a common problem: the reconditioning of certain expendable products to make them ready to reload. That's the case for... spent cases. Most of them are in very bad conditions when retrieved after ejection − particularly if they've been fired with certain firearms or if they were loaded with certain high-pressure propellants. Even when they're not deformed or broken, they may be very, very dirty.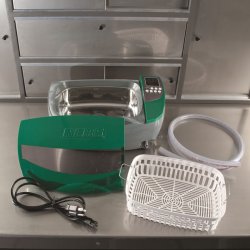 RCBS - Precisioneered Shooting Products
The dirt on spent cases mostly consists of carbon residues, and of other metallic or mineral particles; not only using less-than-perfectly-clean brass for reloading will be harmful for the gun −and for the user − but will, at the least, negatively affect the performance or even the proper working of the reloaded ammunition.
That's why discerning reloaders always look for the right instruments to get the cleaning job done. Reloading is supposed to be money-saving, and not excessively time-consuming. Cleaning brass may be a problem, but now a solution for demanding reloaders comes from RCBS, a premier US-based manufacturer of reloading instruments and part of the ATK Group.
Early in Semptember, RCBS launched a brand new product aimed to address the need of high-volume and low-volume reloaders alike, which had been first showcased early during the year.
We are talking about the Ultrasonic Case Cleaner, advertised as "the ultimate tool to save time and crank out rounds faster". Powered through 110V or 220V household power outlets, depending from the Country it's sold in, the RCBS Ultrasonic Case Cleaner features a 60-watt transducer, a 100-watt ceramic heater and 36kHz ultrasonic frequency. It also offers user-friendly features including a degas function, plastic tray, drain valve, drain tube and a sensor that indicates when to change out solution.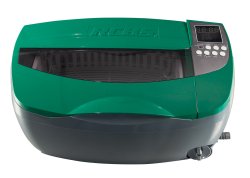 RCBS - Precisioneered Shooting Products
Its 3.2-quart stainless steel tank holds a huge volume of brass cases, rapidly removing tarnish, carbon buildup and metal oxides. Handloaders can use the keypad and display to select one of five preset temperature settings, and to set the timer from 1 to 30 minutes to match their specific case-cleaning needs.
This ultrasonic cleaner features a large 3 liter capacity, 60 watt transducer, 100 watt ceramic heater, drain valve, drain tube and a user friendly keypad. Ultrasonic cleaning has become very popular with reloaders as it blasts away caked on carbon, dirt and grime from brass cases inside and out, even in the primer pocket.
Loading the RCBS Ultrasonic Case Cleaner is fast and safe: the brass can be loaded directly in the removable plastic tray, which is later inserted in the tank and filled with the proper cleaning solution. The Ultrasonic Case Cleaner can also be used to clean gun parts such as bolts, barrels, slides, frames, hammers, triggers, magazines, and even smaller components, with no risks for protective finishes or other sensitive features.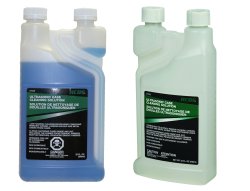 RCBS - Precisioneered Shooting Products
In addition, RCBS offers two different cleaning solutions to be used with the Ultrasonic Case Cleaner.
The RCBS Ultrasonic Solutions come in a 32oz bottle of concentrate that will make up to 10 gallons of solution and can be used in any ultrasonic case cleaner − not just RCBS'.
The RCBS Ultrasonic Case Cleaner is available now through several retailers and distributors; so are the Ultrasonic Solutions.
The RCBS Ultrasonic Case Cleaner is currently sold in the United States for a street price that ranges anywhere between 90.00US$ and 145.00US$; the solutions are sold at around 19.99US$ (RCBS Ultrasonic Case Cleaning Solution) or 29.99US$ (RCBS Ultrasonic Gun Cleaning Solution).
Perspective non-US buyers should contact their local RCBS distributors for availability and pricing.
Shooters should however take note of the fact that the RCBS Ultrasonic Case Cleaner will remove fouling from cases, but it does not polish cases. Reloaders looking for polished cases still need to run cleaned cases through a tumbler to achieve a shiny finish.