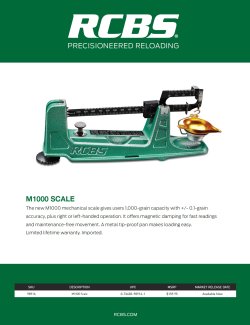 Vista Outdoor Inc. - RCBS
RCBS − a Vista Outdoor Group brand dedicated to reloading equipment − offers a feature-packed mechanical powder measuring scale conceived to meet the needs of modern handloaders.
Dubbed the M1000, this new mechanical scale is manufactured entirely out of metal, with a green-painted die-cast aluminum base, and is essentially a scaled-up version of the already well-known M500 scale.
Just like its own name suggests, the RCBS M1000 scale sports a maximum capacity of one thousand grains, with a +/-0.1-grain accuracy. Its design makes it easy and intuitive to operate by right-handed and left-handed users alike, and offers RCBS' own  magnetic damping system for fast readings and maintenance-free movement.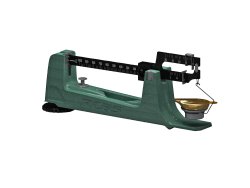 Vista Outdoor Inc. - RCBS
The RCBS M1000 powder scale is sold along with its beam mounted on pivots onto ceramic bearings, a tip-proof metal pan, and nonmagnetic calibration weights.

« We offer ultra-reliable equipment for serious reloaders,» said Curtis Smith, RCBS Product Director.

« For those who choose mechanical scales, accuracy and reliability are top priorities. The new M1000 scale provides exactly that for both left- and right-handed users.»
The RCBS M1000 scale is already available on the international markets; the manufacturer's suggested retail price for the U.S. market has been set at $159.45, while street price in Europe ranges between approximately 180 and approximately 200 Euros, depending from the Country.
For further information concerning the availability and pricing of the M1000 scale and other RCBS products in your Country, search the official RCBS international distributors list.