This brand new ultra-compact crossbow promises accuracy like a rifle, and the manufacturer isn't kidding. The company challenged shooters at the Range Day 2017 to take their first shot at 100 yards, as the bow promises 3-inch groups at the length of a football field.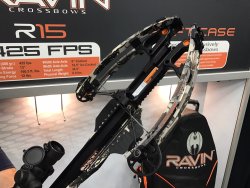 Measuring only 6 inches axle to axle, this is by far the most compact long-range hunting crossbow on the market. Its patented Heli-Coil technology drives the system, as the cables are coiled away from both the top and bottom of the cams in helical grooves, keeping the cams in a perfect balance for increased speed and accuracy. Also boosting accuracy potential is the fact the bolt does not ride on the rails as does a standard crossbow.

Crossbow Ravin R15: trigger mechanism and crank cooking system

Instead, the arrow in the Ravin R 15 is free-floating, eliminating drag and creating a frictionless flight system. The Trigger mechanism slides forward on the rail and clasps directly to the center of the string each time the bow is drawn. The Versa-Draw crank cocking system is standard, requiring only 10lbs of force to both cock and de-cock. The system works with either audible clicks or silently, and is ambidextrous. The US-manufacturer Ravin was started by a hardcore group of hunters in Superior, Wisconsin and all bows are designed and produced in the USA.
This video has been hidden because of an external service (YouTube) that could potentially collect personal data.Allow video services for the duration of the visitAllow video servicesStop allowing video services
Crossbow Ravin R15: models and price

The first model of Ravin, the R9 Predator, hit the market just before Christmas, while the brand-new R15, presented at SHOT SHOW, will be shipping in the US - according to the manufacturer - between March and April 2017. The Ravin R9 model fires at 390fps and measures 34.5" overall. The weigh is only 6.7 pounds.  
The new R15 crossbow comes with a quiver, six bolts, and a 100-yard illuminated 1.5-5x scope. The retail price is 1,550 US-Dollar.  The upcoming R15 will fire at 425fps with the same measurements as the R9 model.
All we can say: that's pure fun even if the R15 is not really cheap. Let's wait and see if the EU distributors will bring this product to Europe. It's of big interest, because in many EU countries crossbows are "free from 18 years" and you do not need any license. We'll keep you updated.

All news from SHOT Show 2017 you'll find here: