Article also available in other languages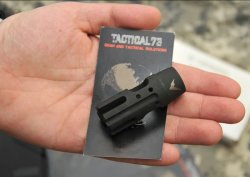 Gian Franco Serafino for All4shooters.com
Despite being known for its low recoil and muzzle climb levels, modern sporting rifles chambered for the 5.56x45mm/.223 Remington caliber − particularly AR-15 derivative semi-automatic rifles or carbines − can provide a quite unpleasant shooting feedback if deprived of a muzzle device that works both as a muzzle brake − diverting the gas flow as it exits the muzzle behind the bullet, so to reduce muzzle climb and felt recoil − and as a flash hider, extinguishing or at least dampening the flash caused by the hot gases themselves.
Whoever had the chance to fire a modern sporting rifle in the "Post-Ban" configuration as sold in the United States between 1994 and 2004 − when the Brady Bill, or "Assault Weapons Ban", was still in effect −  will be very familiar with the harsh reactions of a modern sporting rifle being fired without a muzzle brake or flash hider, and so are those shooters who live in Countries or jurisdictions where said muzzle attachments were (or still are) forbidden or limited by law.
Gian Franco Serafino for All4shooters.com
Luckily enough, the Assault Weapons Ban is gone, and muzzle attachments aren't considered particularly "evil" features in other Countries that allow private ownership of modern sporting rifles. With the American market re-opening to muzzle brakes and flash hiders, a plethora of local and international manufacturers started to develop an ever-increasing number of variants of this particular device. As a matter of fact, most modern sporting rifles do come with factory-issued muzzle brakes and flash hiders − and even more specifically, AR-15 based rifles and carbines mostly come with a "birdcage"-style attachment, whose performances are good enough but have since been surpassed by the newest designs. Muzzle attachments represent a key versatility feature in the AR-15 design: many of those found on the rifles or carbine specifically built for the Police or the military will easily dub as quick-attach/detach points for silencers or sound suppressors, while in semi-automatic sporter variants, they'll allow better control during rapid fire, which is a key factor in many sports shooting competitions such as 3-Gun and other disciplines.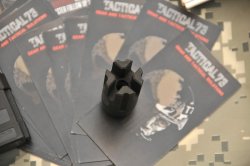 Gian Franco Serafino for All4shooters.com
It goes without saying, the best muzzle attachments available for the AR-15 from the finest US-based manufacturers are quite pricy even for American standards − and in Europe and other Countries, they can be out of the reach of the average shooter. But now there's a great alternative, offering high-end quality and performance at a budget price, for those seeking a cost-effective muzzle attachment for their tactical- or sporting-purpose AR-15 rifle or carbine.

We're talking about the XTC (Xtreme Tactical Compensator, manufactured by Rainier Arms LLC. out of Auburn, a small town in the Washington State.
The Rainier Arms "Xtreme Tactical Compensator" is a sturdy little muzzle device that sells in the United States at a manufacturer's suggested retail price of 56,95US$ − and is available in Europe at just a little bit more, but we'll see that in a moment − while providing great functionality.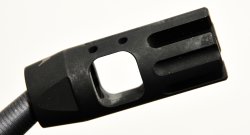 Gian Franco Serafino for All4shooters.com
As its own name states, the XTC isn't just a simple muzzle brake and flash hider − that's a true compensator, that will keep the recoil, muzzle climb and muzzle flash levels way lower than to what the factory-standard "Birdcage" design may ever do: something that sports shooters and tactical operators will definitely appreciate as it will make rapid fire sequences more controllable.

The XTC features a large rear expansion chamber with two side slots and three smaller top ports, right behind the muzzle itself, which is protected by four prongs that provide for further muzzle flash baffling, even though by the time the bullet leaves the muzzle, most of the hot gases will already have been vented out from the expansion chamber. As simple as it gets.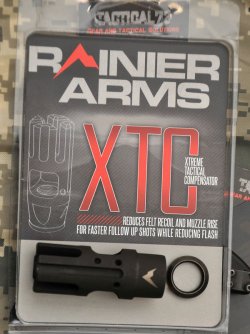 Gian Franco Serafino for All4shooters.com
The Rainier Arms XTC compensator is machined out of a single piece of 4140 chrome-moly stainless steel − the same kind of steel used to manufacture the barrels found on most commercial-grade semi-automatic AR-15 based rifles and carbines.
The manufacturing procedure includes a peculiar heat treatment that hardens the steel to achieve superior resistance levels − the Rainier Arms XTC tops an HRC 35 Rockwell level when tested with diamond penetrators. All outer surfaces are treated with a matte protective finish − with the Rainier Arms company logo standing out in white.
The Rainier Arms XTC compensator has been conceived to remain as compact as it gets, so not to sacrifice the maneuverability of the gun it'll be installed on: it is barely 2.2 inches long (558 millimetres) and sports a .860-inch (218mm) diameter; it is also extremely light, at barely 74 grams, or 2.6 oz.
The XTC is threaded at 1/2x28, so that it will be compatible with the muzzle threads of most, if not all, AR-15 based semi-automatic rifles and carbines currently available on the global civilian market. Last, the XTC comes issued with a crush washer that slips on the barrel right behind the compensator itself to prevent any disalignment issues during installation which may, in turn, cause accidents − or even catastrophic failures − during live-fire drills.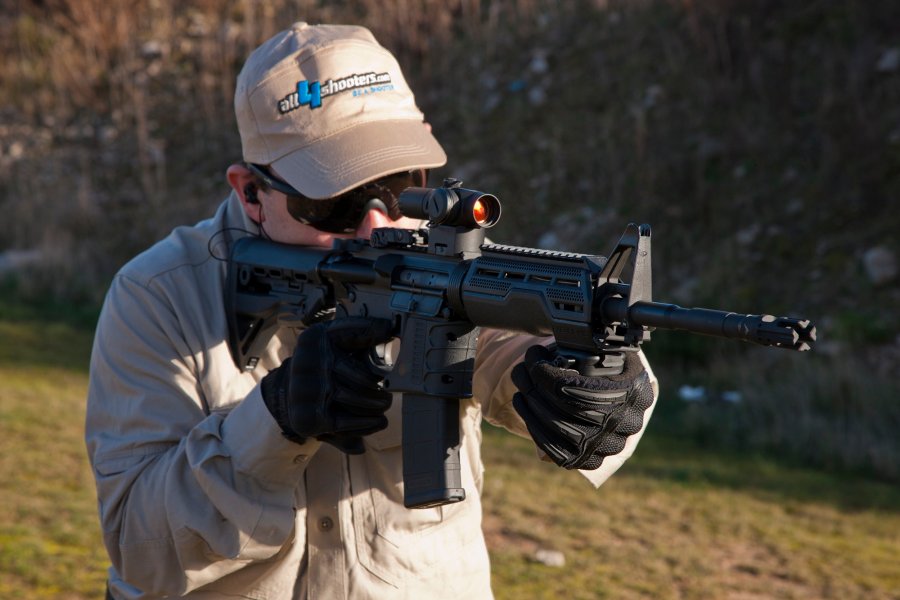 Gianmario Pedroni - Sardinia Photo for All4shooters.com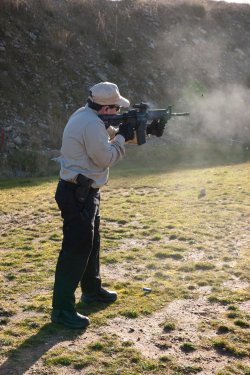 Gianmario Pedroni - Sardinia Photo for All4shooters.com
We tried the Rainier Arms XTC on the author's own AR-15 type semi-automatic carbine: a Chinese-made, .223-caliber Norinco CQ/A M4 − an odd sight for any American shooter (its 14.5-inch barrel would make it NFA-restricted in the United States, but import restrictions bar this particular model from reaching the U.S. market!) but a quite common M4-type civilian-grade carbine in Europe, mainly because of its lower retail price.
The hardest part of the installation procedure was the removal of the original factory-issue Birdcage-style flash hider. Norinco CQ/A M4-type carbines are well built overall, but their tolerances and specifics vary from mainstream models, and sometimes even from sample to sample. However, as soon as the muzzle threads were exposed, the Rainier Arms XTC was screwed on like a charm, fitting nice and tightly all the way.

We tried to use a wrench to tighten it up − which is always recommended unless you want to risk shooting your flash hider away if it's too lax! − but in this specific case we quickly found out it was not necessary: the XTC fit firmly and perfectly right away, even on a gun like the Norinco CQ/A M4, which will be compatible with a plethora of aftermarket accessories (you can tell from the pictures!), but which is also known for being mixed-spec, somewhat irregular, and requiring adjustments to fit some. Installation on higher-end AR-15 type rifles and carbines of American or European manufacturers will definitely be faster and easier − not that we had any kind of problem with the item itself − but in this particular test, we wanted to try it on a "run-of-the-mill" rifle to give an impression of what a shooter on a tight budget may get.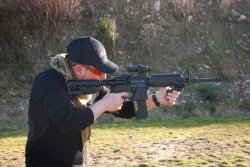 Gianmario Pedroni - Sardinia Photo for All4shooters.com
The Norinco CQ/A M4 carbine with the Rainier Arms XTC compensator was then test-fired on a 30-metres lane at an outdoors shooting range in northern Sardinia (Italy), in a surprisingly sunny and warm mid-February afternoon. Keeping an eye on our goal − providing a testing experience that'd be as accurate close as possible to an average shooter's experience − we tested the gun on commercial Fiocchi .223 Remington, 55g. FMJ ball loads, some of the most widely and readily available in Italy.

The gun was tested by five different shooters − three of whom had never fired an AR-15 style rifle or carbine before. This way, we were able to test the reaction of newbies to the performances of the XTC compensator: we all know that the AR-15 and its variants are known for their negligible recoil levels, but we also know that, no matter how intense is the recoil, it will also take first-time shooters "by surprise".
Each of the five participants performed slow-fire and rapid-fire drills with full 30-rounds magazines: US-made and German-made polymer models (MagPul P-MAGs, Hera Arms H3-MAGs) and Israeli metal models (FAB Defense). The performances of the Rainier Arms XTC didn't exactly met our expectations: they largely exceeded them.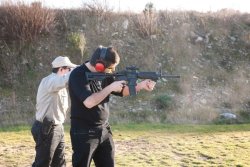 Gianmario Pedroni - Sardinia Photo
All shooters, including the three first-timers, could experience truly minimal recoil and muzzle climb levels − even for the already low levels of a standard AR-15 carbine. The muzzle flash remained basically invisible for most of the time, and could only barely be seen by the time the party fired the last shots − as sun was setting on the day, and light conditions had largely decreased.
As most, if not all, of other muzzle compensators, the Rainier Arms XTC will have no direct effect on the inherent accuracy of your gun, but the lower recoil, muzzle climb and flash levels will definitely help you to remain on target and shoot straight: even our first-timers were able to gain enough confidence with the reduced recoil and muzzle climb levels to perform well on targets.
No malfunctions of any kind was experienced at all − either inherent or not related to the compensator itself. At the end of the day, when the gun was field-stripped for basic cleaning, the owner found that the quantity of fouling in the bore, the chamber, the bolt head and the gun overall was lower than expected, possibly due to the higher gas volume that vented out of the compensator, taking a lot of carbon residues along.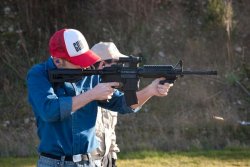 Gianmario Pedroni - Sardinia Photo for All4shooters.com
The Rainier Arms XTC "Xtreme Tactical Compensator" is one of the best, most cost-effective muzzle attachments of its kind that we ever had a chance to try out.
For the price that the manufacturing company asks for it (once again, 56.95 Dollars in the United States) many shooters will have a quality choice that comes with a 100% money back satisfaction guarantee: if the shooter isn't happy for whatever reason, he or she will just have to send it back for a full refund within 90 days of purchase.

If you live in the United States, you may thus want to consider purchasing it directly at the Rainier Arms on-line shop.

If you're reading this article from Europe, you'll be pleased to know that the Rainier Arms XTC is handled for the EU market by Tactical73 S.r.l., a distributor headquartered in Venaria Reale − a town at the outskirts of Turin, in northern Italy. Tactical73 S.r.l. keeps the Rainier Arms XTC compensator in stock at a price tag of 60,79€, which is very low for what AR-15 related accessories go for in Europe these days. The Tactical73 S.r.l. company can and will ship in all European Countries, through standard mail service or express courier − at least where on-line purchase, ownership and use of said muzzle attachments is allowed by law. The Rainier Arms XTC compensator is a great choice, so think about it... but be sure to make up your mind before it runs out of stock!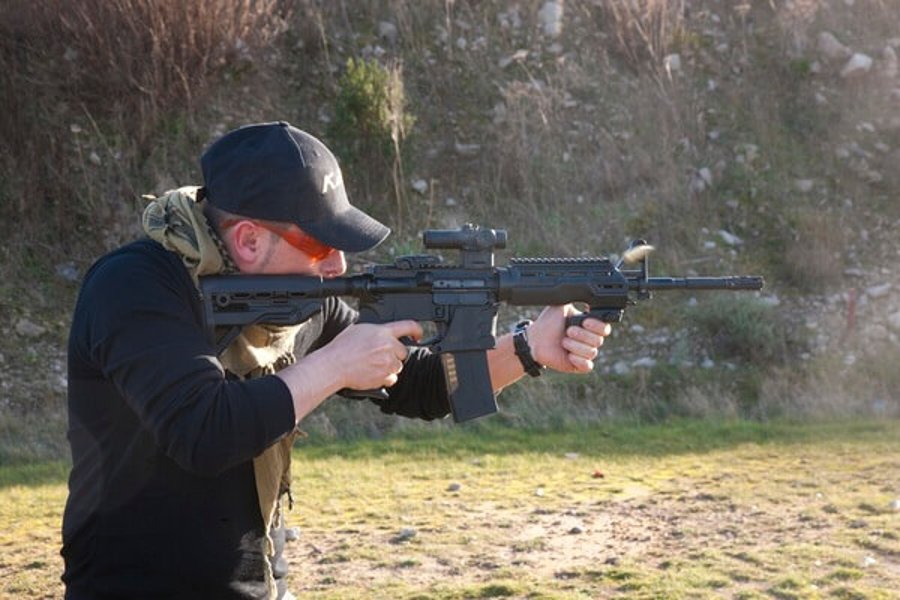 Gianmario Pedroni - Sardinia Photo for All4shooters.com