Article also available in other languages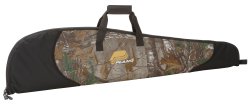 Headquartered in the U.S. State of Illinois, the Plano Molding Company is a global market leader in affordable and sturdy gun transport solutions for hunters and sportsmen. 
More specifically, Plano's soft gun cases have earned a reputation for being practical, fully functional gear at a value, and the company continues the tradition with upgrades to its 200, 300 and 400 series – much like the good, better and best options – of soft gun cases; announced in the 4th quarter of 2013, now the new line is available for purchase mostly worldwide.

Plano's soft gun cases thus get an upgrade, in both function and style, just as the hunting season opens both in Europe and north America; eager shooters will thus be able to field-test in person the outcomes of the Plano team's work.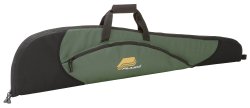 All upgraded models are part of the popular Plano GunGuard series and feature the same durable construction to provide quality protection to the firearms inside and years of use. The cases' exteriors are durable and weather resistant 600 Denier polyester to serve as a tough protective outer covering. On the inside, there's high-density foam lining that comfortably envelops the guns in form-fitting style.
A key upgrade to all models includes a full length, heavy-duty zipper that allows an ample opening for easy firearm placement and removal.


The 200 series offers a shotgun case, model 25423, that measures 54" in length to accommodate long-barreled versions and has a slim 8.5" width to fit both autoloaders and pump models. The rifle case, model 24823, measures 48" in length and is 11" tall, a good overall configuration for fitting most rifle models with or without a scope. Both of those models come in an attractive gray and black color scheme.
The 200 series also offers a shotgun case, model 25463, and a rifle case, model 24863, in the same respective measurements, but in the RealTree® Xtra camo pattern.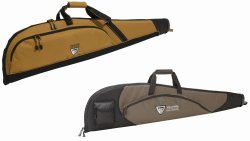 The 300 series soft gun cases have all the same feature of the 200s, plus sport an additional zippered compartment on the cases' exteriors to keep extra gear within easy reach. 
This series offers two models in forest green and black: shotgun case, model 35423, measuring 54" long by 8.5" wide and rifle case, model 34823, measuring 48" in length and 11" high. 
The series also offers two models in the RealTree Xtra camo pattern: shotgun case, model 35463, and rifle case, model 34863.
This video has been hidden because of an external service (YouTube) that could potentially collect personal data.Allow video services for the duration of the visitAllow video servicesStop allowing video services
The 400 series offers more storage in the way of an additional zippered compartment, plus an easy-to-access 1" gusseted side pocket for binoculars or other gear that you may want to keep separate, and a protective rubber muzzle cap. 
The two models available in olive and black are shotgun case, model 45423, and rifle case, model 44823. Model 45463 for shotguns and 44863 for rifles come in the RealTree Xtra camo pattern. 
Both shotgun cases measure 54" x 8.5", and the rifle cases measure 48" long and have an 11" height to accommodate scoped firearms.
Like most Plano products, the new soft gun cases are sold through traditional sporting goods dealers and online stores, and are already available in most places as of today. The cases retail for between $16.99 and $34.99 in the United States; perspective non-US buyers should check with their national Plano importers, local distributors and retailers for availability and pricing. Questions concerning the names and addresses of appointed distributors outside of the United States are to be directly asked to the Plano Molding Company.