Nextorch is a dynamic China-based global leading brand specializing in portable lighting products, ranging from tactical, outdoor and law enforcement products up to bicycle and signal lights – among the other things, they design and produce flashlights for the Chinese police. As explained in their own website, the company "gathers a group of fanatical gear enthusiasts including company founder, product designers and marketing staff. In order to get more insights into what users' real needs, we learn through their experiences." Nextorch is in fact proud to make users involved in the product design to meet their actual needs.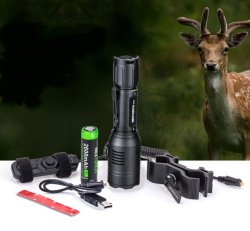 Of particular interest for hunters, Nextorch's product range includes the T53 SET 3-in-1 Multi-light Hunting Flashlight Set. it features a multi-light technology: one single reflector for full white, green and red lights. Max output for white light is up to 760 lumens, 129 lumens for the green light and 109 lumens for the red one. The flashlight set is equipped with a 360° rotatable dial plate to switch the three light sources easily and a 2-in-1 charging port. 
It's USB rechargeable. It also comes with professional accessories including a scope mount, a remote switch, a USB charge cable and a rechargeable Li-ion battery. There's no need to change the tail cap when using the remote switch.
An even more specialized product is the WL50IR White and IR (850 nm) LED Weapon Light. Powered by two CR123A or one 18650 battery, its max output is up to 860 lumens and features a patented dual-light structure: to switch between white light and infrared light you have just to rotate the head. The independent tactical remote switch allows for momentary-on and constant-on light mode. The main body is made from aerospace-grade aluminum alloy, Type III hard anodized, IPX7 waterproof. Moreover, the WL50IR can mounted on all standard Picatinny rails
Another model, the compact WL10X, is a universal-fit handgun light (it can be used, among the others, on 92G, NP22, Glock 17/19, SIG P226/229 and Smith & Wesson M&P9/40 pistols). It's powered by one CR123A battery, with a maximum output of 230 lumens. A safety lock design prevents accidental activation, while the ambidextrous trigger switch is ergonomically designed and adapts to all tactical situations. Weight is only 3.88 oz / 110 g (with battery).