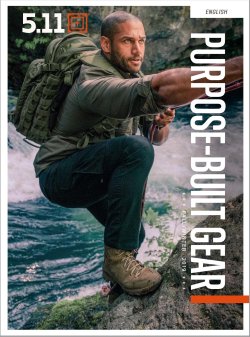 The new Fall/Winter 2019 catalog from 5.11 Tactical is here!  Some of the promised products showcased at SHOT Show and IWA are finally available.

The ultra-customizable Range Master Pack and Bag Collection allows users to keep all shooting gear stored safely, highly organized and ready for use, featuring a customizable storage system and compression molded EVA construction. The collection is offered in three sizes: Qualifier, Duffel and Backpack, with each style engineered to fit within the family of Range Master Pouches which are designed for pouch-in-pouch organization, stacking, and easy transportation to and from the range.
With 5.11's Single Pistol Case and Range Master Pouches included, the Range Master Collection is the ultimate solution to keeping your gear, and you, perfectly organized. Also, the new AMPC Pack for the All Missions System , which can be mounted directly to the back of 5.11 All Missions and Tactec Plate Carriers or be carried as a stand-alone pack and the innovative All Missions Rig, a low-profile, customizable, expandable solution to carry essential gear. 
5.11 flashlights, gloves and tactical pen

5.11 Tactical Rapid PL1AA and PL2AA  are ideal back up flashlights for first responders or as a primary for everyday carry. Both are multi fuel compatible lights, powered by standard AA batteries or 14500 rechargeable lithium ion batteries. The Rapid PL AA series of flashlights is built with aerospace-grade aluminum and other premium-grade materials; the bidirectional pocket clip provides additional mounting options.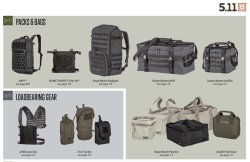 Additional accessories featured in the Fall/Winter 2019 catalog include six new gloves: Foxtrot FR, Battalion FR, Hardtime 2, Tac A3, Station Grip 2, and Taclite3 gloves ; three new Flex pouches, the Flex Med pouch, Flex Vertical GP Pouch and Flex Rescue pouch . Plus, new wallets and card holders, Write Bar Name Tape, and the All Missions rig that is compatible with the afore mentioned AMPC Pack.
Last but not least, the new  Kubaton Tactical Pen  sports a non-menacing appearance, monolithic aluminum build with refined styling and precise balance. It features a pummel-grip textured, anodized aluminum body, and a twist open pressurized ink cartridge.