There's a definite trend setting in Europe regarding EDC (every day carry) philosophy, a trend that follows the success and popularity this concept has in the USA. 
Very simply put, it's the rationalization and codification of a behavior that every single one of us performs when we open the door of our home to go out; we grab the essentials we will carry throughout the day and that we need to perform our daily functions: i.e. our keys, cell phone, wallet - at the very least, plus wrist watch, sunglasses, folding knife, ipad… and so on. We will feature a full article soon on the EDC philosophy so stay tuned for this. 

This video has been hidden because of an external service (YouTube) that could potentially collect personal data.Allow video services for the duration of the visitAllow video servicesStop allowing video services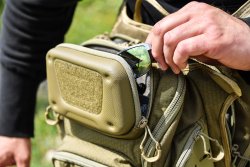 Some of us carry a load of items that we feel we may need in our everyday activities that we cannot hope to simply place in our pockets or jacket. Some of these are items we will not use – or hope not to use, such as a handgun and spare magazines. Some other may come in handy, a flashlight, multitool, pens, pencils and paper, and maybe more items that closely follow our lifestyle, such as a pair of overhead earphones, energy bars, water or other drinks…

After this introduction, it comes natural to discuss means to carry our EDC items: man purses ("murses") or carry bags, such as the Wolfspur from US manufacturer Maxpedition we are reviewing today. A trend within the EDC trend is to use "tactical" bags, to thoroughly organize and allow immediate access to our EDC items, and in our specific case, also allow off-body concealed handgun carry.  Off-body CCW has a definite reason to be since in very hot climates carrying even a small frame handgun may pose concealment problems, let alone a full size auto;  and in cold climates, drawing the handgun from under heavy winter clothing can be difficult.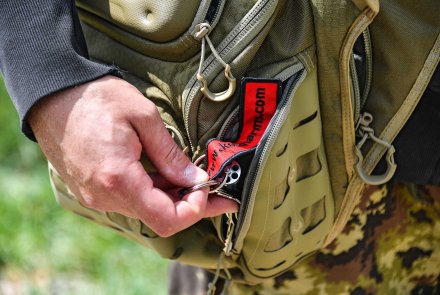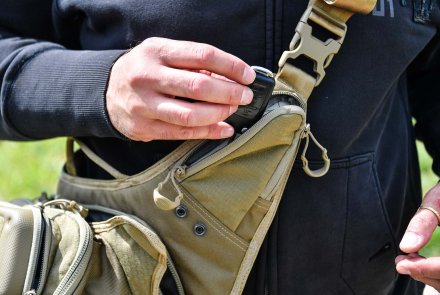 Properties of the Maxpedition Wolfspur shoulder bag

The Wolfspur is a premium crossbody shoulder bag from Maxpedition's new AGR Advanced Gear Research Line, that features a rear CCW compartment optimized for a full-size handgun, a lockable main compartment that can hold most medium sized tablets, a top molded fleece-lined semi-rigid EVA pocket for sunglasses or electronics, a collapsible side pocket for a water bottle (accommodates a 1 liter Nalgene bottle), a front Admin pouch for keys and other small items externally fitted with a laser cut MOLLE pattern (Maxpedition calls it the ATLAS Attachment Lattice System), and a couple more smaller pouches. All compartments use quality zippers and updated zipper pulls.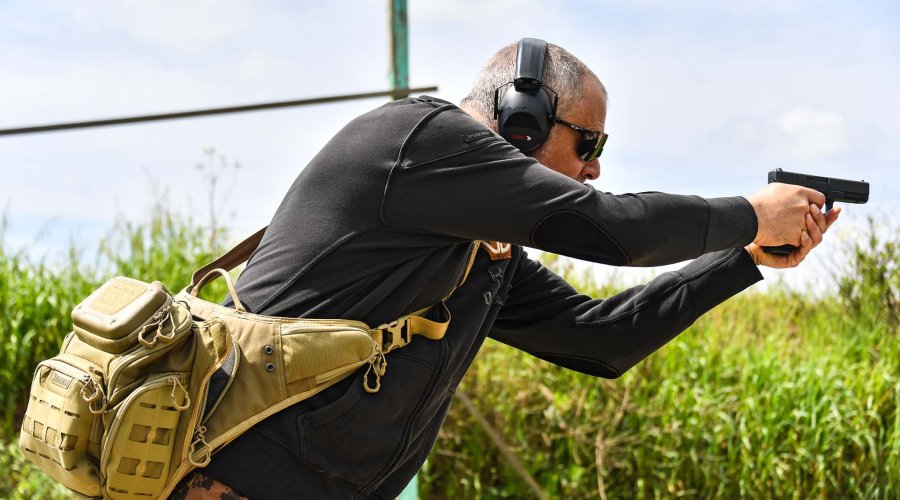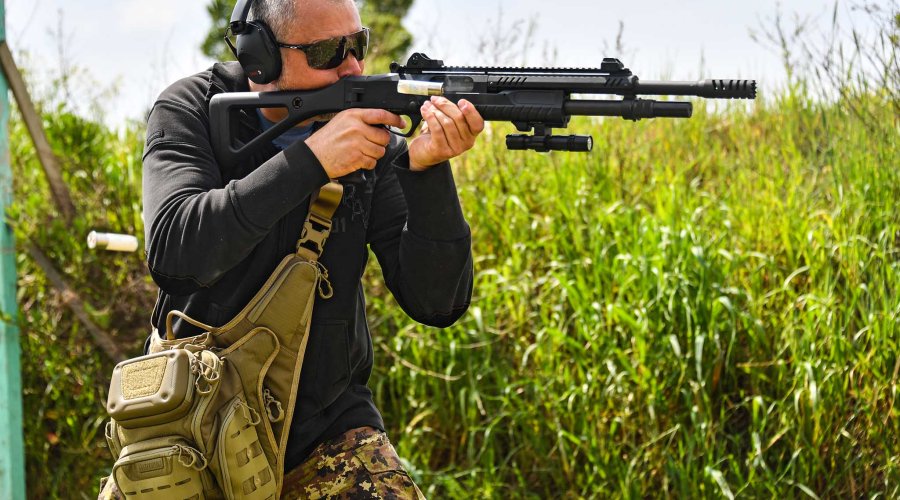 Combined capacity of the Wolfspur is 11 liters, and it's built using durable 1000-Denier plain weave and 500-Denier Hex Ripstop ballistic nylon fabric, that is Teflon coated for dirt resistance.
The shoulder strap features a reinforced seatbelt webbing with a comfortable shoulder pad and quick release buckle. The Wolfspur also has an adjustable waist belt that can be stowed away in two recesses when not in use. A zipper that is 43cm long opening, plus a pull tab secured by double snaps, allows immediate access to the loop lined concealed carry weapon compartment; however, a handgun retaining system should be purchased, as it is not included with the Wolfspur bag. We opted for an UPW Pistol Wrap and DMW Magazine wrap to hold the Glock 17 plus two magazines we used in our tests.
Pistol drawing tests showed that it is preferrable to keep the zipper partially open and use the pull tab to ensure decent reaction times; with the zip fully closed and pull tab secured with the double snaps, it may become dangerously slow to bring our gun into the fight.
We found the Wolfspur to be very comfortable in everyday use. While the large and very pliable seatbelt webbing shoulder strap seamlessly follows the body contour distributing evenly the weight, the thin waist belt does not help almost at all in this regard, however it is very useful to stop the bag from moving around.
The Wolfspur is offered as a right-hand bag only, due to its asymmetric design; however, lefties will find it surprisingly comfortable and it is possible to use the Wolfspur CCW capability in a cross-draw configuration.
All zippers are YKK, and feature Maxpedition's Positive Grip Zipper Pulls; although very comfortable to use, these zipper pulls do tend to be in the way of each other – being so close to each other it happens to pull on the wrong zipper at times… The EVA pocket is very useful to store shades or prescription glasses without fear of damaging the lenses, and the collapsible water bottle pocket is very practical. The ergonomics of the bag is good, the only pouch that is slightly more difficult to reach is the Admin pouch under the EVA pocket. The tablet pocket in the main compartment is a tight fit, and it actually is just large enough for an iPad Mini (with folding keyboard) in our opinion.
All in all, a very enticing product, that does not come cheap: about 200 Euro in Europe, however the Wolfsuper is a premium product from Maxpedition's new AGR Advanced Gear Research Line, that carries a 15% surcharge versus the manufacturer's standard products, due to improved materials and increased attention to detail. The Wolfspur is available in Gray, Black and Tan.