Albeit often (and culpably so) overlooked by many shooters, dry-fire training is useful to develop and maintain skills such as mental alertness and eye-hand coordination − both being of high importance in all shooting sports and basically paramount in those that require a high level of reactiveness, such as skeet and trap shooting, tactical shooting, practical shooting, 3-Gun, and so on.
Dry-fire practice can also be an excellent way to introduce newbies − and most notaby youngsters − to some of the basics of individual marksmanship and safe firearms handling. When it comes to young boys or young girls, dry-fire practice can be useful to let them get acquainted with the lenght, the weight and the feel of the gun, with the shooting positions, with the controls configuration and the trigger weight − even before they'd fire a single live shot.
Be it propaedeutic, a "refresher" or a simple pastime, dry-fire training is inexpensive and can be practiced everywhere.

Owners of AR-15 based rifles, carbines, pistols or SBRs now have an alternative to make dry-fire training even more effective: the LaserLyte Training Tyme Kit.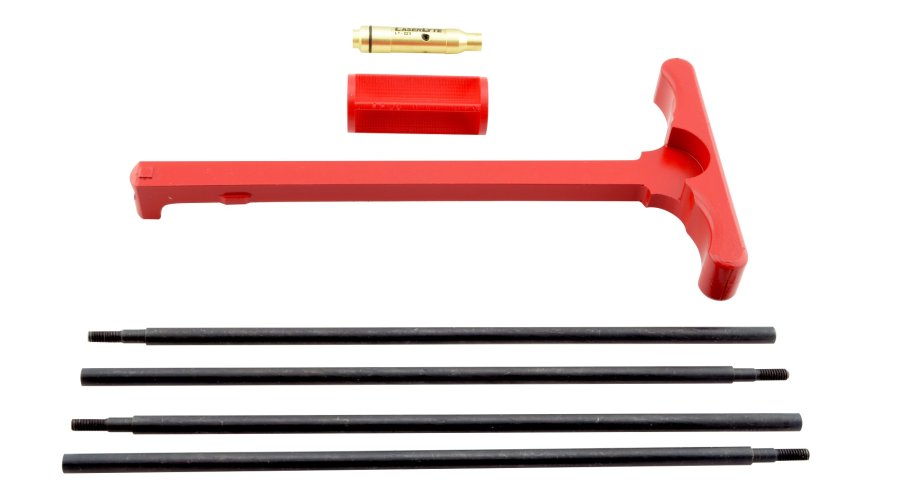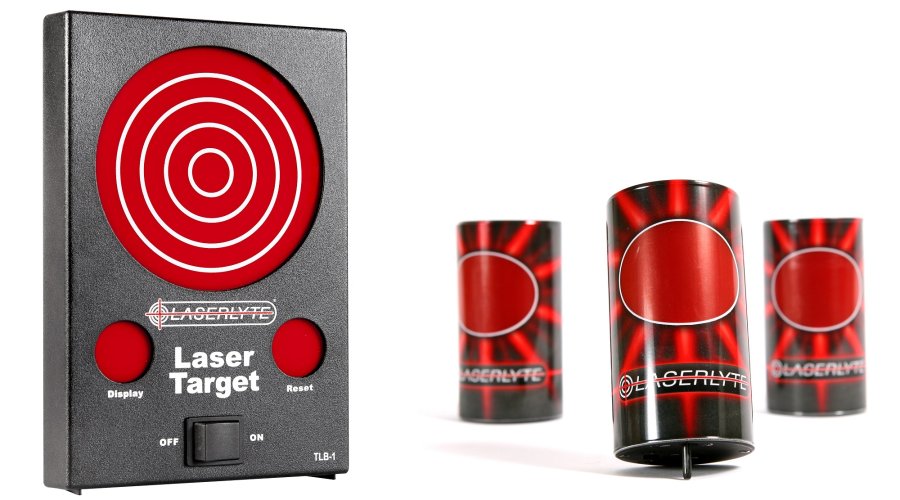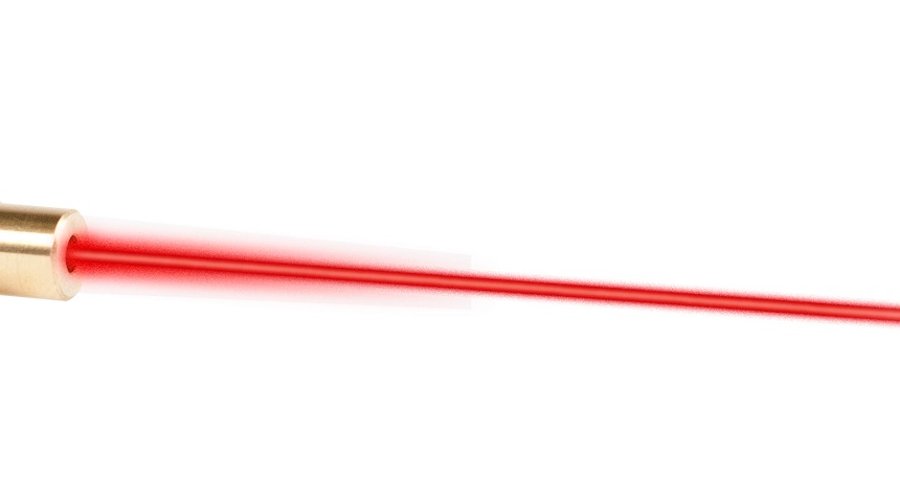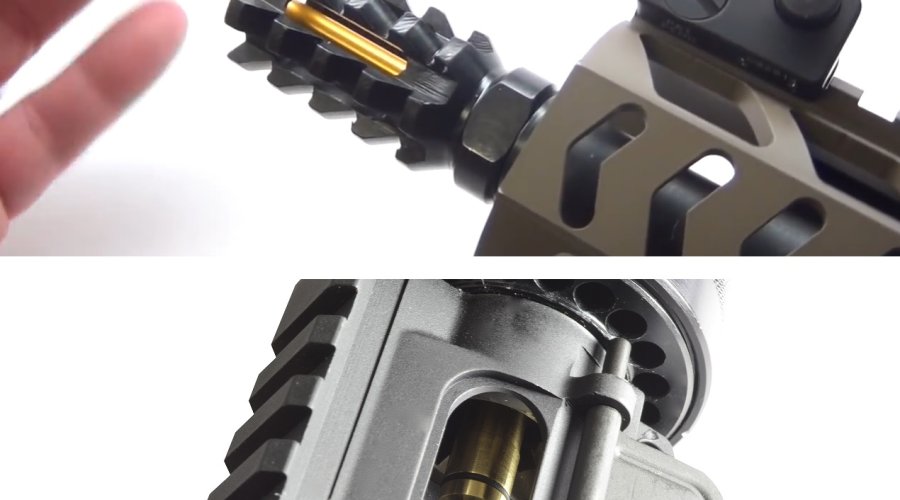 All the Countries that allow private ownership of semi-automatic centerfire modern sporting rifles − and these include many European Countries − saw the popularity of AR-15 based rifles and carbines soar between sports shooters and hunters during the years, sometime matching the level it reached in almost fifty years in its homeland, the United States of America.
Easy to install and to operate, LaserLyte's Training Tyme kit will allow AR-15 owners to practice basic marksmanship and handling techniques everywhere: at home, in their backyard (if allowed by local laws and regulations!), in the country or at the range, without firing a single live round.
LaserLyte grew up in the past years to become a very popular brand of laser aiming devices for defensive, service/duty, sporting, hunting, and tactical handguns, shotguns, rifles and carbines. The Training Tyme kit has been built to exploit the Company's experience with laser emitters and provide an effective training aid.
It may certainly lack the feedback of live rounds such as recoil, muzzle climb, muzzle flash and blast − all things that a novice should get acquainted with as quickly as possible! − but so do many other (less realistic) popular propaedeutic and training tools such as airsoft replicas or airguns.
At the "heart" of LaserLyte's Training Tyme kit is the LT-223 laser emitter, a rimless dummy cartridge that's roughly the size of an empty 5.56x45mm/.223 Remington caliber brass case and hosts a 5mW laser emitter, powered by three Type 377 commercial-grade batteries. When the bottom activation switch is hit by the firing pin, the LT-223 will emit a 650-nanometres bright red laser beam down the barrel and out of the muzzle of the gun.
Other elements of the Training Tyme kit include a bright red replacement cocking handle and a cylinder-shaped, bright red polymer spacer plug.
The kit is installed by field-stripping your AR-15 and replacing the factory cocking handle with the issued bright red one; once it's done, you'll also have to remove the recoil buffer and its spring from the buffer tube and let the red polymer spacer slide inside it before putting the buffer and its spring back in place.
The spacer will reduce the overall bolt travel to 1.75 inches (about 4,5 cm) overall; that'll be enough to rearm the firing pin, but not to eject the LT-223 laser cartridge. The spacer also works as a safety measure, as the bolt travel will not be sufficient to allow a live round to be chambered.

The Training Tyme kit requires the cocking handle to be racked before every shot; since the bolt travel will not allow the extractor and the ejector to get rid of the LT-223 laser cartridge, a 32-inch push rod is provided to remove it from the chamber after the training session, before removing the other components of the kit and restore the gun to its original working configuration.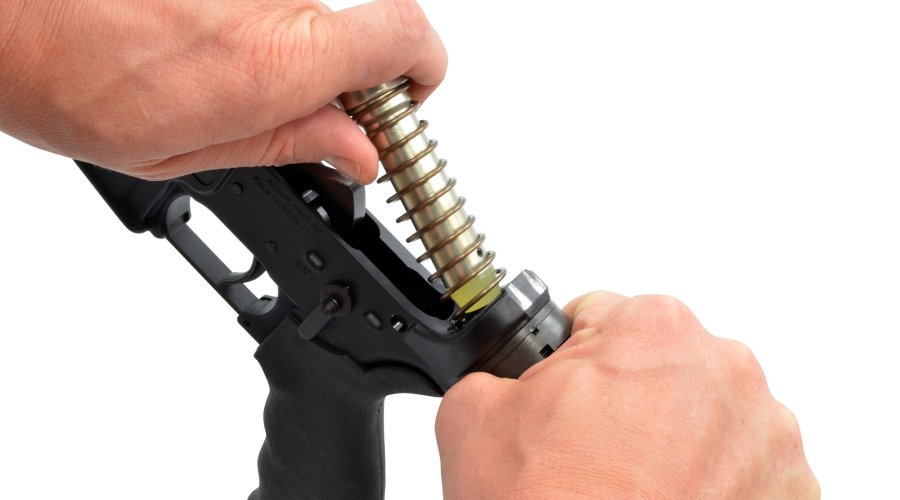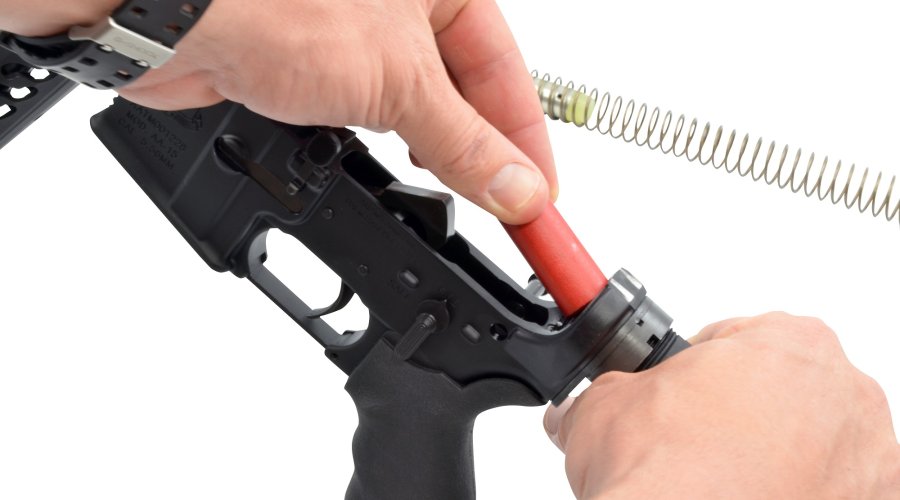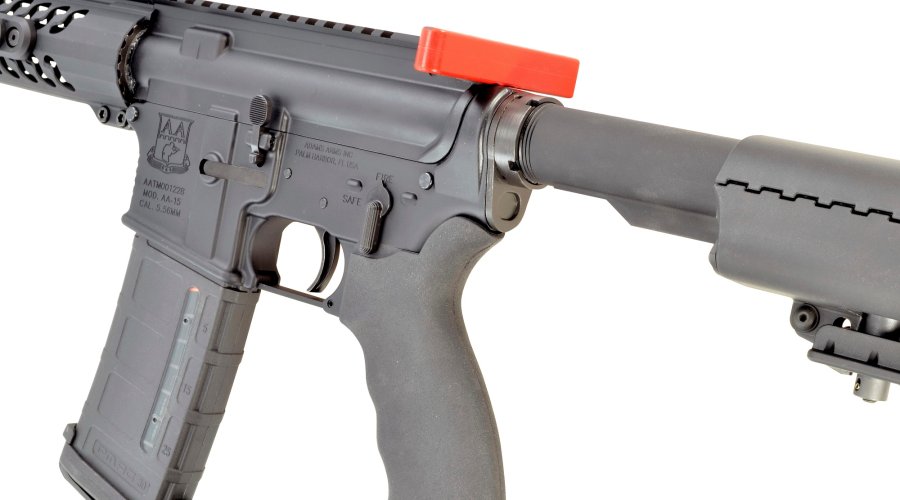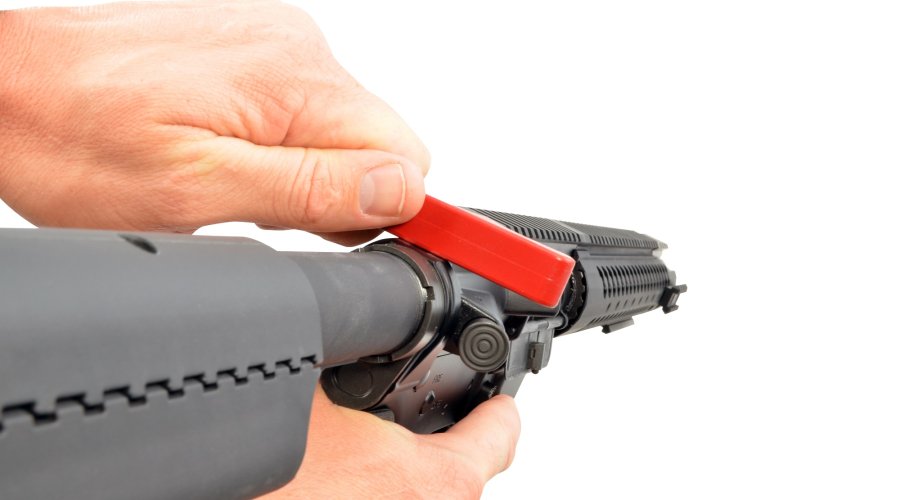 It doesn't matter if you practice dry fire to improve your skills and coordinations or to introduce a new generation of shooters to the basics of handling and marksmanship with AR-15 based rifles or carbines: the LaserLyte Training Tyme kit will allow you to turn dry-fire practice into some serious training, without risks since the built-in snap cap will protect the firing pin and the O-rings of the LT-223 laser emitter will hold it firmly in place so that accuracy won't be compromised by quick follow-up shots. The rimless cartridge trainer will not accidentally eject even with constant racking.
Offering a long range and a battery life of over 3000 "shots", the LaserLyte LT-223 emitter will always indicate the "bullet's impact" with a bright red dot, with extreme accuracy.
The system is also compatible with LaserLyte's own electronic, reusable, reactive targets line, which may be used either indoors or outdoors and will turn standard dry-fire practice in a complete target shooting experience.

First showcased at the 2014 SHOT Show in Las Vegas, last January, LaserLyte's Training Tyme kit is already available for purchase in mostly every Country covered by LaserLyte's international distribution network.
It can also be purchased directly from the LaserLyte website, at a manufacturer's suggested retail price of $124,95.
Alternatively, prospective non-US buyers can contact the company and ask for contact informations of their local or national authorized importers of LaserLyte products.

This video has been hidden because of an external service (YouTube) that could potentially collect personal data.Allow video services for the duration of the visitAllow video servicesStop allowing video services