Article also available in other languages

Sometimes around the end of 2013, all4shooters.com followers were able to read an article on our pages concerning a quite interesting new development: a device dubbed the InteliScope. Launched by an American company, the InteliScope system will allow the installation of a smartphone or a smartpad on any civilian or military firearm, through a specific Picatinny-based mount; a peculiar application will convert the device to a digital aiming system, using the front camera lens as an objective.
The InteliScope gained an almost instant commercial success in the United States. It's a sound design, and while it may be less than desirable for military purposes, it may be a decent alternative for target practice and of some use for Police applications, particularly as it allows to engage targets from a defilade position.

However, the early InteliScope incarnation had an important drawback: low versatility; it was only compatible on Apple devices − more specifically: iPhone 4, iPhone 4s, iPhone 5 and 3rd generation iPod − which let a bad taste in the mouths of countless Android users worldwide.
Of course, InteliScope LLC. − the manufacturing company − never meant to "discriminate" or neglect such a profitable market. Hence why a new variant of the system, first showcased at the SHOT Show last January, is now being distributed to address Android and otherwise non-Apple users.
The new system, dubbed the InteliScope Pro, can now be used to "convert" any commercially-available smartphone or smartpad into a digital aiming device.
Technically speaking, the InteliScope Pro is nothing but another version of the baseline InteliScope: a triangular-shaped support built out of composide-reinforced material, resistant to hazardous environment conditions, and featuring a MIL-STD-1913 "Picatinny" mount. Unlike the previous version, this has no cam-lock system, meaning that it's not swiveling, but it can still be installed in any position − on a top or side rail, or even on a 6-o'clock rail − and remain safe.
That's because, while the first version used a proprietary textured carry case, the InteliScope Pro sports three adjustable, rubberized locks that will firmly hold the device in place, allowing the shooters to continue using the protective cases they already have while still protecting the smartphone or smartpad from the typical shocks and vibrations of a gun being fired.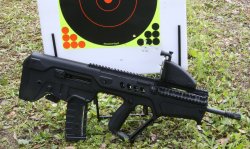 Much like the baseline, Apple-oriented variant, the new "universal" InteliScope Pro will allow the installed device to be used as an aiming head-up display, just like we described in our previous article.

In order to do so, of course, the smartphone or smartpad will need to have the InteliScope application installed − which can be downloaded from iTunes (for Apple iOS users), or from Google Play (for Android users). The application itself is free of charge, but the users may want to pay a small sum (never over 10.00US$) for some add-ons, including additional reticles.

The baseline InteliScope application sports six adjustable reticles and can be set for informations such as the type of firearm and ammunition being used; it will exploit some functionalities of the device − such as the accelerometer, the GPS device, the sensors, and so on − to provide the exact coordinates of the shooter's location, the velocity and direction of dominant wind, and other weather-related data which may be used to calculate important parameters such as the ballistic drop.
This video has been hidden because of an external service (YouTube) that could potentially collect personal data.Allow video services for the duration of the visitAllow video servicesStop allowing video services
Furthermore, the front flash of the camera lens may be turned on and off and dub as a "Tactical gunlight" for low-light shooting; the device may also be used to record live feeds from the shooting sessions, and to provide a timer that may be useful for IPSC shooters to monitor their performance in time-based exercises training.
The InteliScope and InteliScope Pro systems are not officially distributed by retailers outside of the United States yet, but they can be purchased directly on the InteliScope LLC. website and paid with a credit card or other e-payment systems. The InteliScope Pro system costs 129,00US$ (around 95,00€); shipment costs will be calculated separately at checkout, depending from the Country of destination and the selected shipment method.

InteliScope LLC. ships worldwide, with a few exceptions. The InteliScope and InteliScope Pro systems are not available in those Countries that are currently under an U.S. or international embargo, and in a handful of other places: lately, the Company decided to unilaterally halt all shipments to Russia due to Moscow's involvement in the "troubles" currently ongoing in Ukraine.
This video has been hidden because of an external service (YouTube) that could potentially collect personal data.Allow video services for the duration of the visitAllow video servicesStop allowing video services