Article also available in other languages
If you own a modern sporting rifle or carbine, a high-grade airsoft replica or Paintball marker for skirmishing, and you don't have the money you need to purchase that high-end optical sight you've wanted for so long, never mind: chances are, you may already have it.
Well, so thinks Jason Giddings, out of Sandpoint − a small town in the State of Idaho, north-western USA − who spent a lot of time studying the technical features of some well known and quite common Apple hand-held devices in an attempt to develop their tactical capabilities.
Giddings focused on the iPhone 4, the iPhone 4S, the iPhone 5 and the 5th Gen. iPod Touch, as they feature several pieces of technology that are commonly encountered on optical, electronic or digital gunsights as well, although in a lower-grade, less expensive version: they all have accelerometers, GPS tracking devices, temperature and wind sensors, high-definition cameras with zoom-capable lenses. And all these features could be exploited to enable the use of their maximum tactical capabilities.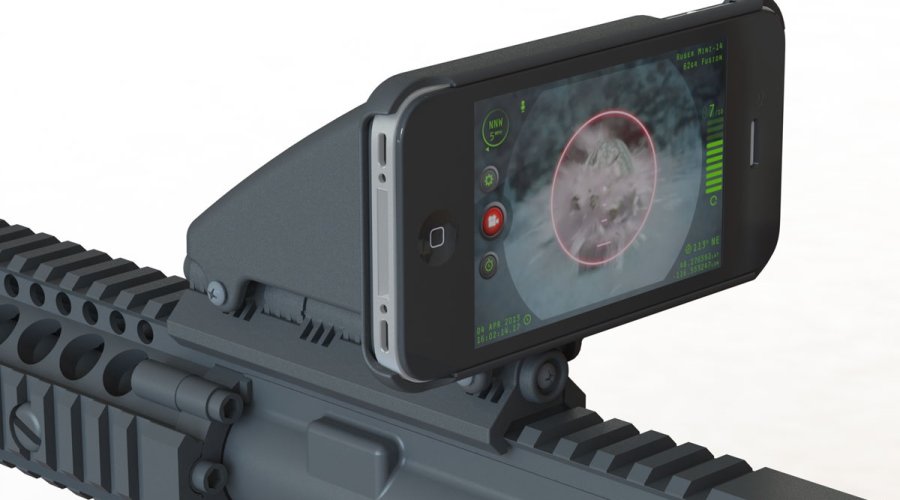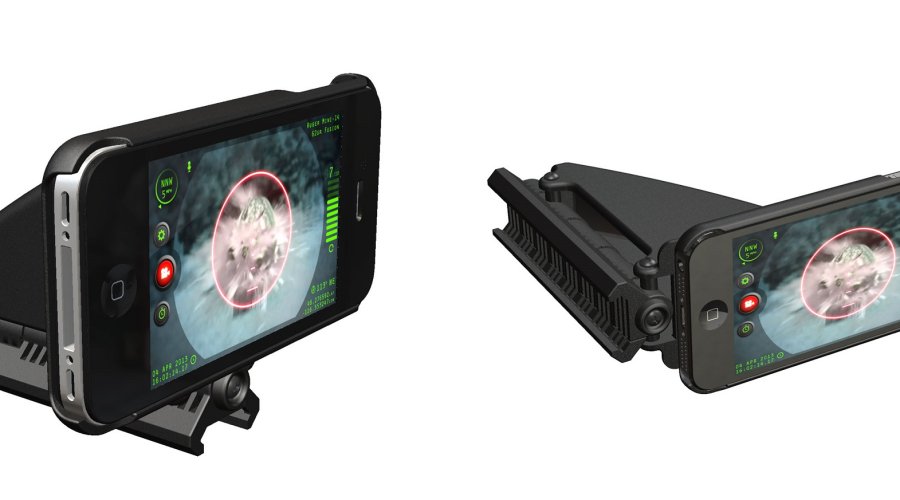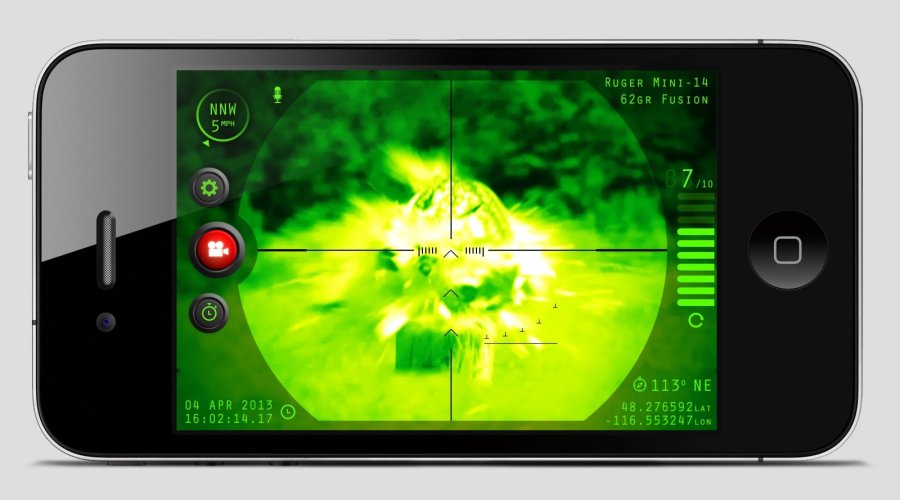 Sure, that requires a combination of dedicated hardware and software, but that's not a problem that some good old American spirit can't solve.
After the research-and-development phase, the Sandpoint-based InteliScope LLC. is finally able to offer the fruit of Jason Giddings' hard work to the global shooters' community: the InteliScope system, allowing the use of iPhone 4/4S/5 and 5th Gen. iPod Touch devices as digital optical gunsights.
The InteliScope system is composed of three components − a proprietary software and two pieces of mounting hardware, letting alone the Apple hand-held device that the shooter should already own − all available at a very affordable price.
The dowloadable InteliScope app, available on the iTunes App Store, is the heart of the system. It is compatible with the above-mentioned iPhone and iPod Touch variants, and allows the use of the embedded technologies in said hand-held devices for sports shooting, airsoft and paintball skirmishing, and for limited tactical purposes.
The application will turn the Apple hand-held device into an electronic optical gunsight, using the front camera as a lens. The display will then offer a choice of six different adjustable reticles, a broad choice of recle colors, and a 5x zoom capability.
Furthermore, the InteliScope application will handle a range of automatically-gathered or user imput-dependant ballistic informations. The sensors embedded in the Apple hand-held device will provide the exact GPS coordinates and the speed and directions of the dominant wind, while the user may set the device to take note of the firearm and ammunition type that is being used.

The InteliScope system also uses the flash light of the camera as a tactical gunlight, allowing the shooter to select between a continuous output mode or a strobe mode. It is also capable to fully record the shooting session, and provides a shooting timer that will be useful when training in IPSC exercises or other dynamic shooting disciplines.
The application will also use the gathered data concerning the firearm/ammunition combo and the wind speed and direction to calculate the ballistic drop compensation for the load that's being used by the shooter.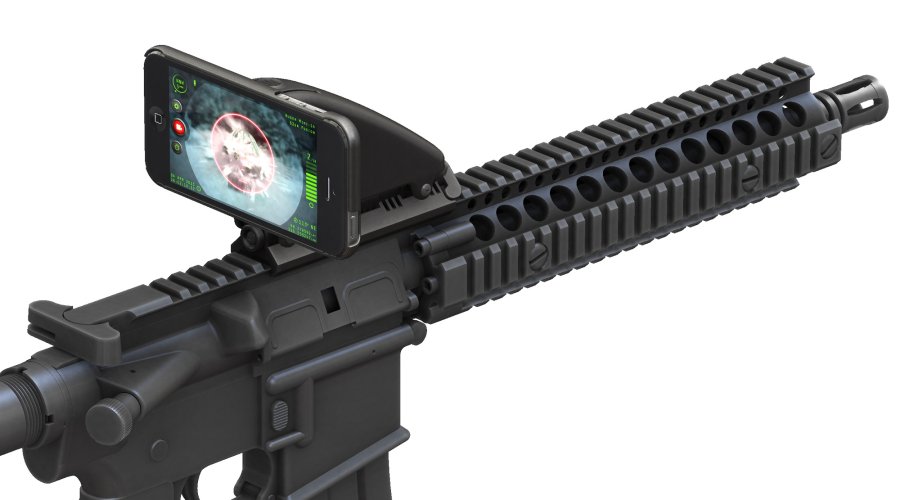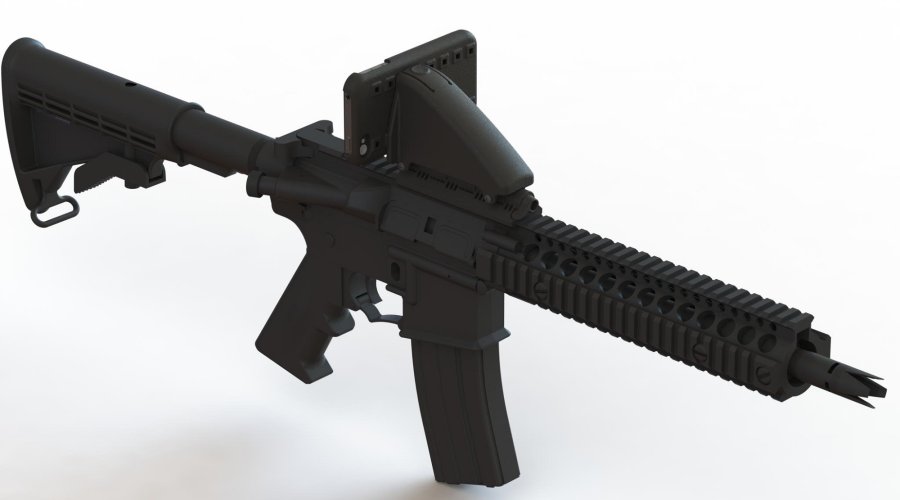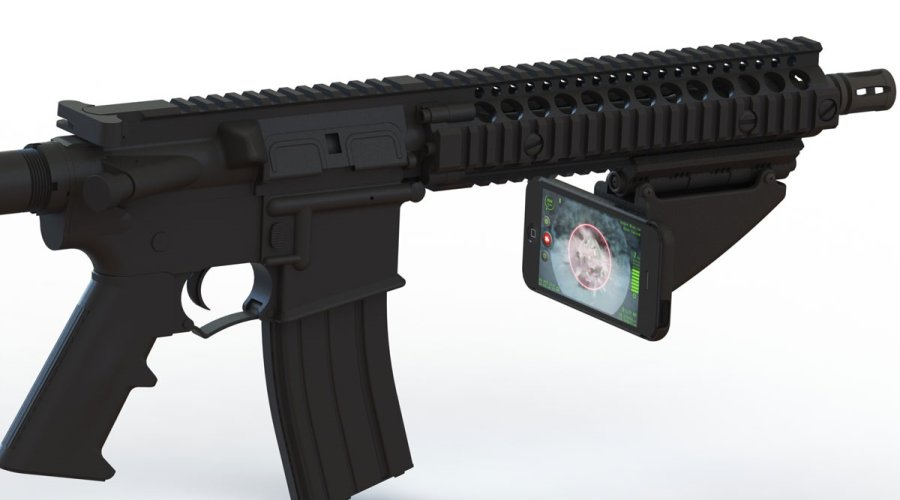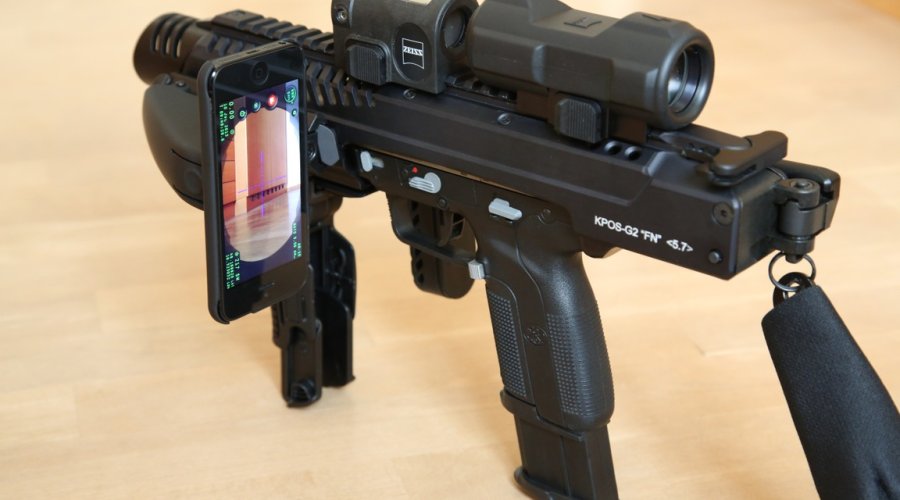 The mounting hardware consists of two separate parts, sold together.
The hand-held device case, which can be used in everyday life for protection of your iPod or iPad Touch, is manufactured out of a rigid reinforced polymer and will withstand shocks, drops, and vibrations; it will also provide protection against environmental elements and other hazards.

Its open-grid mounting surface allows quick, firm, secure and yet flexible placement on the mount, and equally quick and safe detachment.
The InteliScope mount is a tough-built, triangular-shaped support that's manufactured out of high-strenght, composite-reinforced polymer and features a ruggedized tactile finish for easy handling, firm grip, and resistance to hazardous environmental conditions.
The mount comes with a MIL-STD-1913 interface that will fit any Picatinny rail, and has a quick-attach/detach adjustable cam-lock system that's swiveling and adjiustable. This means that the InteliScope can be mounted at any angle, and may be used for other than just dubbing as a scope: if the shooter wants to keep using the factory-issued sights or another optical sight, the InteliScope can be mounted sideways and double as a shooting session timer recorder or ballistic drop calculator.
All the InteliScope system components are available now: the InteliScope App can be downloaded from the iTunes App Store, while the hardenedd case and mount can be purchased on the InteliScope website.
The manufacturer's suggested retail price is 99.00US$ − shipping not included and to be calculated upon checkout. The website accepts international orders and credit card or PayPal payments.
Sure, some may raise an eyebrow (or two) in front of what seems to be a real-life version of the head-up displays found on first person shooter videogames... and as a matter of fact, the InteliScope may have as well been conceived in that way on purpose, as most younger shooters approach the world of real firearms just after dropping their XBox or Playstation controllers. Purists may not like the way it goes, but they'll have to live with it: that's what the new generation of shooters is, and it's here to stay.
The InteliScope system is currently undergoing a further development phase that should turn it from a purely sporting and leisure product − it is also apt for use on airsoft replicas and paintball markers during skirmishes! − to a more professionally-oriented, tactical accessory. Sure thing, modern hand-held devices do embody the right technologies for the job. We can't say anything more, except that we'll keep you posted on further updates, and we hope to run a live-fire test of the system as soon as it's possible, so... stay tuned on ALL4SHOOTERS.COM!