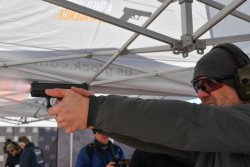 If you want to pump up your Glock a bit, Hexmag has what you need: a clear polymer body magazine with a skeletonized stainless-steel core and feed lips, engineered tool-less base plate for easy magazine maintenance and integrated Hexmag Hexid colored ammunition identification system. 
After Sentry Products Group acquired Hexmag lest year, this is their first new product, a "design blending the best of metal and polymer magazine technologies with Hexmag's signature design attributes," as stated by Eric Yeates, VP of Product Development.
Hexmag magazines, 17 or 10-round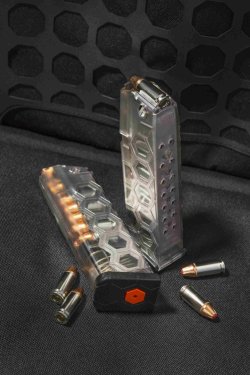 Magazine body is made from Hexmag proprietary advanced composites for strength and reliability. Textured serrations on the front of the magazine body provide for rapid indexing during magazine changes, while a self-lubricating anti-tilt follower allows for ease of loading and flawless operation. The magazine can be taken down without any tool, and the HexIDcolor identification system allows for further personalization.
Priced at 21.99 USD, the design is compatible with 9mm GLOCK Gen 3 through Gen 5 models G17, G19, G26 and G34 pistols, and also accepts current available aftermarket base pad extenders designed for the existing GLOCK 17 magazine. 

On the back a round counter provides an indicator of capacity - maximum is 17 rounds. The manufacturer says that a 10-round version will follow the initial launch for states and areas with capacity restrictions and that additional models are under development to compliment the offering.