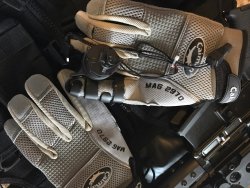 An unusual product, to say the least: the US company is introducing a the AutoGlove, a battery powered, electric trigger pull assist device that can be strapped to the shooter's hand, according to its producers, allows achieving a rate of fire of 600-1000 rounds per minute with any semi-auto firearm. With AutoGlove you can "experience simulated full-automatic rates of fire with many of your semiautomatic pistols, semiautomatic rifles, and semiautomatic shotguns without modifying or attaching anything to your firearm". 
This video illustrates better than words how the AutoGlove works.
This video has been hidden because of an external service (YouTube) that could potentially collect personal data.Allow video services for the duration of the visitAllow video servicesStop allowing video services
The AutoGlove was invented by A.R. Pratte of McLean, Virginia, a senior at Vanderbilt University and future law student. It incorporates a patented trigger assist device (TAD) that is designed to assist a person in manipulating the trigger on a variety of consumer products to include your semi-automatic firearms. Everything is self contained in and on the glove. Nothing happens unless the shooter pulls the trigger, and to stop firing the shooter can either remove her/his finger from the gun or release the TAD button. So a physical input of the trigger finger is always required. The AutoGlove can be delivered in either a synthetic or leather glove, and in either a tactical or sporting configuration. It can also be ordered in a variety of colors and configurations and,  depending on the model selected, it can be ordered with a preprogrammed configuration for single shot, double tap, 3-round burst, or mag dump (or any combination).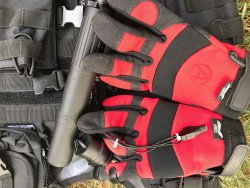 The question arises: is this "magic glove" legal? AutoGlove states that since it's just an electric motor strapped to a glove and It does not modify the firearm or attach to your gun, no US Federal Gun Law forbid it. They also claim that with the AutoGlove you'll be able to enjoy the fun of simulated full auto fire even in the overly restricted states of California, New York, New Jersey, and Massachusetts.
We'll see. There's no mention of Europe and its restrictive gun laws, in any case.
Second question: is it practical? Since we haven't tested it, we don't know. But you can form your own opinion watching the video and the images.
For the time being, the company says that first run production will begin in September 2017. The price-tag is of 349,00 US dollars, but if you are one of the first 500 to order the AutoGlove you can get it at 299,00.