Specifically intended for use on Smith & Wesson M&P 15-22 and .22 LR caliber semi-automatic rifles, comes the Integra 15-22 Suppressed Upper manufactured by Gemtech of Boise, Idaho. The latest new handguns from Smith & Wesson itself are the expansion of the M&P series, namely the M2.0 compact pistols with an optics-ready version.
Gemtech Integra 15-22 Suppressed Upper in detail

The new product is called the Gemtech Integra 15-22. It is an integrally suppressed upper assembly made from 17-4PH Stainless Steel (equivalent to 1.4548 steel) permanently attached to a short 9" barrel. This brings the barrel and suppressor together to a compact – according to the manufacturer – 17.5 inches overall length. Action and barrel are encased in an outer tube of 6061 aluminum with a matte black Cerakote finish. According to the press release, the Gemtech Integra 15-22 is designed to work with a variety of popular .22 cartridges, but it achieves its best silencing performances with subsonic ammunition, according to the company info. As standard, the new products comes as a complete upper receiver assembly, that is, including handguard, bolt carrier and charging handle. In the United States the MSRP is $616 (about 506 euros).
Optics Ready: the new M&P9 M2.0 Compact 4" OR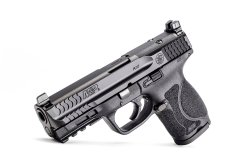 The newest addition to the M&P9 family is called the M&P9 M2.0 Compact 4" OR. Technically, it is based on the M&P9 M2.0 Compact pistol, i.e. it comes in 9mm Luger caliber, but now features a slide cut for optics mounting. The M&P9 M2.0 Compact OR comes standard with seven mounting plates for popular slide-mounted optics. The use of these optics is co-witness-compatible with the correspondingly high sights, consisting of white-dot drift-adjustable rear and front sights. In addition, the slide features enlarged forward slide serrations. The gun with a 4-inch barrel is available with or without ambidextrous manual thumb safety, in accordance with the concept of the M&P9 series. Accessories include two 15-round magazines and four palmswell grip inserts of varying thicknesses. According to the press release, the US MSRP is $616 (about 506 euros).
Whether and when the two new products will be available on the European market is unfortunately not yet known at this time.