From a new partnership between Polymer80 and CAA USA, comes the Micro Conversion Kit (MCK) for the Polymer80 GLOCK models. Polymer80 is a company specializing in innovative firearms accessories and products including popular frames for GLOCK 17/19 pistols, while CAA USA makes the MCK (Micro Conversion Kit) – "the most popular conversion kit in America" according to its manufacturer - for multiple S&W, SIG Sauer and GLOCK models. Teaming up, the two companies now offer the new MCK P 80 for Polymer80 frames with either a standard Glock 17/19/22/23/31 slide or Polymer80 frames with a V1/V2 slide. (It must be stressed in fact that it does not fit standard GLOCK frames, only Polymer 80's – if you need a conversion kit for your GLOCK frame, CAA USA offers specific models.)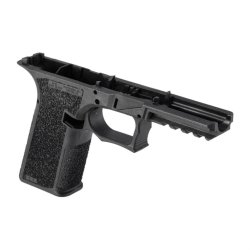 As David Borges, CEO of Polymer80, said, "Since the inception of our 80 percent Pistol Kits and PF-Series Handguns, our customers have been asking about compatibility with CAA Group Micro Conversion Kits. Now we're able to satisfy a massively growing niche of consumers who'd like to further enhance their P80 product with a Pistol Conversion Kit that offers a robust set of features at a very competitive price."
"We, at CAA USA, are proud to partner up with such good people at Polymer 80 and believe that our two products are a perfect fit for one another," comments LTC (Ret.) Mikey Hartman, CEO of CAA USA. 
MCK P80, a stable platform

The MCK P80 features a MCKGEN2 Stablizer brace, an ergonomic finger groove grip, an improved front spare magazine holder that operates with a mag catch and mag release button, an exposed side release for direct contact and easier use, and top and side Picatinny rails for sights, optics and other accessories. The kit comes with 2 charging handles, one for GLOCK slides and one for P80 slides. The MCK P80 is fully ambidextrous and the right-folding and locking stock/arm brace makes for easy concealment and carry, also allowing it to shoot folded and locked. 
What's more interesting is that there's no need to disassembly your pistol – just place it into the kit, lock and go. With the MCK P 80 your gun "becomes a super sturdy and stable platform providing the user with a more accurate and enjoyable shooting experience". The MCK P80 is suppressor-ready and able to accommodate a suppressor up to 1.38" diameter. MSRP starts at 285 USD.