The contents of the set, which retails for 29.90 euros and bears the Roman numeral V, or No. 5, include a large microfiber cloth and three care products from Fluna Tec: GunDegreaser, BorePro and GunCoating. Everything comes compactly packaged in a large can with a screw-on lid, not unlike a spray can. In addition, all that is needed are cleaning rods, brushes and cleaning pellets or patches suitable for the gun.

Fluna Tec Managing Director Dipl-HTL-Ing. Manfred Pilz: "With this set, we are addressing the typical customer with long guns who has switched from gun oil to Fluna Tec's coating technology or now wants to do so. As a complementary product to the degreaser and gun coating, we have added the Fluna Bore Pro liquid barrel cleaner. This product makes professional barrel cleaning easy. Powder smoke, combustion residue and metal deposits from copper bullets can be easily removed."
Here's how cleaning works with the Fluna Tec Gun Care Set V

First, it starts with preparing the metal parts, or more specifically, degreasing them to remove old oil residue and dirt films as well. Drip the GunDegreaser from the bottle onto all surfaces to be cleaned and spread it with the dry cloth. The GunDegreaser not only acts as a degreaser, but also removes dirt and residues of all kinds from the surfaces. Fluna Tec GunDegreaser is compatible with all common materials used in gun construction, including plastics and rubber, and does not attack paints.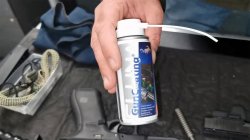 After cleaning with the degreaser, the gun is treated with GunCoating. Fluna Tec itself describes GunCoating as a "high-performance ceramic coating for all kinds of firearms and knives." Fluna Tec GunCoating is recommended by well-known manufacturers such as Anschütz, Blaser, Mauser and Sport Target Pistol and has proven itself many times at all4shooters.com. Especially with many triggers treated with it, you'll notice the positive effect immediately. GunCoating is applied by spray directly to the gun parts inside and outside and spread with the microfiber cloth. It then forms a dry film on the surfaces, which protects against corrosion and also has excellent sliding properties. GunCoating is invisible, does not smell, does not stick, does not stain, does not run and is compatible with many different materials.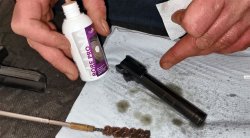 BorePro is used for barrel cleaning in the Fluna Tec Gun Care Set V. The cleaning agent quickly and reliably removes residues, dirt and bullet deposits from the barrel bore. BorePro is an effective but not aggressive barrel cleaner. Unlike Degreaser and GunCoating, however, the barrel cleaner from Flunatec is really made exclusively for cleaning the inside of the barrel and definitely does not belong on other gun surfaces or materials. After cleaning the barrel with BorePro, it is sufficient to simply wipe the barrel bore dry with a patch or felt pellet; the cleaning agent does not need to be neutralized after cleaning. In the case of simple quick cleaning of the barrel, nothing further needs to be done afterwards.

Only in the case of intensive barrel cleaning using metal brushes to completely remove bullet deposits from the barrel does Flunatec advise a subsequent check shot. This is because every barrel reacts differently to the removal of bullet deposits inside, but this has nothing to do specifically with the BorePro cleaner. For normal care and protection, the barrel cleaning is now already completely done. Only for a possibly planned long-term preservation and thus maximum corrosion protection is the subsequent sealing of the barrel bore with Fluna Tec GunCoating recommended. In this case, cleaning with BorePro is exceptionally followed by another pass with the supplied Flunatec GunDegreaser, drying again with fabric patches or felt cleaning pellets, and then wiping through with Fluna Tec GunCoating.

Additional information is available on the Fluna Tec website and as videos on the YouTube channel – where, among other things, the influencer and shooting trainer #Amy9x19 clearly presents the individual products.

So far, the Fluna Tec range includes these Gun Care sets:

Set I: with GunCoating, GunDegreaser and GunCleaner barrel cleaning paste.
Set II: with GunCoating and GunDegreaser (starter set)
Set III: Optic Care Set with TFT-Optic Cleaner, Isopropanol and Anti Fog
Set IV: Silencer cleaning set
Set V: Long Gun Care Set with GunCoating, GunDegreaser and BorePro barrel cleaner
Set VI: Gun Care Set for pistol shooters with GunCoating and GunDegreaser