CMC, the Texan company already known for its innovative, self-contained and easy-to-install AR-15 trigger groups, introduces its Match Precision Barrels for Gen 3 & 4 Glock 17, 19 and 34 Pistols. CMC claims they are  "the ultimate upgrade drop". CMC's Match Grade barrels are precision machined from certified, pre hardened 416R premium grade stainless steel, to extremely tight tolerances. 416R stainless steel is recognized for its corrosion resistance, machinability and high tensile strength, being the industry standard for premium Match Grade barrel manufacturing. In house machining, production and Quality control inspection processes ensures high precision products with enhanced slide fit and lock up for improved accuracy. They do not require gunsmith assembly.
CMC Match Grade barrels: three finish options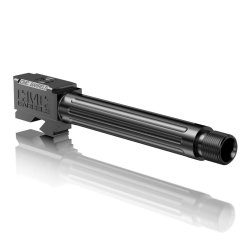 Barrels are 6 groove, cut rifled, 1:10 twist right hand and double honed (rough and finish) to produce the smoothest bore possible, with a Max Roughness Average (RA) of 12. Finished bore dimensions are held to +/- 0.0005" tolerance from nominal groove and bore dimensions but the dimensions are uniform to within 0.0002 for maximum consistency, accuracy and quality, according to CMC, with SAAMI, Match Grade specification chambers, precision cut and finished to a maximum Roughness Average (RA) of 16.

The pre hardened 416R stainless steel is stress relieved to an exacting recipe after rifling and final hardness is 38-42 Rockwell C before final barrel profile machining is completed.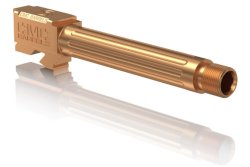 Barrels are then bead blasted to create a satin finish prior to plating. CMC's Match Precision Barrels for Glocks are available in 3 finish options: stainless, with a uniform satin blast finish; bronze TiCN (Titanium CarboNitride); and black DLC (Diamond-Like Carbon).
All finish options feature ultra-low friction hBN (Hexagonal Boron Nitride) bores and chambers. All barrels sport a straight fluting for aesthetic purposes. Glock 17 and 19 Threaded Fluted barrels have a MSRP of 210.00 USD. 
For Glock 17 and 19 Non Threaded Fluted barrels the MSRP is 199.00 USD. Delivery in stores is expected in December 2017.