Article also available in other languages
Battenfeld Technologies, Inc.
The US-based Battenfeld Technologies company is a true global powerhouse in the field of sports shooting and hunting accessories, gear, and other smiliar paraphernalia.
Operating eight well-known brands, Battenfeld Technologies ensures global distribution and availability of basically any kind of accessory, tool or shooting aid designed for modern shooters, ranging from shooting rests to fixed and reactive targets, from cleaning and maintenance kits to reloading supplies, up to gun vaults and basic gunsmithing equipment.
One of the best known brands of the Battenfeld Technologies group is Caldwell Shooting Supplies, whose highly appreciated shooting products now include a new entry − one of the entire Group's most interesting products for 2014 indeed: the Caldwell CrossWind.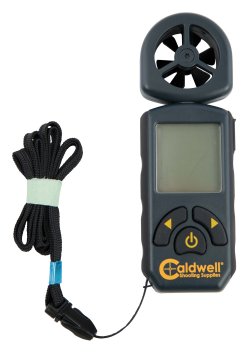 Battenfeld Technologies, Inc.
Caldwell's CrossWind is a professional wind meter, an essential device in long-range sports shooting, mountain hunting, field target, and in all those hunting or sports shooting specialties where wind and weather conditions can play an important role over the final results on target.
The Caldwell CrossWind wind meter has been conceived to be lightweight, extremely compact, and easy to use; it's also waterproof, and its large-sized buttons allow easy operation even when the shooter is wearing gloves, making it practical even in the harshest days of winter.

The Caldwell CrossWind is issued with a lanyard, a black holster pouch, and a "Button-type", 3v CR2032 replaceable battery that will provide power.
It also comes with an USB port, which is meant for factory purposes only, so that shooters should not attempt to use it to reload the device or to connect it to anything.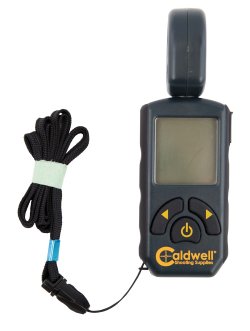 Battenfeld Technologies, Inc.
The most important and interesting feature of the Caldwell CrossWind wind meter is its rotary anemometer head; manual positioning allows the user to orient it at his/her own will and preferences, allowing use without needing to loose focus over the gun or the target.
The LED-backlit display on the Caldwell CrossWind meter provides quick and accurate readings on all the variables that the device can measure: wind direction, average and current wind speed, and maximum wind gust, in metres-per-second, miles-per-hour, kilometres-per-second or knots; barometric pressure, in Inches of mercury (inHg), Torr o Millimetres of mercury (mmHg), Atmospheres (ATM) or Kilopascal (kpa); altitude, in metres or feet; and temperature, in Centigrade or Fahrenheit degrees. The Crosswind will also provide readings concering wind chill and density altitude.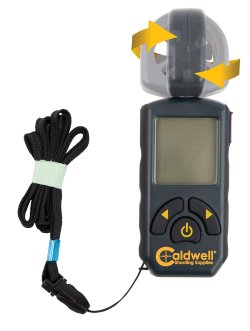 Battenfeld Technologies, Inc.
As the instructions manual shows, the Caldwell CrossWind pocket wind meter is almost instinctive to use, and offers other interesting features such as the possibility to program known parameters, an automatic power-off function, and a "Data Hold" function that will allow the users to temporarily save the last data or measurements so that they won't be lost when the wind meter is turned off.
An ideal heir to Caldwell's own, highly sought-after Wind Wizard model, the CrossWind has been recently released for commercial sales in the United States; full-fledged export has not kicked off yet, but it can already be easily found on E-Commerce sites, such as the Midway platform.
MSRP for the Caldwell CrossWind is set at 199.99US$ in the United States, but average street price is already reported to be even much lower than that.